The 5 Best Places To Get Deals on School Supplies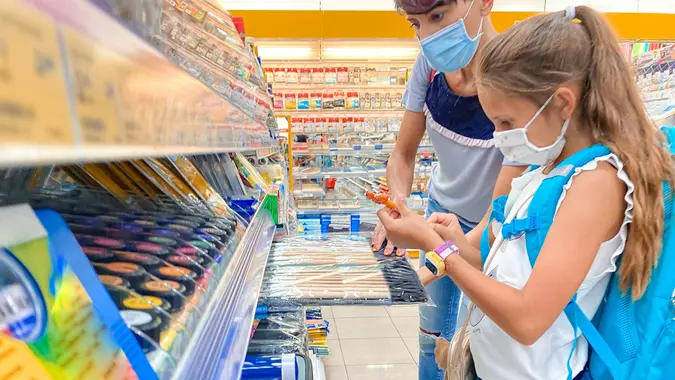 CasarsaGuru / iStock.com
As all parents know, sending the kids back to school each fall isn't cheap. Between supplies, clothing and electronics, the bill adds up to more than $800 annually per family for kids in kindergarten through 12th grade and about $1,200 for households with college students, according to the National Retail Federation.
See: How Much Cash To Have Stashed at Home at All Times
More: 7 Surprisingly Easy Ways To Reach Your Retirement Goals
Saving money on that tab – at least the non-apparel part of it – requires some effort in shopping around and following the deals from one store to the next. Start by checking out the weekly circulars posted to the store's website or app to see the best buys in town.
"The absolute worst and most expensive way to do your back-to-school shopping is to go into one store and knock it all out at once," said Kyle James, a father of three and the founder of Rather-Be-Shopping.com.
"Why? Well, you might find a few items on sale, but you're going to have to pay full price for a lot of other stuff. Instead, start watching the sales flyers right now and when you see great deals on items on your kid's back-to-school list, go in and make the purchase. By starting early you'll have plenty of time to make purchases only when the price is right." 
Make Your Money Work for You
Here are five of the best stops to make on your back-to-school quest.
The Best Places To Get Deals on School Supplies
Office Supply Stores
If you need a spiral notebook in February for a school project, your local Office Depot/OfficeMax or Staples isn't your best bet. But in the weeks leading up to the start of school, run there.
The same holds true if you want to buy things like No. 2 pencils, composition notebooks, notebook paper, pencil-cap erasers and binders. For those items, turn to the office supply stores, which sprinkle in heavily discounted school items – plus, sales on even bigger-ticket items, like backpacks – among the regular-priced merchandise storewide.
Let's take those one-subject spiral notebooks, for example. Before the first bell rings on the new school year, you typically can buy five or six of them at Staples for the price you'd pay for one the rest of the year.
You'll find the best deals of the year now on supplies such as crayons, rulers, pencil boxes and kids' scissors, which could marked down by 80% and cost as little as 50 cents.
Ahead of the school year, download the apps from your local office supply stores or visit their websites to sign up to get email alerts about savings or even a discount coupon for registering. A 30% off coupon on regular-priced merchandise, for example, could go a long way toward helping you save money on items that the stores rarely reduce in price.
Make Your Money Work for You
Take Our Poll: Do You Think You Will Be Able To Retire at Age 65?
Big-Box Stores
Target and Walmart, absolutely, are places to turn to cross items off your children's supply list. Like the office supply stores, they'll put out the loss leaders – think a quarter for crayons and  glue sticks – and sell other basics like markers and folders for the cheapest prices of the year.
These stores have a big advantage over the office-supply chains, however. There, you can find the boxes of tissues, storage bags, sanitizing wipes, baby wipes and hand sanitizers that show up on supply lists these days, and both stores accept manufacturers' coupons. Download Target's app, too, to take advantage of special Target Circle offers that will result in big savings for you. In August, you could find a coupon, for example for $10 off a $50 purchase in-store. That's a 20% savings off the bat.
And both stores are banking on you wandering some other aisles while you're there, too, to browse the clothing department to pick up, at the minimum, essentials like socks, underwear and shoes for the new academic year.
The ads change frequently, so be sure to check the store circulars and apps for the updated deals.
Grocery and Drug Stores
Your local supermarket, as well as the national drug store chains, will put on sale a smattering of back-to-school items in the summer. You could find a two-pack of highlighter pens for $1 or composition books for 50 cents, but these stores shouldn't be your first stop if you're looking for a bargain on supplies. Still, while shopping, it's worth a walk down the aisles. You might find something you missed at the other stores.
Make Your Money Work for You
Stores like CVS might run a promotion in the back-to-school season, such as a $10 savings when you spend $40 on certain supplies. While a $10 break always sounds attractive, you'll likely spend much less than $40 on similar merchandise at the other stores.
Dollar Stores
When your child needs a package of index cards in December, make the dollar store your first stop. The dollar stores sell mostly the basics – pens, crayons, glue and such – and you can find them for less in back-to-school promotions elsewhere. For a spiral notebook, for example, even $1 is too much this time of year when the office supply and big-box stores sell them for less than half that. But when the sales are over, that $1 price for the notebook will sound very good.
Warehouse Stores
Don't forget the warehouse stores like Costco and Sam's Club for some of the more expensive items on your list. You could find a deal on a name-brand backpack, for example, that the stores bring in as a special buy for August. Or, you might find great prices on that expensive graphing calculator or tablet your older kids need.
Some Advice
Don't rush to finish supply shopping when the school year starts, James said. After the first day of school, your child might come home with a supplementary supply list of things that will be needed down the road – like a project board for a science presentation.
"If you can wait to buy these items, you'll be able to take advantage of back-to-school clearance deals that happen every September," he said. "I'm talking like 75% to 90% off items that retailers desperately need to clear out to make room for Halloween candy and costumes."
More From GOBankingRates
Make Your Money Work for You