5 Best Walmart Deals for Spring Cleaning Supplies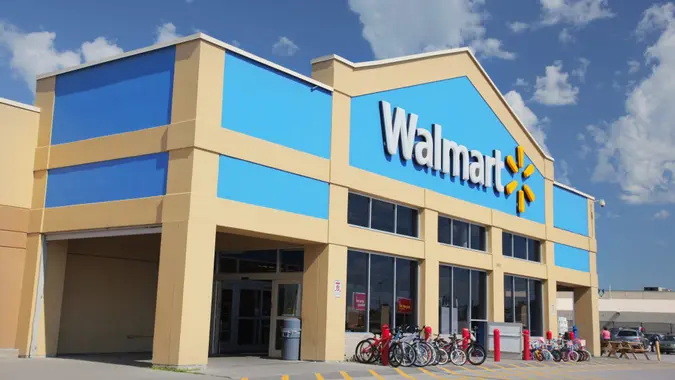 buzbuzzer / Getty Images
It is safe to say that spring has officially sprung! The season of change and renewal gives way to budding flowers, better weather and — oh yeah — a reminder that it is time to take care of your annual spring cleaning. If you are looking to scrub your floors, wipe down your windows and give every room in your home a fresh spring scent, then you need to head on over to Walmart.
Costco's Best Deals? Employee Reveals 10 Standout Buys for Your Money
See: 3 Signs You're Serious About Raising Your Credit Score
Walmart is the perfect place to pick up low-cost, everyday household items no matter what season it is, with in-store brands that rival name-brand ones in quality and price. 
So lace up your boots, put on some gloves and get ready to save money on some discounted items when you shop Walmart for the best deals on cleaning supplies this spring.
Make Your Money Work for You
Bathroom Cleaner
No place in your home probably deserves to be cleaned as much as your bathroom. But don't break your back trying to find savings at other stores on products to polish everything from the porcelain to the sink plugs.
Right now, Walmart has Scrubbing Bubbles Bathroom Grime Fighter Aerosol, a disinfectant spray to use on tiles, in your bathtub or shower, and anywhere else in your bathroom. Usually, a bottle would be priced at $11.70, but Walmart has done it again and dropped this must-have cleaning supply down to $4.27 for the season.
Take Our Poll: Are You Concerned About the Safety of Your Money in Your Bank Accounts?
Toilet Bowl Cleaner
It's a tough, often gross job, but someone has to do it: cleaning the toilet. Not to fear, because Walmart has your back to make sure you've got the most beautiful bowl this spring.
Head to Walmart to pick up a bottle of Lysol Power Toilet Bowl Cleaner Gel, the perfect product for not only cleaning and disinfecting your toilet but taking care of pesky stain removals. Plus, feel like your wallet is staying flush with cash because Walmart has dropped the price of a bottle from $11.43 down to $2.27 this spring.
Make Your Money Work for You
All-Purpose Cleaner
The one product to rule them all…or at least handle the toughest jobs during your spring cleaning: all-purpose cleaner.
Clorox Clean-Up all-purpose bleach spray removes tough stains, including grease and dirt. Not only that, but according to Walmart's product description, it can be used on "multiple hard, nonporous surfaces throughout your home, including kitchen sinks, counters, refrigerators, appliances, tubs, toilets, fiberglass, floors, showers and tiles."
Pick up a bottle at the discounted price of $4.48 when you go to Walmart.
Disinfecting Wipes
So many surfaces, so little time, so little money you'll spend when you buy your disinfecting wipes at Walmart. Lysol Disinfectant Wipes, Multi-Surface Antibacterial Cleaning Wipes are exactly what you need when it comes to cleaning and disinfecting every surface in your home. 
With a 240-count pack of three for only $18.47 when you shop at Walmart, you'll make sure that not only are you cleaning your home, but protecting it from cold and flu viruses, as well as Salmonella, Influenza A Virus, Herpes Simplex Virus Type 1, Respiratory Syncytial Virus and COVID-19.
Make Your Money Work for You
Plus, with fragrances like lemon and lime blossom, you'll get into the spring spirit with every fresh breath you take.
Wet Mops
Floors are like magnets for dirt and dust, so cleaning them requires an extra amount of elbow grease. But instead of spending all day on your hands and knees washing your home's floors, leave it to Walmart and their deals this spring when it comes to mopping.
Grab some Swiffer Sweeper Wet Mopping Cloths — designed for multisurface floor cleaning and topped off with a fresh scent — to get the job done in no time. With Walmart dropping the price down on these wet mops from $15.59 to $9.84, you won't have to break your back or your bank this spring.
More From GOBankingRates
Prices are accurate as of March 16, 2023, and are subject to change.
Make Your Money Work for You