3 Best Warehouse Clubs and How To Save: Costco, Sam's Club and BJ's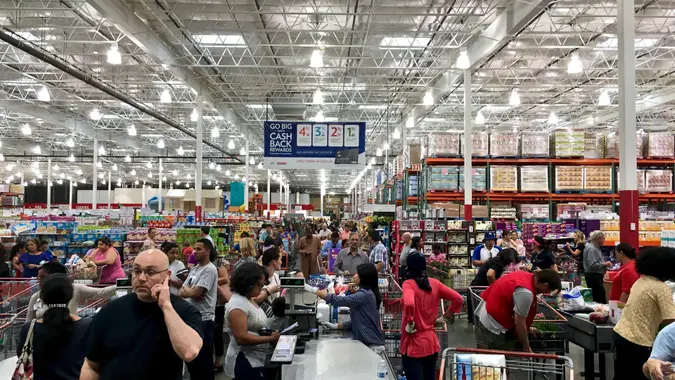 Jeramey Lende / Shutterstock.com
It's no secret that warehouse clubs can save you money, but you can't reap all of the benefits without purchasing a membership. Entry-level memberships at Sam's Club, BJ's Wholesale Club and Costco are priced at $45, $55 and $60 respectively, which isn't exactly pocket change. So it makes sense that you'd want to get your money's worth every year you choose to pay the membership fee.
Budget: 20 Ways To Pay Less at Costco
More: 34 Dollar Store Secrets You Need To Know Before You Shop
Before you hop online or head out to shop at your favorite club, it helps to have a few savings strategies up your sleeve. For example, even though warehouse clubs are gigantic, they don't have unlimited storage space, so it's always worth checking out the deals offered online too. Here are more tips on how to save at the three best warehouse clubs — straight from industry experts. 
Make Your Money Work for You
BJ's Wholesale Club: Save on Your Membership
"If you are a veteran, active military member or family member, mention your status when you sign up for your membership and score a 25% discount on the membership fee and either a $10 off BJ's coupon or $20 in cash rewards," said Kristin McGrath, a savings and deals expert with Offers.com. 
Read: Shopping Mistakes You're Making and How To Stop
BJ's: Download the App
"Once you've joined BJ's, download the app so that you can save and use digital coupons when you shop for extra savings," said consumer analyst Julie Ramhold with DealNews. 
Coupons are clipped and automatically added to your card. You'll receive discounts when you purchase the matching items in the club or online. However, not all coupons can be used online.
BJ's: Consider the Credit Card
If you shop at BJ's often, you can rack up the rewards online, in the warehouse aisles and at the gas pump. 
"BJ's has its own Perks Mastercard credit card with benefits such as 3% to 5% cash back on purchases and $0.10 savings on gas," said McGrath. McGrath also pointed out that the card offers rewards outside of BJ's, including 2% cash back on gas and restaurant purchases and 1% on everything else.
Make Your Money Work for You
Shopping: 50 Purchases Buyers Almost Always Regret
BJ's: Utilize Coupons
BJ's is the only warehouse club that allows you to use manufacturer's coupons, so as long as the items are in-store and the coupons are still valid, you can use them to save," said Ramhold. "Additionally, there's a chance they can be stacked with BJ's own coupons to maximize your savings."
Costco: Big Cakes at a Huge Discount
"Costco's half-sheet cakes can cost less than $20, are known to be delicious, and can feed up to 48 people," said McGrath. "Local bakeries will cost upwards $100 for similar sizes, so you will definitely score big here without compromising taste." 
A quick online search of two different bakeries yielded prices from $61.75 to $100 for a half-sheet cake.
Learn: 21 Items That Are Always Cheaper at Costco
Costco: Stock Up on Alcohol
"Costco has an amazing choice of alcohol," said Ramhold. "If you're fortunate enough to be near a Costco liquor store, you can find Kirkland Signature booze for great prices that often tastes better than (or even the same as) huge brands. And if you want name-brand items, the liquor stores usually have at least some of those too. And if you don't have a liquor store, Costco will still sell a decent variety of wine at super affordable prices."
Make Your Money Work for You
Costco: Pay Attention to Pricing
"As you shop, you may notice a trend: Costco pricing is standard when it ends in .49 or .99," said McGrath. "Other items that end with nine cents (like .79) are priced by the manufacturer. If an item is priced ending .00 or .88, that means it's a closeout — so you're getting an awesome deal because the store is trying to get rid of the product quickly."
McGrath also offered this tip: "If you bought something recently and the price drops, you can bring back your receipt," she said. "Costco will refund the difference within 30 days of purchase."
Learn More: The 37 Mistakes We Make When Shopping at Costco, Amazon, Target and Walmart
Costco: Shop for Gift Cards
"When you're looking to buy gift cards for restaurants, movies, amusement park passes and more, you can save up to 20% on a bundle of cards with your Costco membership," said McGrath. "Sure, you can buy them as gifts for friends and family, but you may want to buy them for yourself, too!"
Costco: Save on Fuel
"Costco gas stations tend to be less expensive by several pennies a gallon than non-Costco gas stations, so consider paying them a visit next time you need a refill," said McGrath. 
To benefit even more, consider applying for the Costco Anywhere Visa Card by Citi. The card offers 4% cash back on up to $7,000 worth of fuel each year.
Find Out: Is a Costco Membership Worth It?
Costco: Save on Tires and Get Free Lifetime Maintenance
Costco offers great deals on tires and frequently has discounts when you buy four. Additionally, whenever you buy tires from Costco, you'll receive lifetime maintenance services on the tires.
"They'll rotate them, do a pressure check and everything else associated with tire maintenance for the life of the tire — at no additional cost," McGrath said.
Sam's Club: Shop In-Store When Possible for Better Deals
"Local clubs may try to clear out certain items so the markdowns in person will be much better than what you can find online," said Ramhold. "If there's something specific you're looking for, try checking your local club to see if it has a better deal."
Compare: Sam's Club vs. Costco: How To Choose the Best Membership Option for You
Sam's Club: Shop Household Basics
"Household basics are always a good deal at Sam's Club," said McGrath. "For example, last year we saw the price of Tide Pods with Ultra OXI nearly 50% less than the nearest non-warehouse competitor; a 50-pound bag of Rachael Ray Nutrish Dry Dog Food cost the same as a 40-pound bag elsewhere; a two-pack of Arnold Whole Wheat Bread cost $5.28, while two loaves at a local supermarket were at $6 — and the list goes on."
Important: 17 Biggest Budgeting Mistakes You're Making
Sam's Club: Consider the Credit Card
"If you get a no-annual-fee Sam's Club Mastercard credit card, you'll receive 5% cash back on gas and 3% cash back on dining and takeout," said McGrath. "Regular Sam's Club members will also get 1% cash back on Sam's Club store purchases, while Plus members earn a whopping 5% (that's the 2% they already get, plus another 3% for the credit card purchase)."
See: Top Tips for Saving Money on Your Online Grocery Order
Sam's Club: Save on Travel and Entertainment
While a lot of members might not think about these type of discounts, they are available for the taking and serve as one of the ways you can make back the cost of your annual membership. 
"Sam's Club members can search for discounts on hotels and car rentals, theme park tickets, zoos and museums, tours, sporting events, concerts and more, all at reduced rates," said McGrath.
Sam's Club: Save on Tires and Lifetime Maintenance
Sam's Club also offers tire deals with perks. "When you buy tires from Sam's Club, not only will you save on the cost of the tires, but your installation includes free tire mounting, 24-hour roadside assistance, a lifetime tire balance, rotation and flat repair, and waste tire disposal," said McGrath.
More From GOBankingRates
Make Your Money Work for You