Experts: Can Using Self-Checkout Save Grocery Shoppers Money?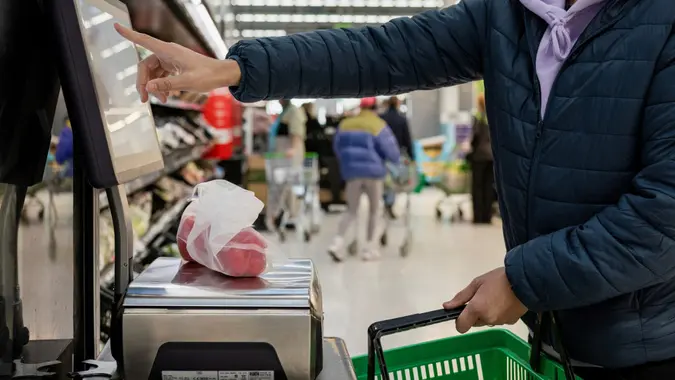 SolStock / Getty Images
We've all been shopping at the grocery store, loading up our cart with our household essentials, and then headed to the checkout line to see that it's long. Like, really long.
Glancing over to the self-checkout aisle, we might see the line is a little bit shorter. Perhaps moving slightly faster. And, maybe, could it even be saving us some money?
That's a question that GOBankingRates put out to some retail and finance experts to get their take on if using self-checkout saves money when you shop for groceries-or if it saves anything at all.
Who Saves With Self-Checkout
There's an upside to using self-checkout, even if it's not money saving for grocery shoppers.
"Self-checkout systems in grocery stores can benefit shoppers by reducing waiting times and increasing convenience," notes Pedro Braz, a finance enthusiast and co-founder of investingintheweb.com. "As a result, shoppers can save time by not having to wait in long queues at the checkout counter. This also allows grocery stores to improve their operational efficiency by reducing the need for human labor and increasing their profitability."
Make Your Money Work for You
So, shoppers could be doing stores a favor by using self-checkout, where scanning, paying, and bagging is all done with minimal to no employees to aid in the process.
Take Our Poll: Would You Put All of Your Savings in an Apple Savings Account?
But of course, there are also downsides when it comes to self-checkout, which includes not putting extra savings into customer's hands. Looking closer at self-checkout, Braz points to a number of issues that make the entire experience unfriendly to a lot of customers.
"Some shoppers may find the technology to be confusing or challenging to use, resulting in a negative experience," cites Braz. "Additionally, grocery stores that only offer self-checkout may exclude individuals who are not comfortable with technology or prefer a more traditional shopping experience."
In the future, it's quite possible that self-checkout will start to be a more complimentary option for manned lanes at the grocery store. For now, it cannot entirely replace employees doing the job at the cash register. But as technology develops and companies look for ways to cut costs, you might start seeing self-checkout as the predominant mode for payment at stores. More and more chains, such as Amazon's Fresh grocery store, are turning to self-checkout as their only checkout option.
Make Your Money Work for You
How Can Stores Improve Self-Checkout To Make Shoppers Win Too?
So, at the end of the day, when we're standing in line with our groceries and ready to pay, how can we be sure that using self-checkout will save us money in the long run?
"What the grocery stores should be doing in my opinion is incentivizing shoppers to use the self checkout," proposes Adam Schwartz at CouponSurfer Inc. "Offer double points or better yet get a brand to sponsor the self checkout for a week or two and offer special discounts and savings for those who use self checkout. If there are labor costs to be saved, share it with the customer and boost loyalty."
There's also confusion when it comes to how, when, and where you can apply coupons and other discounts at self-checkout. This costs time, human-generated manpower to fix, and ultimately isn't saving customers any more money during the self-checkout experience than it would to use a standard cashier lane.
"Some of our members have reported being able to re-use coupons with self-checkout. However, that typically violates the store's coupon policy," added Schwartz. According to him, the real way to save money at self-checkout is indirectly because two options at manned lines aren't always available.
Make Your Money Work for You
"Lack of candy or magazines usually result in less impulse buying," cites Schwartz. "Limited bagging capacity of self-checkout means you usually avoid very large orders. You end up spending less."
The bottom line is that self-checkout doesn't truly save customers much money. It might be easy and quicker for some, but for lots of shoppers it only creates more hassle without the benefit of more savings. 
More From GOBankingRates
Make Your Money Work for You