The Case Against Bulk Groceries: When Smaller Portions Save You Money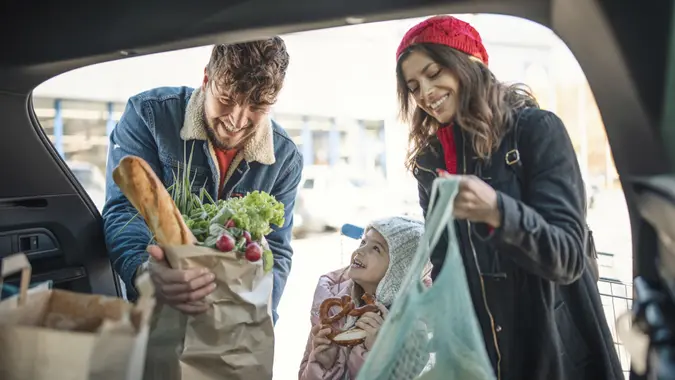 ArtistGNDphotography / Getty Images
Sometimes, less is more. When it comes to buying groceries, there's a common assumption that buying in bulk will always save you money, but that isn't the case.
If saving money is your goal, Mary Ann Kelley, a food blogger and meal planner at Add Salt & Serve, said you really need to think about your purchases.
"One of the techniques I teach is to save on groceries by shopping your own pantry first and replenishing it when items are on sale," she said. "Knowing the best price per unit and being ready to stock your pantry — to include the freezer — can save hundreds, but overloading your home with purchases just because they came in bulk sizes adds stress and may actually cost more."
6 Times Buying in Bulk Won't Pay Off
If you're in the habit of shopping at members-only warehouse stores like Costco, Sam's Club and BJ's Wholesale Club, it can be hard to know when buying in bulk is actually saving you money. Kelley shared the following examples to help you figure out which types of grocery items are best purchased in smaller quantities.
Items Used Infrequently
You might think you'll find a use for an item you don't typically use, but realistically, you probably won't.
"When the item is not normally used or is not used in large quantities, buying more than you need never saves money," she said.
Make Your Money Work for You
Lack of Storage Space
"When you do not have room to store the items in bulk quantities, it may be tempting to give away items purchased in bulk, if they end up being in the way," she said.
Buying in bulk is only cost-effective if you're actually using the items, so you won't save money if you end up giving away part of your stockpile.
Quickly Perishable
If products will perish or expire before they can be used, Kelley said this isn't the best choice to buy in bulk. Particularly, she highlighted dairy, produce and other items with a "use by" date as those to avoid.
Hard To Freeze
Some items are much easier to freeze than others. Specifically, Kelley noted that some items are sold in a size that cannot easily be divided before freezing, but are too much to use at once.
"What may seem like a great price when the purchase is made may actually end up as wasted money when two people can't finish a frozen meal that comes in a 12-serving container," she said.
Challenging To Store Effectively
Time is also money. Therefore, she said if an item will require time and effort you don't have to store it in useful portions, it's not worth it.
"For example, when a bulk purchase needs to be separated into individual meal-sized portions before being stored in the freezer," she said.
Make Your Money Work for You
Price Per Unit Isn't Lower
If you think the price per unit is always lower when buying in bulk, Kelley said that isn't the case.
"Sometimes smaller sizes or lower quantities actually cost less per unit than buying in bulk," she said.
Breaking Down the Price
When looking at the price of an individual item versus a similar bulk item, it can be hard to know which one is a better deal. Samantha Landau, a consumer expert at TopCashback, explained how to do the math.
"Calculate the cost per unit by dividing the quantity of the item by its price," she said. "For example, if you see a value pack of an item on your shopping list, divide the price of the value pack by the number of items it contains in order to determine the cost per unit."
She said if the cost per unit of the bulk item is cheaper than the price of the item by itself, it might be worth buying in bulk.
Shopping in bulk is supposed to be a way to save money. Therefore, it never feels great to have to throw away food you weren't able to use in time.
If you're an avid bulk shopper, don't get discouraged. There's plenty of occasions that will allow you to save more buy purchasing more.
Ultimately, it's best to really think about each item before buying in bulk. Impulse shopping is not a good idea with this type of purchase, so always make a list before going into stores like Costco, Sam's Club and BJ's.
Knowing which types of items to avoid will allow you to maximize the value of buying in bulk, thus lowering your total grocery bill.
More From GOBankingRates