7 Cheap Target Summer Items To Buy Early This Year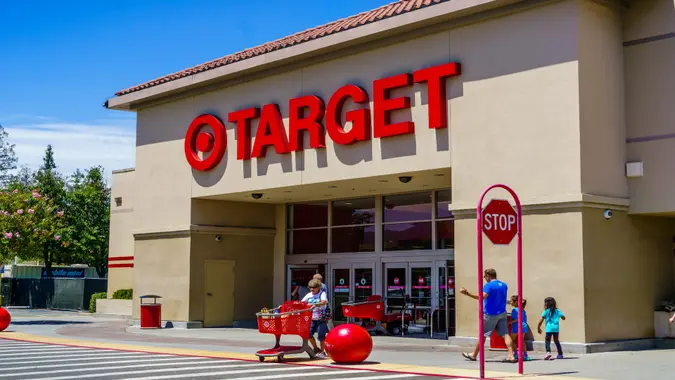 Sundry Photography / iStock.com
As the summer season approaches, savvy shoppers are always on the lookout for great deals and bargains to make the most of their outdoor activities. Target, AKA Tarjay, is known for its wide range of affordable and high-quality summer essentials.
GOBankingRates has gathered a curated list of summer items available at Target that you should absolutely consider purchasing early. Whether you're planning beach outings, pool parties or backyard barbecues, we've got you covered with the best budget-friendly options from Target. 
Swimwear
According to consumer analyst Katie Roberts from DealNews.com, it's a common trend for seasonal clothing to receive significant discounts toward the end of the season. However, Target has historically offered some pretty remarkable swimwear discounts during the month of June.
In the same month last year, Target enticed customers with a "buy one, get one free" offer on swimwear, a 30% discount on men's swimwear and an impressive 50% reduction on over 400 styles of women's swimsuits. Even this year, Target has wasted no time in offering a 30% discount on women's swimsuits, with prices starting as low as $8. It's evident that Target continues to make waves with their attractive deals for those seeking stylish swimwear.
Beach Reads
Shopping for your summer reads at Target early in the summer means big savings on all the best books to take to the beach. Target offers an extensive selection of books, catering to diverse genres and reading preferences. Target often provides special promotions and discounts on books, particularly at the beginning of the summer season, enabling you to enjoy your favorite reads at more affordable prices. For example, an Emily Henry smash hit, cheekily titled "Beach Read," is only $8.39 at Target, which is almost half-off the retail price!
Make Your Money Work for You
Outdoor Furniture
Purchasing outdoor furniture early in the summer at Target means you have ample time to set up and enjoy your outdoor living space for the entire season. Target provides a wide selection of outdoor furniture options, allowing you to explore various styles, colors and materials to find the perfect pieces that suit your preferences and enhance your outdoor aesthetic.
Additionally, shopping early often comes with cost savings, as Target frequently offers competitive prices and special promotions at the beginning of the season. Right now, they're offering the highly rated Skylark three-piece Cushioned Woven Rocking Patio Seating Set for $300 — that's half-off! Most importantly, shopping early ensures that your preferred items are in stock and available, helping you avoid potential supply shortages or delays later in the season.
Shorts
"If anyone in your family needs shorts now, you may be able to get them for less this month," shares Roberts. During the previous June, Target offered a 20% discount on over 200 pairs of men's shorts, showcasing a diverse range of styles. Additionally, the retailer extended the same discount to Cat & Jack toddler and kids' shorts, with over 100 unique styles included in the promotion. While these shorts are known for their affordable prices, typically starting at around $4, the added discount made them even more enticing for savvy shoppers seeking quality and value.
Pool and Beach Toys
Buying beach and pool toys at Target early this summer is a great idea. The retailer tends to offer a wide selection of beach and pool toys, catering to various preferences and age groups. By shopping early, you have the advantage of accessing the full range of options before they potentially sell out. And the deals really can't be beat — a classic beach ball is only $1.50.
Make Your Money Work for You
Grills and Grilling Accessories
Roberts tells GOBankingRates that grill deals are usually found during the months of September through November but at Target, June is often a good time to purchase a grill. In the previous June, Target offered an impressive discount of 30% on grills and accessories, including a notable deal on the Kingsford 14-inch portable charcoal grill, available for as little as $15. For example, this Grill Boss propane gas grill is currently on sale for $210, which is a savings of 33%. If you slept on grabbing a grill in the fall, now is the time at Target. 
Ice Cream Sandwiches
Indulging in ice cream during the summer is a beloved tradition, and Target proves to be a fantastic destination for scoring great deals on this frozen treat. With its wide variety of ice cream options, including the delightful Mini Ice Cream Sandwiches by Favorite Day which are currently on sale for 25% off, Target offers an enticing selection that caters to different tastes and preferences. Why not stock up now and keep your freezer in sweet treats all summer? Whether you're planning a summer party, a relaxing day at the beach or simply craving a refreshing treat, take advantage of Target's affordable ice cream options now. 
More From GOBankingRates