The Real Reasons Some Christmas Trees Cost More Than Others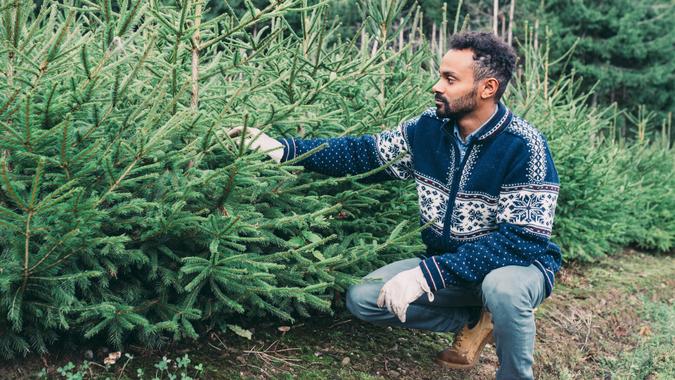 FilippoBacci / Getty Images
Nothing says Christmas like a fragrant tree decked out in lights and ornaments, but it's looking like this holiday staple will be hard to come by this year. Supply chain troubles on top of devastating climate change have created a shortage of Christmas trees this yuletide. The National Tree Company, a major importer of Christmas trees, strongly advises consumers to shop early for trees this year, but buyer beware, due to the steep demand: these luscious pines and firs aren't going to be cheap. 
Even artificial trees are seeing a surge in pricing.  
Mac Harman, CEO of Balsam Hill, a supplier of artificial trees and other decor, told CNN that due to global supply chain issues, the company has raised prices on its trees an average of 20% this year. 
Given the supply chain crises and the grave effects of climate change, it's understandable that prices are rising, but certain trees are inherently more costly than others. Consumers looking to save as much as possible should know why some are pricier, and what to look for (or skip) to get a tree on a budget. 
Make Your Money Work for You
Shopping Tips: Wrapping Paper, Greeting Cards and More Holiday Items to Only Buy at Dollar Stores
Check Out: 29 Ways To Save On Holiday Gifts
Location Is A Major Factor
"Christmas trees vary in cost because of several factors that come into play," said Codey Stout, head operations manager at TreeTriage. "For example, Christmas trees don't grow in all climate types, so the farther you are from the location, the higher the cost is for you."
The shipping of a tree from its natural habitat to a lot dramatically drives up prices.
"One of the big reasons for cost variance is shipping and handling," said Mark Russell, an ISA certified arborist. "Different trees used as Christmas trees grow in different climate zones. For example, trees grown in Georgia, Leyland cypresses, cost around $7 a foot whereas  Fraser fir trees that have to be cut down, packaged, put on trucks and shipped in, are 42% more expensive at around $10 a foot." 
Make Your Money Work for You
Size Matters
Also contributing to the price of a tree is its size and popularity. 
"The bigger the tree, the more expensive it's going to be (and the harder to haul)," said Julie Ramhold, consumer analyst at DealNews.com. "So while that 9 ft. tree may be a showstopper in your home, it'll likely be at least $20 more expensive than the ones in the 7 – 7.5 ft."
Popularity Also Plays A Role
"Certain trees are more popular than others because consumers are looking for the picture-perfect full tree for their home," Ramhold said. "Not only will those sell faster, but they may also be more expensive because they're in higher demand."
Stout says that the most common types of Christmas trees are firs, pines, cedars and spruces. 
Make Your Money Work for You
"These are evergreen trees, meaning that they remain lush and green throughout the year, even in winter," Stout said. 
The Freshness Factor
Another factor to consider when looking at the pricing of trees, is freshness — which also tends to hike up the price.  
"You want your Christmas tree to last long, with needles remaining on the tree throughout the holidays," Stout said. "Fresh firs will have needles that snap if you bend them. Fresh pines' needles shouldn't break. Also, the greener the tree, the fresher it is"
Though typically cheaper, a non-fresh/dry tree presents an increased fire risk and should be avoided.
Indie Farms Can Be A Bit More Expensive
"You can shop for real trees at stores like Home Depot and Lowe's, but often local farms will also be available and open around Thanksgiving so you can shop these types of places for real trees as well," Ramhold said. "There's a chance that prices may not vary too much, but I would expect independent owned farms to be slightly more expensive as they might not be able to offer the same savings chains like Home Depot and Lowe's could."
That said, if you can afford it, buying from an independent farm is encouraged, because you'll be supporting a small business — a crucial move in today's pandemic-afflicted climate. 
The Average Prices Of Various Christmas Trees
Ronnie Collins, independent contractor and blogger at Electro Garden Tools blog, laid out the most popular types of natural Christman trees this year and their average prices:
Noble fir = $90 for 5′

Noble = $117 for 6′

Fraser fir = $110 for 6′

Turkish fir = $90 for 6′

Grand fir = $94 for 6′
"As for artificial trees, the average price for the same height is around $110, but you can reuse the tree many years in a row," Collins said.
Honestly, It's Better To Not Buy A Real Tree
Yes, artificial trees are seeing a surge in pricing, and true, they don't emit that wondrously fresh pine scent, but the argument to forego a real Christmas tree in favor of an artificial one is rock solid. After all, climate change is one of the major reasons that trees are so expensive in the first place — buying one that has been treated and killed solely for Christmas shoppers only exacerbates the environmental problem. 
"Following the UN Climate conference COP26, it would be so valuable to showcase that we can have a beautiful Christmas tree and Christmas decorations without the need to bring a freshly cut tree into our homes this year," said Tali Orad, founder of the NGO 1treellion.org.
In addition to using an artificial tree which you can use next year and beyond, Orad recommends the following alternatives to purchasing a real Christmas tree.  
Rent a tree

Use a potted tree (one that later can be planted outdoors)

Decorate a tree outdoors
Use Other Leafy Decorations Instead
If you must have fresh greenery in your home to deck the halls, consider going the cheaper and more creative route of dolling up plants. 
"Decorate with other types of evergreen such as holly, ivy, boxwood or bay," said Clive Harris,  creator of DIY Garden. "A wooden pyramid decorated with strands of ivy and lashings of holly is an excellent alternative."
More From GOBankingRates
Make Your Money Work for You