7 Clothing Items That Are Always Cheaper on Amazon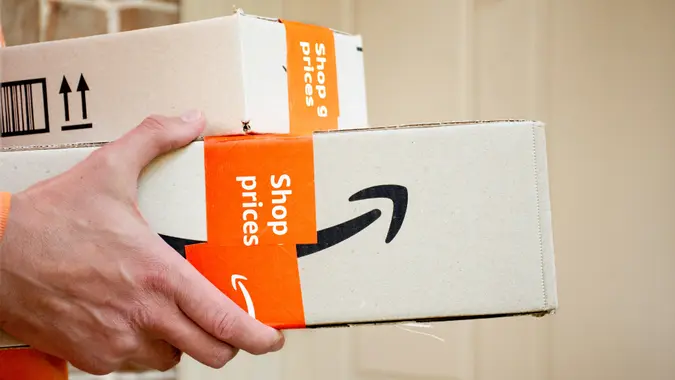 Daria Nipot / iStock.com
Amazon is the most famous online store, known for providing timely delivery and boasting an extensive array of items. Still, not many think about buying their clothing on Amazon.
Some on a budget may turn to brick-and-mortar stores like Ross or Walmart, but Amazon's vast selection of clothing has excellent deals that you might not find anywhere else. The plus side is, you don't even have to step foot in a store — everything will be delivered directly to your door and take no time out of your day.
Here are a few great apparel finds from Amazon that will help you save money and look your best.
Outdoor Jackets
At $25, this men's outdoor jacket is a steal. A jacket similar in style can be found at places like REI for upwards of $100. This jacket is perfect for chilly spring days or warmer winter months and goes well with hoodies as an outermost layer.
Boxy Tees
Boxy tees are a trending clothing item these days. On Amazon, women's boxy tees are sold for as little as $12. Popular streetwear brand Uniqlo sells a similar tee for $20, and their tees have less color variety than what Amazon offers through their Amazon Essentials clothing line.
Socks
These men's socks from Adidas are listed as $12 on Amazon's website but will cost more at Kohl's or any sporting goods store. Look around on Amazon to find the best deals on socks — there are often sales and price markdowns, and if you are lucky (or have Prime), there will be free shipping.
Make Your Money Work for You
Yoga Pants
For $15, check out these women's flared yoga pants. You will find yoga pants much cheaper on Amazon than through an athletic wear brand like Athleta or Lululemon. Amazon carries a wide variety of cuts of yoga pants, perfect for exercise or casual lounging.
Beanies
Amazon offers a two-pack of beanies for $9. The colors are mix and match, and there are many different color options. Similar items from The North Face or Nike will cost around $25 for a single beanie, while Amazon gives you two for $9. For those that are less concerned about name brands, this should be an immediate buy.
Crewnecks
Men's crewneck sweaters can be found cheap on Amazon's website, either offered through their Amazon Essentials line or through brands like Hanes and Gildan. A crewneck on Amazon has an average price of $15, while department stores such as Macy's or upscale stores like J.Crew offer similar crewnecks for $50 and above.
Swimwear
Bathing suit pieces, like this women's bikini bottom, can be found much cheaper on Amazon than at Target or other clothing stores. Amazon has swimsuits of all kinds for both men and women. Whatever swimsuit style you prefer, it will most likely be available through their site.
More From GOBankingRates