Costco and Other Superstores That Accept Instacart Orders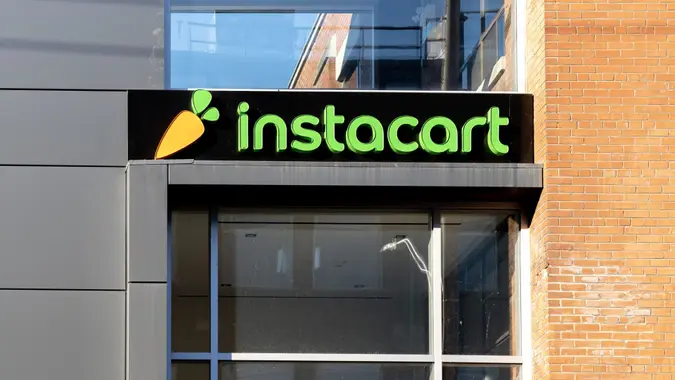 JHVEPhoto / Getty Images
In 2020, when the pandemic had us afraid to go to the grocery store, Instacart became our savior. From the safe comforts of our own home, with our phones in hand, the Instacart app was a contactless way to buy the staples we needed and have them delivered to our front door or put in the car trunk if we picked up an order at the store.
Discover: 13 Best Items To Buy in Bulk at Sam's Club This Summer
Also See: 8 Best Food Products To Buy at Costco
Since the pandemic-fueled rapid growth of the company, which was founded in the San Francisco area in 2012, the ascent of Instacart has slowed. Still, between innovations to help retailers do business and a customer base that became loyal during the pandemic, Instacart remains a go-to for countless Americans who have neither the time nor the desire to step foot in a store.
Make Your Money Work for You
The convenience of ordering groceries online is indisputable; but, if you're a shopper who always looks for the rock-bottom price, think twice about registering for Instacart. Between any fees you might pay, plus no guarantee you'll pay the in-store price, an Instacart membership probably will give you less buying power than shopping in store.
POLL: Have You Skipped Any of These Essential Expenses Due to Rising Prices?
Read on to learn more about stores that use Instacart.
Which Stores Participate With Instacart?
More than you think. While Instacart started out delivering groceries, drug stores and specialty retailers that sell everything from office supplies to pet products to beauty products have signed on.
Costco, Walmart, Sam's Club, Kroger, Sprouts Farmers Market, Rite Aid, CVS, Walgreens, Dollar Tree, Bath & Body Works, Dollar Tree, Staples, Michaels and Big Lots are among the more than 300 retailers available on the Instacart platform.
How Instacart Works
Download the Instagram app to put dozens of your local stores — and their merchandise — at your fingertips. Place your order, and your Instacart shopper will walk up and down the aisles for you and prepare your order for delivery. The unlimited service costs $99 a year after a two-week free trial; Instacart currently has a promotion for $49 for the first year. With your membership, you'll receive benefits that include no delivery fee on orders over $35, a 5% credit in eligible pickup orders (excluding alcohol) and a reduced service fee, where one is assessed, on all orders.
Make Your Money Work for You
If you don't sign up for a membership, you can pay for Instacart on a per-use basis. The Instacart delivery fee starts at $3.99 for same-day orders of at least $35. One-hour deliveries or those from club stores will vary.
A service fee will apply to all delivery orders. Instacart uses that money to keep the platform running and pays for services such as customer support. It isn't a tip for your shopper — you can add that on, too — and varies depending on your location, the size of your order and similar factors. If you pick up your order, you won't pay a service fee, though some retailers have a "pickup fee."
A "heavy fee" also applies if you put heavy things, such as bags of pet food or cases of drinks, in your cart and the combined estimated weight exceeds 50 pounds. You'll see the fee before completing your purchase.
Will I Pay the Same In Store and Via Instacart?
Probably not, and it's a good idea to check your favorite store's Instacart policies before shopping. According to Instacart, retailers set the prices for the items available on Instacart, and they could be higher than what you'll find on the store shelves. Before deciding to shop at a certain store, you can review its pricing policy, which is found under the store's logo on its home page through the app or website.
Make Your Money Work for You
Among some of the bigger stores that use Instacart, here is a sampling of their policies:
ALDI: The discount grocery store says its Instacart prices could be higher than in-store prices to "cover the cost of personal shopping."
Costco: Costco's policy states that you'll pay more by ordering on Instacart than you would in store. However, Costco offers one big benefit. On its website, you can buy a one-year Instacart membership for $78.99 — 20% off the Instacart price.
Dollar Tree: With Dollar Tree, there is no markup above its standard price of $1.25 on most items.
Fred Meyer: The Pacific Northwest chain sets it prices, which could vary from in-store prices. The retailer said the difference allows it to "cover the cost of personal shopping and premium delivery speeds." As an example of a price difference, a bag of celery hearts sells for $4.19 on Fred Meyer's Instacart page. On its website, the same bag costs $2.79.
Ralph's: The Southern California chain says standard store pricing applies, but there's a catch. You can't use your loyalty card through Instacart, meaning most "in-store sales, promotions, offers, coupons and discounts do not apply." Any Instacart promotions are applicable, however.
Sam's Club: The warehouse club also sets its own prices, and they could be higher than in the stores themselves. If you shop at Sam's Club via Instacart, be sure to enter your membership number to get the lowest prices available.
Staples: You'll pay the same amount whether you shop at Staples or order via Instacart.
Target: Target's Instacart page says item prices are higher than in-store prices.
Walmart: The nation's largest retailer says item prices "are generally the same" as store prices. Most in-store sales, promotions and other offers also will apply to your Instacart order.
Your budget and your time schedule will help you decide whether Instacart is right for you. Before signing up, perhaps explore the grocery stores, drug stores and specialty retailers where you shop frequently to determine whether they have free pickup if you order online. It isn't home delivery, but it could save you a significant amount of money.
More From GOBankingRates
Make Your Money Work for You