Costco Reveals How Much the Average Shopper Spends Per Visit — How Do You Stack Up?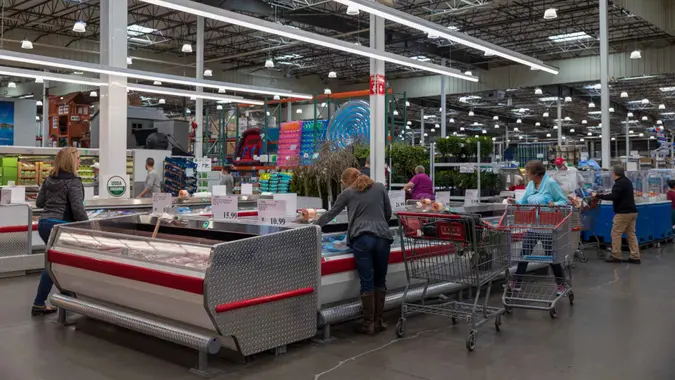 artran / Getty Images
You may be surprised that the average Costco shopper spends about $100 per trip, according to a study prepared for Insider by market research company Numerator. This typical consumer visits the retailer approximately 30 times per year, bringing their total annual spend to roughly $3,000.
The study also developed a full profile of the wholesale club's average customer, asserting that they are:
Female.
Asian.
Between 35-44 years old.
Married.
Well-educated with an annual income exceeding $125,000.
However, median spending per shopper per visit looks higher than what Numerator discovered. A Costco representative told Nexstar Media that each consumer spends around $150 every shopping trip. So, if we maintain that they visit the store 30 times per year, their total annual spending comes in at a whopping $4,500.
Take Our Poll: Would You Move for a Job That Paid You a $10,000 Signing Bonus?
How To Save Money at Costco
If you shell out more than the average consumer, you may wonder how to curb your shopping expenses. Here are some ways to pay less at Costco:
Shop online. You can take advantage of internet-only deals.
Stick to your shopping list. Impulse buys will rack up your bill.
Use the Costco credit card. You'll earn 2% back in-store and online.
Buy items from the Costco coupon book. No need to have the coupons physically present at checkout.
Split items with a friend. One 48-pack of toilet paper will supply both households for some time.
Make Your Money Work for You
Want inside information? Employees reveal the best deals at Costco.
More From GOBankingRates
Make Your Money Work for You