29% of Costco Shoppers Go Once a Month: Is That the Best Way to Save Money?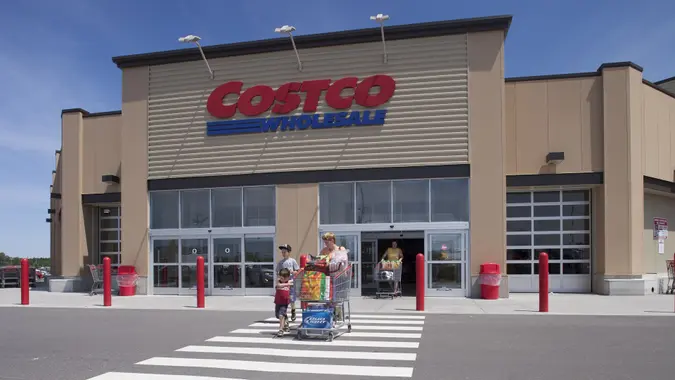 YvanDube / iStock.com
According to a recent GOBankingRates survey of 1,028 American adults, roughly 29% of Costco members only hit the warehouse club once a month or less. Unsurprisingly, the most popular purchases at Costco are food related items, followed by items like electronics, personal care products, home goods and apparel.
The current price of a Costco membership ranges from $60 to $120 a year. With a higher tiered option, members can get additional perks and benefits like 2% cash back on Costco purchases and additional discounts. But not everyone uses these perks and, given that so many people only shop at the retailer once a month, there's a good chance that many customers aren't getting the most from their membership.
Whether you're a current Costco member or you're considering purchasing a membership so you can shop there, here's how often you should go — and what you should do to get the best deals.
How Often You Should Shop at Costco for Deals
While it might seem like you should be shopping at Costco more frequently, once a month might actually be enough for many households. This is because Costco often swaps out its deals on a monthly basis.
Make Your Money Work for You
Right now, for instance, the retailer has members-only deals on select items from June 21 to July 23. As long as you're keeping an eye out for these promotional offers, you can take advantage of your membership.
Along with this, it might not be the number of times you shop so much as what you purchase and how you use it that matters.
"We live about 25 minutes away from a Costco (but in a direction we rarely go), so we tend to go about once every two weeks, sometimes less frequently," said Jim Wang, founder of Wallet Hacks. "We still find that it's a great deal because, as a family of six, we tend to spend a lot every time we visit. I think it comes down to how much you spend there in a year, rather than how often you visit."
The GOBankingRates survey found that nearly 38% of Costco members spend between $101 and $400 every time they shop. Considering the majority of purchases are food, this could be a good deal. But for those who only go once or twice a year — 3.4% of respondents — or once every few months — 8.56% of respondents — it might not be enough to justify the cost of a membership.
Downsides of Shopping at Costco Too Often
Even though Costco is known for its great deals and discounts, it's possible to shop too often. Here are some reasons why you might not want to go to the store more than once every few weeks or so:
Food spoils. A lot of food items at Costco come in bulk, which is great for larger families and those with a solid meal plan. But if you shop too often, there's a greater chance that some of your purchases will expire or spoil before you use them.
Local stores also have discounts. Avid Costco shoppers might skip out on the local grocery store in favor of Costco. The problem with this is that this could result in missing sales at local stores — sales that may even be better than what you'd find at Costco.
Storage space may be more limited than you think. "The question really is about storage," said Wang. "Do you have enough storage space to hold the bulk items that you're purchasing? For shelf stable goods, it's usually less of an issue. For perishables, we have an extra refrigerator in our garage where we can store purchases."
Impulse buys are still a thing. It's easy to go off the list and purchase items you don't really need — like snacks, luxury goods, seasonal goods, and so on. But this can lead to unnecessary spending and cut into any savings you could be making.
Deals only reset so often. Although Costco has plenty of bargains, not everything is on sale all the time. And what's currently on sale may not be what you need. Shopping every few weeks or once a month can help ensure you get the best deals — and the ones you actually want. If you don't already have it, get Costco's monthly coupon booklet or check the retailer's website for the latest deals.
Make Your Money Work for You
Best Times To Shop at Costco for Deals
"The best time to buy is to watch the sales and stock up," added Wang. "There are some products that are on sale frequently, like vitamins and medicine, while others are more seasonal, like charcoal."
Costco typically has major seasonal deals a couple of times a year — often around summertime and just after the winter holidays. Keep an eye out for current and upcoming deals and plan your shopping trips around those for the maximum benefit.
The store also sometimes has additional daily or weekly markdowns on products throughout the store. If you don't frequent the store, you could miss out on some of these deals, but don't fret as there are always new ones.
Finally, try to shop when it's not too busy. During the middle of the week when most people are still at work and the aisles are clear is a good time to go. Alternatively, you could shop right when the store opens or is about to close to avoid the lines. On its own, this might not save you money, but it can certainly save you time.
Make Your Money Work for You
More From GOBankingRates