How COVID-19 Has Transformed the Way We Spend
Priorities have shifted amid the pandemic.
BaLL LunLa / Shutterstock.com
The coronavirus pandemic has upended nearly all aspects of our daily lives, from where and how we work to whom we interact with. It's also shaped Americans' spending habits — in some ways for the better, and in other ways for the worse.
TD Bank's 2020 Money Matters Survey asked more than 1,000 U.S. consumers about their spending behaviors, both before and after the pandemic started, and found that there have been some major shifts in our everyday money habits. See what changes have happened.
Last updated: Oct. 16, 2020
1/8
Denys Prykhodov / Shutterstock.com
Digital Payments Are On the Rise
Nearly one-third of the American consumers surveyed (32%) said that due to the coronavirus pandemic, they are transitioning toward digital and contactless payment methods. Those who have been using digital payment options have been using contactless cards (49%), online ordering forms (49%), retailer smartphone apps (43%) and smartphone mobile wallets (38%).
In addition, the TD Bank survey found that 37% of Americans said they are less likely to carry cash due to the coronavirus, and 87% believe that the pandemic will speed up the transition to a cashless society.
The Pros and Cons of Going Cashless
Millennials, in particular, seem ready to transition to a cashless society — 55% said they are less likely to carry cash now than before the pandemic. And this could be a good thing — there are numerous benefits to transitioning to digital payments.
"Those in the position to take advantage of a cashless society may find it more convenient and safer," said Lindsay Sacknoff, head of consumer deposits, products and payments at TD Bank. "Digital payments are safer, quicker, more efficient and reduce the possibility of losing track of money since electronic transactions are much easier to track. Digital payments often come with benefits like fraud monitoring, alerting and zero liability. Additionally, taking advantage of mobile banking to review expenditures is one of the key benefits of this transition to cashless payment methods."
However, there are also some drawbacks: "The ease of digital payments could make it easier to overspend, so it's important to create a good budget and leverage digital banking tools like spending alerts," Sacknoff said.
Most Americans Used Their Stimulus Check To Cover Everyday Expenses
Half of all Americans surveyed who received a stimulus check said they used it to cover everyday essentials. Other common uses were paying off existing debt (38%) and saving for a large milestone (30%).
"Those struggling to make ends meet during this unpredictable time may have actually found relief from using their stimulus checks to purchase everyday essentials," Sacknoff said. "In this case, it serves as the best way to use stimulus checks. However, people should consider how essentials are defined and ensure spending is done appropriately around them. Essentials include items like groceries, prescriptions, rent and utilities."
Sacknoff said that it's important to think about what is truly essential before making any spending decisions.
"People must ask themselves, 'What do I need to survive?' 'What bills are due in the upcoming weeks or months?' As long as the stimulus check is being used to alleviate financial burden, its use on everyday essentials is justified."
4/8
iStock.com / iStock.com
How Americans Should Spend a Second Stimulus Check
It remains to be seen if a second federal relief bill will pass — and if it will include a direct stimulus check payment — but if Americans do end up getting another stimulus check, Sacknoff recommends putting it into savings if possible.
"With the future still uncertain, building a cushion of savings will help prepare you for any unforeseen changes to your finances — like the loss of a job," she said. "Another smart use of a second stimulus check is paying off any debt. By lowering your debt, you will be able to lower your monthly expenses and get on track to your financial freedom."
5/8
Alena Ozerova / Shutterstock.com
Majority of Americans Have Not Changed Their Nonessential Spending
When it comes to "treating themselves," the majority of Americans (30%) said they haven't changed their spending habits due to the pandemic. While it's tempting to maintain a sense of normalcy amid these uncertain times, this might not be the best financial decision.
"With an unstable economy, it's always best to be prepared for the worst," Sacknoff said. "Right now, people should be prioritizing saving money and cutting down on their expenses wherever possible. Saving is all about trade-offs. Find the expenses in your budget that bring you less value or are added luxuries, and trade those in for savings and more security to plan for what the future may hold."
6/8
AsiaVision / Getty Images
People Are Spending Less on Entertainment and Dining Out
With many nonessential businesses closed at various times during the pandemic, it's not too surprising that people have been spending less money outside their homes. Sixty-three percent said they have been spending less than usual on out-of-home entertainment and 79% said they have been spending less on dining at restaurants and bars. Spending less in these areas has saved Americans up to 14% of their income every month.
If you find yourself spending less in certain areas than you were pre-pandemic, this is a good indication that it's probably time to revisit your budget.
"Update your budget regularly to make sure it is tailored to your financial situation," Sacknoff said. "While many things may seem out of your control during the pandemic, keeping track of your saving and spending habits during this time is crucial to understanding your new financial norm."
7/8
filadendron / Getty Images
Nearly One-Third of Americans Have Been Doing More Online Shopping
About 3 in 10 Americans said they have increased their spending on online shopping. Gen X in particular is spending big online, with 36% saying they have spent more amid the pandemic. While it's OK (and safe) to do some online shopping, Sacknoff advises making sure you stay within your budget.
"It's important to be honest with budgeting and leave room for splurging, but living beyond your means is a huge misstep during tough times," she said. "Before spending on online shopping, ask yourself what is truly necessary and adjust your savings plan accordingly so your financial health remains intact."
8/8
fcafotodigital / iStock.com
Most Americans Aren't Applying for New Credit Cards
Even though many Americans have lost their jobs, it seems like they have not been reliant on opening new lines of credit to cover expenses. Most of those surveyed (85%) said they have not applied for a new credit card during the pandemic. According to Sacknoff, this is a good thing, as a credit card should be a last resort if you're having trouble making ends meet.
"It's scary when a financial lifeline gets cut. However, it's important to adjust and navigate ways to seek support from state and local systems before opening a new credit card," she said. "Look at your state's government website and check to make sure you are qualified under their guidelines to receive financial assistance or if they are offering any local programs. There are also numerous resources that will help guide you on how to maneuver a system that can be confusing, so take advantage of the internet. It may also be possible to delay bills you owe to service and utility providers. Calling these providers or reaching out to The National Center for Credit Counseling to see if they're able to help defer payments or waive late fees can offer some temporary relief."
More From GOBankingRates
About the Author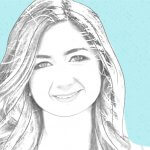 Gabrielle joined GOBankingRates in 2017 and brings with her a decade of experience in the journalism industry. Before joining the team, she was a staff writer-reporter for People Magazine and People.com. Her work has also appeared on E! Online, Us Weekly, Patch, Sweety High and Discover Los Angeles, and she has been featured on "Good Morning America" as a celebrity news expert.