Is Your Old Purse Worth $2,600? New Report Says You Should Check Your Closet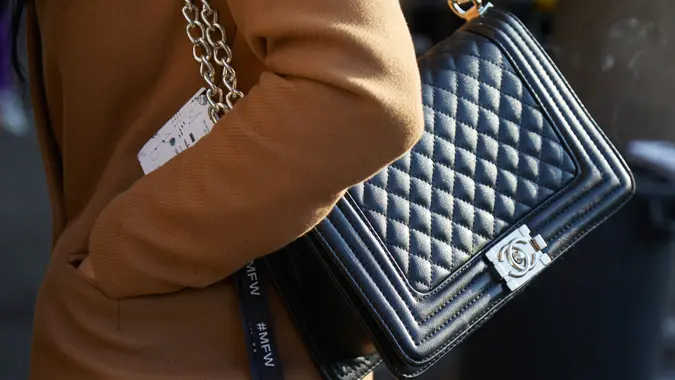 AndreaAstes / Getty Images
When it comes to luxury accessories, beauty is in the eye of the beholder — and the bag holder. Lately, many consumers are seeing the beauty in used luxury handbags that are getting a little worn around the edges.
See: The IRS Has Refunded $15.7B as of Feb. 3 — Here's How Much the Average Taxpayer is Getting Back
Learn: 3 Signs You're Serious About Raising Your Credit Score
A new Luxury Consignment Report from online marketplace The RealReal found that demand for "well-loved" handbags — those in fair condition, which, if this coveted Chanel bag is any indicator, could still fetch $2,600 — has nearly doubled since January 2022. More than half of shoppers (58%) buying bags in fair condition are new to the TRR platform.
Meanwhile, consumers overall are trading down from ultra-luxe bags to trendier styles, according to the report. Prices for high-end brands such as Hermès, Chanel, Gucci and Louis Vuitton have stabilized over the past year and had actually declined by 5% by the end of 2022. This has opened up higher sales of brands like Prada, Miu Miu and Dior.
Make Your Money Work for You
Sales of vintage archival pieces are up more than 50% since January 2022, while demand for Y2K pieces continues to push higher.
The move toward more affordable bags has been driven on a number of fronts, according to TheRealReal President and CEO Rati Sahi Levesque.
"A potential recession, the climate crisis, and global unrest are all reasons that, going into 2023, consumers are making shopping decisions based on value – with 66% saying they shop resale primarily to get a good deal – as well as personal values," Levesque said in a press release. "We're seeing our members do this in many different ways, from trading down ultra-luxe bags for more accessible options and buying fair condition items to express themselves through fashion and sustainable shopping practices."
If you're looking to sell a handbag, demand is especially high for items with imperfections such as worn corners, "significant" scratches and interior wear. TRR began accepting handbags in fair condition in early 2022. The average price for a fair condition piece is 33% less than those at higher condition levels, making these so-called "gateway bags" a good entry point for cost-conscious luxury consumers.
Take Our Poll: What Do You Plan To Use Your Tax Refund For?
$2,000 Quarter? Check Your Pockets Before You Use This 2004 Coin
Make Your Money Work for You
As TRR noted, a growing number of shoppers are also "specifically seeking the je ne sais quoi that comes with a little wear-and-tear."
In terms of brands, you can probably find a ready customer base with Prada. Sales of Prada's Crystal Re-Edition of its 2000 mini bag soared more than 1,300% since January 2022. In the clothing category, sales of women's ready-to-wear by Simone Rocha climbed 635% over the same time period.
Millennial and Gen Z consumers are driving much of the sales, as both groups have gravitated toward used handbags for value and sustainability reasons.
More From GOBankingRates
Make Your Money Work for You