Discount Retailers Are Double-Charging — Save Money by Checking Receipts for These Discrepancies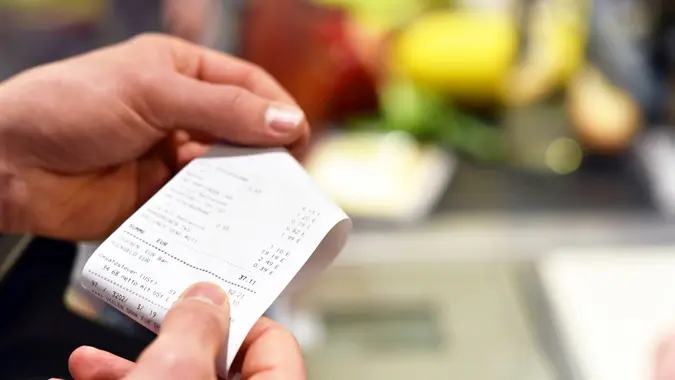 industryview / Getty Images/iStockphoto
If you shopped at Dollar General, Family Dollar or Walmart recently, you may want to double-check your receipt.
Several companies are facing backlash over several instances of overcharging and double-charging their customers. Newsbreak reported that the North Carolina Department of Agriculture and Consumer Services' Standards Division collected fines from 70 Walmart stores in 38 counties due to pricing errors over the past year. The Charlotte Observer added that over the last year, the agency has seen about 26% of price scanner inspections fail. Overcharges of roughly 10% at Walmart were also found at locations in California's Bay Area.
Dollar General locations in Ohio that have been fined as a result of price scanning errors will display warning signs stuck to the side of store registers, Best Life detailed. The sign will read "WARNING NONSEALED SCANNER SYSTEM," and instruct customers to "verify you have been charged correctly." The sign also states that the scanner has not been officially approved by the Division of Weights and Measures.
In a Dec. 13 press release from Ohio Franklin County Auditor Michael Stinziano — as reported by Best Life — Stinziano urged consumers to check prices and only pay the price listed on the store shelves.
Jim and Cheryl Wilmington, two affected consumers in Topeka, Kansas, told 13 News that they wanted to spread the news about overcharging. They recommended dividing up your purchase by separating food items from non-food items and always checking the receipt.
Some consumers were even charged for items they never purchased. In a viral TikTok video, user Julia Taylor said she noticed a charge of $19.86 for an item she didn't purchase, per Best Life. Commenters reported similar discrepancies, indicating that it wasn't an isolated incident.
Make Your Money Work for You
"During the holidays especially every penny counts, and we want consumers to pay attention during checkout," said North Carolina Agriculture Commissioner Steve Troxler, as reported by The Charlotte Observer.
More From GOBankingRates