Dollar Stores Are Thriving Thanks To Inflation and Other Factors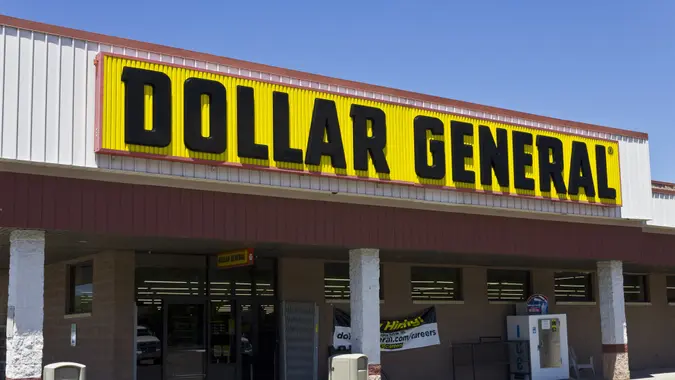 Jonathan Weiss / Shutterstock.com
There are more than 34,000 dollar stores in the U.S., most of them densely packed in lower-income urban regions. Increasingly, these bargain-basement chains (and one-offs) sell groceries, including fresh produce — though the word "fresh" is sometimes a stretch. More likely you'll find aisles upon aisles of various items, much of which are priced at more than a dollar. But you can also find plenty of essentials, including personal care basics, at significantly marked-down prices. 
Read: 34 Dollar Store Secrets You Need To Know Before You Shop
Tips: 25 Things You Should Never Do With Your Money
Dollar stores, however useful, aren't without legions of critics — some upset with the less healthy food choices they bring in and others upset that they take business away from local grocery stores that depend on the sales of paper products and dry goods to cut a profit. However, as inflation continues to be a battle many are fighting and people struggle financially, these stores appear to be thriving in the current environment.
Make Your Money Work for You
The Growth of Dollar Stores
However controversial, dollar stores aren't looking to die out anytime soon; in fact, they're in the midst of a major growth spurt. While droves of shops were shutting their doors forever during the first lashes of the pandemic, new dollar stores were popping up, including ones aimed at households with higher incomes. Dollar General has been experimenting with targeting higher-income shoppers and is unveiling 1,000 new stores under the name Popshelf in areas where the annual household income may be as high as $125,000. 
Be Careful: Costly Mistakes You're Making While Grocery Shopping
To get a grasp on just how proliferative dollar stores are, consider this glimpse into how many Dollar General locations there are by state, according to Statista: 
Wyoming: 5 
Utah: 11 
Rhode Island: 21 
Nevada: 21 
Vermont: 38 
New Hampshire: 42 
Delaware: 49 
North Dakota: 51 
Massachusetts: 53 
Maine: 61 
Colorado: 62
South Dakota: 63 
Oregon: 65 
Connecticut: 71
New Mexico: 100 
Arizona: 125
Nebraska: 132 
Maryland: 147
New Jersey: 165 
Minnesota: 179 
Wisconsin: 216 
California: 238 
Kansas: 253 
West Virginia: 257 
Iowa: 290 
Virginia: 445 
Arkansas: 474 
Oklahoma: 480 
New York: 524 
Mississippi: 563 
Missouri: 573 
South Carolina: 584
Louisiana: 594 
Indiana: 607 
Illinois: 610 
Michigan: 612 
Kentucky: 616 
Pennsylvania: 826 
Alabama: 829 
Tennessee: 856 
Ohio: 903 
North Carolina: 916 
Florida: 940 
Georgia: 963 
Texas: 1,626
Make Your Money Work for You
Again, this is just the amount of Dollar General stores — not the number of dollar stores all around — but it gives you an idea of where these discount retailers are the most popular. Texas is clearly the winner here when it comes to states that love their dollar stores the most, while Wyoming looks much weaker. This could tie to both the respective sizes of the states (Texas is substantially larger) as well as to income discrepancies. In Wyoming, 9.2% of the population lives in poverty, according to 2019 census data versus 13.4% of Texas' population. 
Read More: 11 Things You Should Never Buy New
Inflation Is Making Dollar Stores More Popular 
As inflation worsens, dollar stores are becoming more popular — even among middle-class shoppers who may have previously turned their noses up at these cheap retailers. Dollar stores are also getting smarter with digital marketing. Family Dollar has 47,100 followers on Twitter; Dollar General has 86,300 followers and Dollar Tree has 184,700. As inflation and income inequality continue, we can expect these brands' followings to grow. 
Make Your Money Work for You
"It's important to note that as the gap continues to widen between higher and lower income consumers dollar stores will continue to gain relevancy," said Melissa Minkow, director of retail strategy at CI&T. 
Inflation's Ups and Downs: How It Impacts Your Wallet
But a polarized economy isn't all that dollar stores need to thrive — they also need to put the work in by enhancing their technology and upping their recruiting appeal. 
"Dollar stores can make the most of the increased interest by tackling the most pressing retail industry issues in the right ways," Minkow said. "For example, ensuring technology is powering successful inventory management so shoppers aren't disappointed when they get to stores, considering employees to be customers so there's as much demand to work there as there is to shop there." 
Of late, we have seen major technological strides by dollar store retailers. In 2020, Dollar Tree partnered with Instacart to offer shoppers same-day delivery from Family Tree and has expanded from there. You can also now pull up stores like Dollar General on your smartphone via app. Still, it's farfetched to think that these brands' core consumer base are people who can afford Instacart and fancy phones. Most of them are older and make less than $40,000 a year. This isn't to say that dollar stores are only for low-income people, or even best-suited to people just scraping by — but without them, dollar stores would probably be penniless. 
More From GOBankingRates
Make Your Money Work for You