Dollar Tree's Best Deals: Regulars Reveal 8 Standout Buys for Your Money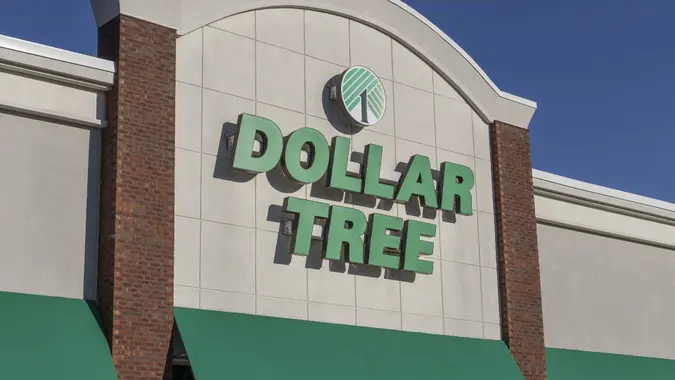 jetcityimage / iStock.com
Heading into a Dollar Tree store can be exciting with the wide variety of products at low prices. However, it can also be a bit overwhelming for the casual Dollar Tree shopper or those checking it out for the first time.
If you are one of those shoppers, this is for you. Several Dollar Tree regulars have great suggestions on Reddit for the best standout buys for your money.
Garden Seeds
Spring is the optimal time for planting fruits and vegetables. With weather that tends to be neither too cold or too hot, you can grow everything from carrots and snap peas, to lettuce and squashes.
Fortunately, according to user gard3nwitch, garden seeds are a great deal at Dollar Tree. "Every spring, they get in a selection of veggie, herb, and flower seeds for only 4/$1. They don't have a huge variety, but you can get some good basics." gard3nwitch also writes that it's a great place to get "little baskets and containers to organize my stuff."
Make Your Money Work for You
Snacks
If you've ever been in Dollar Tree, you know they've got mad snacks, from sweet baked goods and candy to savory chips, pretzels and popcorn.
CBus-Eagle reddit user takes advantage of Dollar Tree's great snack prices for entertaining. "When my kids have friends come over for a sleepover/movie night, I always go to dollar tree and load up on a variety of snacks. I'm not sure what everyone likes, but for $1.25 each, I can spend $20 and get a little if everything. Their friends always get excited when they see the basket full of candy."
Take Our Poll: Would You Move for a Job That Paid You a $10,000 Signing Bonus?
Ultra-Pasteurized Milk
If you have big milk drinkers in your house but don't like running to the store for fresh milk every week, consider stocking up on ultra pasteurized milk in quart cartons from Dollar Tree.
Reddit user yblame says, "[It's] shelf stable and just sitting there on the shelf. I can bring it home and put it in the pantry until I need milk for a recipe. As empty nesters that don't drink milk with meals or in coffee or tea, it's a godsend. Once opened, it goes in the fridge with the date of opening on it with a sharpie. Lasts in the fridge for at least a month."
Make Your Money Work for You
Instant Coffee
Coffee drinkers are a very subject group. You've got hardcore coffee snobs who won't drink anything but their curated favorite, and on the other end of the spectrum are the people who will drink anything as long as it's hot and caffeinated.
If you are open to trying new coffee, one reddit user was surprised to find that Dollar Tree comes through. "Their instant coffee is really good. I was skeptical, but I'm totally switching from my Cafe Bustelo."
Glassware
Depending on how careful you are with your dishware, it's not uncommon to need to replace everything eventually. Nothing like a mismatched set of wine glasses when you're trying to entertain!
According to reddit user empathetic_witch, Dollar Tree has you covered. "I've purchase[d] all of our glassware from Dollar Tree for almost a decade. Pint, stemless wine, high ball etc. They have open stock, Libby, and other well known brands."[x]
Cards for All Occasions
Birthday parties, anniversaries and other meaningful holidays can have a funny way of surprising you, especially if you have kids with a lot of friends or a large family. Instead of waiting, consider stocking up on holiday and birthday cards at Dollar Tree.
Make Your Money Work for You
According to reddit user NewU22, you'll score a much better deal than at any overpriced stationary store. "Dollar Trees near me still have them 2/$1 or $1 each for the 'premium ones.' Cards at regular stores are generally $4-$8 for very similar quality."
Cleaning and Kitchen Supplies
If you like to keep a clean house but don't like paying increasingly higher prices for these items, you'll be happy to know you can get most of what you use at Dollar Tree as long as you're not attached to using the same brands every time.
Reddit user OddBet6588 goes there for such items as "Saran wraps, foils, zip lock bags, sponges, bottle scrubs, gloves." They add, "I go every other month and stock up on these! All the above are triple the price in grocery stores so it's worth the while for me."
Over-the-Counter Medication
Over-the-counter medications have been especially hard-hit by inflation. Even the cheapest pharmacies still have to raise prices on the kinds of medicine you probably take regularly.
Fortunately, according to reddit user pew-pew-the-laser, they were able to find medicine such as ibuprofen at Dollar Tree. "Recently had a cold and their smaller package/cheaper price is perfect. No leftover and no waste." Reddit user EasternTherapeutic also bought the generic version of Claritin at Dollar Tree, saying, "That was the cheapest price I could find it!"
Make Your Money Work for You
More From GOBankingRates
Make Your Money Work for You