The Dollar Tree Experiment: Is Living Solely on $1 Items a Practical Personal Finance Strategy?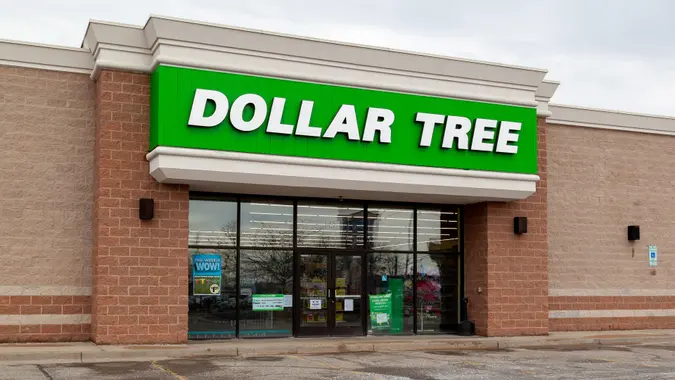 JHVEPhoto / iStock.com
In an era of rising expenses and squeezed budgets, the concept of acquiring everything from groceries to household items for a mere dollar is both fascinating and tantalizing.
I Worked at Dollar Tree: Here Are 5 Insider Secrets You Should KnowMore: How To Get Cash Back on Your Everyday Purchases
Dollar Tree, a well-known chain of variety stores in which many items ring up at a dollar or less, promises such a surreal shopping experience. But does this offer a practical personal finance strategy? Can one truly rely on $1 items for every necessity? Let's delve into this Dollar Tree experiment.
Surviving on Dollar Groceries
To start with, let's consider the edible provisions. Dollar Tree provides an array of food products, encompassing canned goods, frozen edibles, and occasionally, fresh produce. While the frugal side of you may get excited about the prospect of filling the pantry with $1 items, there's a catch.
Often, the quantities provided are significantly less than what you'd find in regular supermarkets for a slightly higher price. This results in a lower value for money than you might initially imagine. Therefore, depending solely on Dollar Tree for your sustenance may not be the wisest choice.
Cleaning Supplies and Household Items
An area where Dollar Tree appears to be a boon is the domain of household and cleaning supplies. Essentials like dish soap, laundry detergent, and paper towels can be snagged for just a dollar apiece.
These items can often cost triple or quadruple in other stores. Given that the efficacy of cleaning supplies depends more on their active ingredients rather than the brand, Dollar Tree can significantly boost your personal finance strategy in this department.
Make Your Money Work for You
Personal Care Essentials
When it comes to personal care items, Dollar Tree presents a mixed bag. The store stocks a variety of products from toothpaste to shampoo, all bearing that irresistible $1 price tag — caution is paramount here.
Some of these products may be travel-sized versions offering less value for your dollar. Others might belong to unfamiliar or lower-quality brands. There are occasional name-brand finds in this section, though, which could result in substantial savings for the discerning shopper.
Books and Media
Another intriguing category at Dollar Tree is books and media. You can often find a range of books, CDs, and DVDs for just a dollar each.
While the selection might not be as extensive or as current as in a bookstore or online, you might stumble upon some surprising finds. However, relying on Dollar Tree as a sole source of entertainment might limit your options considerably.
The Verdict: Can You Live on Dollar Tree Alone?
While the idea of relying solely on Dollar Tree for all your necessities sounds economically enticing, it's not entirely practical. The store does offer significant savings in certain areas, like household supplies and potentially toys and crafts.
However, it falls short in providing a reliable source for essentials like groceries and personal care items, given the smaller quantities and potential quality issues.
Therefore, while Dollar Tree can play a supporting role in a savvy personal finance strategy, it probably shouldn't be the starring actor.
See: 8 Essentials You'll Be Shocked You Can Buy at Dollar Tree
Utilize it to supplement your shopping in areas where it provides genuine value, and you might find your budget stretching further than you thought possible.
Make Your Money Work for You
Editor's note: This article was produced via automated technology and then fine-tuned and verified for accuracy by a member of GOBankingRates' editorial team.
More From GOBankingRates