Inflation 2023: 7 Dollar Tree Items That Went Up in Price but Are Still Great Deals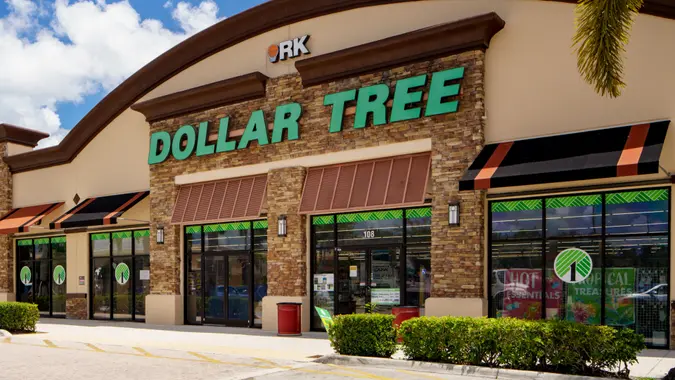 felixmizioznikov / Getty Images
Inflation is no joke. Still at 6% as of February 2023, it's causing prices to shoot through the roof for the average shopper — everything from gas to groceries costs a little more. Many people have taken the necessary steps to cut back on spending and try to save where they can, but we all have expenses.
One great way to battle your inflation woes is to shop somewhere that offers goods and items at a discount or has a large selection of generic brands for you to pick from. Dollar Tree is the perfect spot to pick up groceries, supplies and anything else you might need yet even as a dollar chain they have had to raise prices to adapt to the market.
Don't worry, though, because even though prices have gone up on some items, a few Dollar Tree items are still great deals.
Toast'em Pop-Ups
Most food products across the board have gone up in price, but Dollar Tree manages to keep breakfast foods at a reasonable price. Cereals, spreads, breads and their Toast'em Pop-Ups have gone from $1 to $1.25. However, a six-count box of strawberry, brown sugar or cherry still beats an eight-count box of Pop Tarts at Walmart's price of $2.76.
Make Your Money Work for You
Take Our Poll: Do You Think Bankruptcy Is an Acceptable Way To Escape Student Loan Debt?
Chef Boyardee Ravioli
Few meals in a can come quite as complete as Chef Boyardee Ravioli, with mini beef raviolis in a meat and tomato sauce that's hearty and filling. Whereas Walmart stocks this canned good for $1.34, Dollar Tree can beat it by 9 cents. That might be 25 cents more than it was for the last 37 years, but with prices skyrocketing, you'll want to count every penny you can save. 
Calculators
In order to save some dough, you're going to want to make sure you are doing the math correctly when it comes to your finances. Dollar Tree has kicked up the price of calculators to $1.25 in the last two years, but that's a quarter worth spending to get a pocket calculator or a desktop calculator that comes with batteries. Compare with calculators on sale at Walmart and you'll see their cheapest option is $4.88.
Sunglasses
Do you want to look cool and keep the sun out of your eyes? Then head on over to Dollar Tree, where aviator sunglasses with wire frames are on sale in a variety of colors and styles for just $1.25. Even though they used to be $1 back in the day at Dollar Tree, you won't blink twice when you see that Walmart's cheapest pair of aviators is $6.99.
Make Your Money Work for You
Disposable Party Cups
When you see a red plastic cup, you know it's party time. With inflation, you're going to want to celebrate by keeping the costs of your festivities low. Dollar Tree has raised the price for a 50-pack of 18-ounce Dart red plastic party cups to $3. If the sticker shock has you shaken, check out Walmart's Great Value brand-same number of cups, same size of cups-for $4.76 and you'll see that Dollar Tree is the place to get the best deal.
Martinelli's Sparkling Cider
Speaking of parties, there are so many reasons to celebrate — why not have a beverage on hand for the whole family? Dollar Tree has an 8.4-ounce bottle of Martinelli's Sparkling Cider, a non-alcoholic, 100% apple juice drink for just $1.25 per bottle. Walmart does a pack of 12 bottles the same size for $29.95, which breaks down to about $2.43 per bottle. Dollar Tree still gives you plenty of reasons to toast to saving money.
Room Darkening Curtains
Now that the seasons are changing and the days are getting longer, you might be enjoying all that sunshine — up to a limit. Luckily, Dollar Tree has solid-color curtains in gray, navy blue and white for just $5 each. While the price has gone up a bit since 2021, you'll still get a better deal than if you buy darkening curtains at Walmart, which typically range between $7 and $8.
Make Your Money Work for You
More From GOBankingRates
Make Your Money Work for You