Dollar Tree vs. Target: Which Has Better Deals and Discounts This Spring?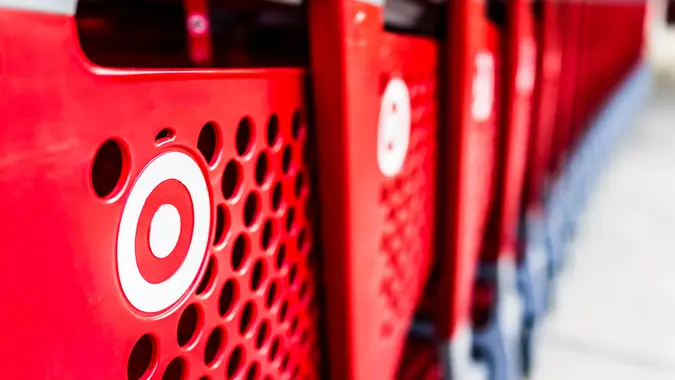 Kristi Blokhin / Shutterstock.com
Spring often brings with it the urge to improve things. When you get ready to shop for these improvements, depending on your list and your budget, you may be able to find some pretty awesome spring deals at Dollar Tree — and also at Target. The question is, which store has the better deals or discounts?
The question isn't easily answered, because while Dollar Tree is known for its singularly low price of $1.25, that can be misleading depending on quantities and quality. Target often has good deals, too, and while you might pay more than $1.25, ultimately you may be getting better value or quality. Let's compare some deals to see which store has the better discounts this spring.
Caress Daily Silk Soap Bars 
Currently, you can pick up an 8-pack of these items for around $8.69 at Target, which works out to $1.08 per bar, according to Julie Ramhold, consumer analyst with DealNews.com. That's a pretty good deal, assuming you can use all eight of these bars of soap.
At Dollar Tree, you could buy fewer bars for just $1.25 each, but the problem is that not all locations will carry these in store, so you may be stuck with ordering online, Ramhold explained, which could mean having to buy them in bulk.
Make Your Money Work for You
Batteries
Dollar Tree is definitely cheaper when it comes to batteries, but Ramhold pointed out, "If you shop at Dollar Tree, you'd best be prepared for no-name brands and a limited selection. Sure, you can get a 4-pack of AAs but the reviews probably aren't great unless you can find a name brand like Panasonic at your local store."
On the other hand, at Target, you can buy a 20-pack of AA batteries for $20, which is more expensive than the Dollar Tree brands, but likely is better quality. "In fact, if you opt for Target's own up & up brand of AA batteries, you can get a 48-pack for around $16.49, which works out to about 34 cents per battery," Ramhold said. "While Dollar Tree packages break down to about 31 cents per battery, stocking up on trustworthy products at Target will prevent you from wasting cash and having to buy better batteries sooner."
Lucky Charms Breakfast Cereal
The good news about Dollar Tree is that you can get breakfast cereals like Lucky Charms there. The bad news — they're often in very small sizes.
Ramhold said, "Skip the skimpy 3.1-oz packs at Dollar Tree and opt for the huge resealable 32-oz bag at Target" Ramhold pointed out that Dollar Tree's pouches are $1.25 each, and if you have to order online, you'll have to order at least six, which means spending $7.50. "That's not awful overall, but that 32-oz bag at Target is about $7.19. That works out to 22 cents per ounce at Target and nearly twice that at Dollar Tree."
Make Your Money Work for You
KitKat Thins 
It's fun to treat yourself and your kids this spring, and it can be tempting to grab a 1.55 oz bag of KitKat Thins at Dollar Tree for that low price of $1.25, but you're much better off shopping at Target, Ramhold said.
There, you'll find a 7.37-oz bag for around $4.39, which works out to about 60 cents per ounce. At Dollar Tree, it's about 80 cents per ounce, and if you really love this candy, you'll be having to head back to buy more much sooner than if you opt for Target."
Mother's Day Cards
The one area where Dollar Tree might just offer superior deals is on Mother's Day cards, for a short time. Now through May 14, Dollar Tree has a deal on Hallmark brand Mother's Day Cards, where they are just $1 each — back to their roots in pricing.
If you've ever tried to purchase Hallmark cards, you know that these iconic cards for all occasions do not come cheap. At Target, on average, they start at around $4.99. So it makes sense to check out Dollar Tree's selection first.
Make Your Money Work for You
More From GOBankingRates