Don't Buy a Train Ticket This Day of the Week – It Could Be Cheaper To Buy on These Days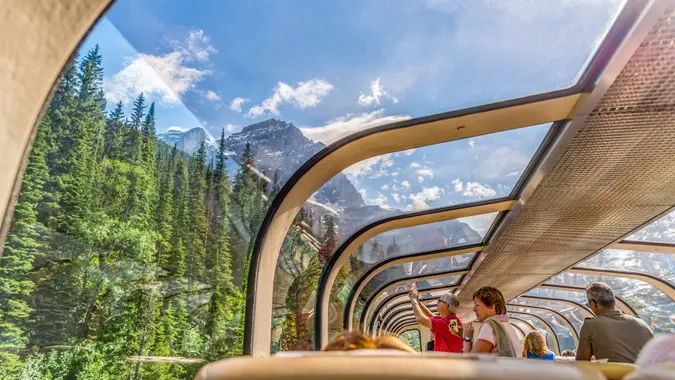 Richard Jacyno / Getty Images
Taking a train can be a great way to get to your destination, wherever that might be. Not only are trains a convenient way to travel without having to fly or go by car, but they're often more leisurely than having to drive yourself. Many trains also have amenities that make the entire trip more enjoyable and relaxing. Plus, you usually get way more legroom than you would in economy or the passenger's seat of a standard sedan.
With that in mind, there is a potential downside to traveling by train, and that is the fact that tickets can be expensive. Depending on when and where you're going, you might also be faced with a higher demand and, thus, limited seating options.
Before you book your next train ticket, here are some of the best and worst days of the week to travel.
Worst Days To Purchase a Train Ticket: Friday Through Sunday
Whether you're traveling by plane or train, the weekends are often a popular time to book a trip. Because of the higher demand, ticket prices may also increase if you're traveling during the weekend. And if your trip takes place on a Saturday or a Sunday, but you wait to buy until Friday, you could be faced with more limited seating options.
Eloisa Hife, CTO of BarkLikeMeow, said, "Fares are often higher on Fridays, as people are traveling for the weekend. Fares are typically highest on Saturdays, as this is a popular day for leisure travel."
Make Your Money Work for You
James Herman, the founder and finance advisor at Mobile Tech Addicts, added, "Weekends, particularly Saturdays and Sundays, are often not the most budget-friendly days to purchase train tickets. These days are when many people plan their trips, and prices may be higher due to increased demand. Additionally, Friday can also see higher fares as people prepare for weekend travel."
During peak times, such as holidays or seasonal events, both demand and train ticket prices tend to be even higher.
"During peak travel seasons, it may be more difficult to find available seats," said Christian Miller from Italien Entdeckenn. "Therefore, it is best to avoid buying train tickets on Fridays and Sundays if possible."
Best Days To Purchase a Train Ticket: Middle of the Week
Tuesdays, Wednesdays, and Thursdays could be a better time to book a train ticket.
"In my opinion, the best days of the week to buy train tickets are Tuesdays and Wednesdays," said Miller. "These days tend to have lower demand for train travel compared to weekends or Mondays. Therefore, purchasing tickets on weekdays, such as Tuesday or Wednesday, can often result in better deals. There have been many instances where I have saved a significant amount of money by booking my train tickets on weekdays instead of weekends."
Kimberly Wall, co-founder of BibleKeeper, added, "From my personal experiences, the best days would be around mid-week, especially Tuesdays and Wednesdays, [which often have] some enticing deals. Most people book tickets on weekends, making mid-week a quieter time for purchases."
It's worth noting that Fridays could be a good day to buy a train ticket if you're booking in advance and not for the upcoming weekend.
Make Your Money Work for You
"In my opinion, Tuesdays and Fridays are the best days of the week to buy a train ticket," said Dane Habig, controller at Utopia Management in San Diego. "This window of time often doesn't have travel restrictions due to the lack of peak travel times, allowing train lines to offer relatively cheaper weekday prices to attract more commuters. Fridays, in particular, allow train companies to maximize consumer demand for weekend travel, potentially leading to more sale deals."
Getting the Best Deal on Train Tickets
There are several ways to save money when purchasing a train ticket. Some of these methods are simple and can be done on the spot, while others require some planning. Here are just a few:
Compare prices: Comparing prices between train companies and websites is a great way to ensure you're getting the best deal when you book. "Utilize online platforms and apps that provide fare comparison for different train services," said Herman. "These tools can help you find the most economical options for your route."
Look for deals. Train companies sometimes offer deals or discounts for traveling at specific times. "You may find that one website or company offers better deals or promotions for certain days of the week," said Miller.
Get a pass. If you're a frequent traveler, or if your trip entails multiple stops, you may benefit from getting a pass rather than purchasing individual tickets. "Consider purchasing a rail pass if you plan on taking multiple train journeys during your trip," said Miller. "Rail passes often offer discounted rates for frequent travelers."
Travel during less busy periods. Unless you absolutely must travel during peak times, you can usually have a cheaper — and quieter — experience by traveling when it's less busy like in the mid-morning or mid-afternoon. "Opting for trains during non-rush hours can be kinder on your pocket," said Wall. "Some companies offer loyalty points or discount cards for frequent travelers."
Book in advance. The earlier you book your train ticket, the better. If you book early enough, it might not even matter as much which day of the week you make your purchase. "The earlier you book your train tickets, the more likely you are to get a good deal," said Hife.
Be flexible. If you're flexible with your travel dates, you can also avoid more expensive tickets or a busier trip or commute.
More From GOBankingRates