Don't Buy Luxury Goods on Credit: 5 Tips for Affording These Splurges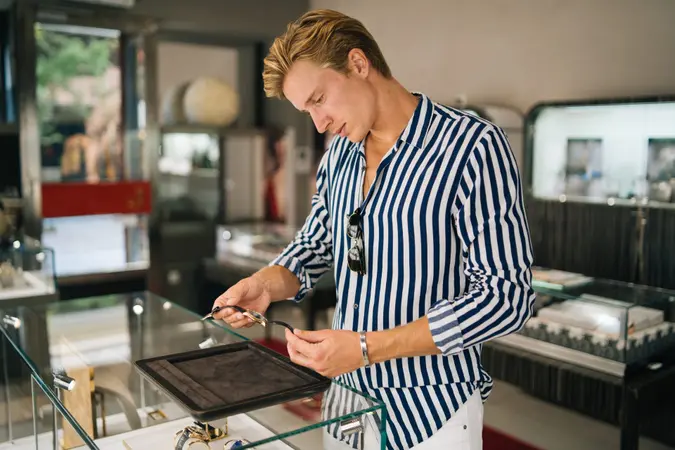 AscentXmedia / Getty Images
The best things in life aren't always necessarily free. The truth is that most of us would like to think that if we save all our spare change we can blow it all on a big vacation or a costly item that suits a particular fancy. And in truth, even if the funds aren't there, we always know we can pull out our credit card and worry about paying it off later.
Before you bring out the plastic for your next big purchase, take a second to pause and see if it's really worth it. Lots of people are finding multiple ways to contribute funds to their overall savings and buy things like luxury items without using credit cards.
What are the best strategies for buying luxury items without going into debt? GOBankingRates reached out to some experts for tips when it comes to splurging on big purchases without going into credit card debt. Here's what they recommend doing:
Shop Secondhand
Have you ever considered purchasing secondhand luxury items? You might want to because the value is still high and the cost is much lower.
"Purchasing second-hand luxury items can be a great way to save money while still getting the item you want," said Sarah Momsen, member and CTO of Jit Home Buyers. 
"Look for deals on websites such as eBay, Craigslist, or specialized consignment stores that offer pre-owned designer and luxury goods at discounted prices."
Make Your Money Work for You
Take Our Poll: What Are You Worth to Your Company?
Visit Outlet Stores
You might need to drive a little out of your way on the weekends, but outlet stores are a great place to find luxury goods for a fraction of their original costs. 
"Designer outlet stores will most often sell overstock or factory seconds (items which may have minor faults or damage), and offer massive reductions on their products," said Sabira Bandali, founder of Haul of Fame. Bandali also suggests looking out for sample sales when on the hunt for fancier purchases.
"Sample sales allow luxury designers and fashion houses to sell their excess inventory as well as items used in fashion shows or magazine shoots, and once again offer massive savings for fashionistas on a budget. Discounts can go up to 90% off the retail price," said Bandali. "You can browse websites such as Chicmi or Time Out and sign up [for] their newsletters to find out when designer sample sales are happening near you."
Finance Through a Third Party
Credit cards often come with high-interest rates, so even though you are delaying taking money out of your account to pay off the balance, you might be racking up more costs in the process. For your next big buy, consider financing via a third party.
"If you truly cannot wait to purchase your desired luxury item and need to use credit, research financing options through retailers or third-party lenders," Momsen said. "They may offer payment plans with no interest or a lower APR than more traditional methods of borrowing money. Before signing up for any type of financing option, make sure that you understand the terms and conditions of the agreement."
Make Your Money Work for You
Rent or Borrow
Do you really need to buy that pricey purchase or could you just rent it for a period of time? Maybe you have a friend of a friend or a cousin who is willing to let you borrow it free of charge? Both are good options to explore instead of adding a huge charge to your credit card.
"If you have a special occasion or event where you need a luxury item temporarily, consider renting or borrowing instead of purchasing," said Jeanneth Prado Espinosa of Great Marbella Estates. "There are online platforms that facilitate luxury item rentals, allowing you to enjoy them for a specific period without the long-term financial commitment."
Start a Luxury Savings Fund
Of course, there is always the old-fashioned way of buying something that's out of your price range: save up for it. Just make sure you make a note that this savings account is different from others. These days some people have what's known as "blotto accounts" where you save up and then splurge it all, guilt-free.
"While saving for actual needs such as retirement or emergencies should be a priority, creating a smaller pot for treats can be a great way to avoid racking up debt," said Bandali. "Save a small amount each month and plan ahead for the items you know you 100% want. You could even add extra income to your luxury fund by selling items you no longer use online [like] Facebook Marketplace, Vinted, and Depop are all fantastic options, filling out paid online surveys try Swagbucks, Survey Junkie, or LifePoints, or even starting a side hustle if you have the time."
More From GOBankingRates