From Dollar Tree Hater to Dollar Tree Shopper: What Convinced Me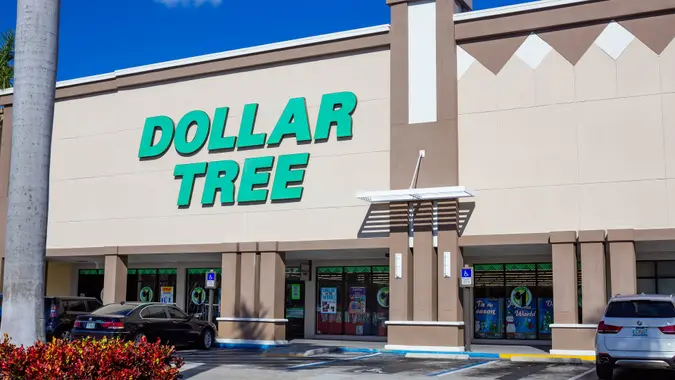 Marina113 / iStock.com
For many of us, it's easy to turn up our noses at the dollar store. After all, we all know there's truth in the old adage that you get what you pay for — and often cheap buys are just too good to be true. But not always! Sometimes you can get a great product for a great price and one of those places is at Dollar Tree.
To illustrate this point, GOBankingRates talked to some people who used to hate the bargain store but now find themselves cruising its aisles for those sweet, sweet deals.
Cost
The low prices are perhaps the most obvious reason to shop at Dollar Tree. Whether you need household essentials, party supplies or seasonal decor, you can find many things you need at Dollar Tree.
"The way prices have jumped so high with inflation has turned us into the savviest of shoppers," says Aubree Watson, a stay-at-home mom and the founder of Generation Motherhood. 
Although she and her family used to pass on Dollar Tree because of how disorganized she found it, now they don't mind dealing with a little chaos because she knows she's getting the best bang for her buck.
"I've actually found some amazing deals at Dollar Tree on items that I would usually buy at stores that charge way more. Laundry detergent, paper plates, plastic utensils, toothbrushes and socks are just to name a few. Dollar Tree even has a great selection of kids' toys! By shopping at Dollar Tree, I'm able to significantly cut down on costs and put that saved money toward other things that my family wants or needs."
Make Your Money Work for You
Selection
"Dollar Tree has been expanding its product selection to include more name-brand items, and the quality of the products has been improving," says Brian Wilcox, chief financial officer at Debt Bombshell.
"I used to skip the dollar store because I thought the products were low quality and not worth my money. Now, I shop at Dollar Tree all the time. I've found that I can get everything I need there, from food and groceries to household supplies and party decorations. The store has something for everyone, and I always leave feeling like I got a good deal."
Convenience and Simplicity
"One fine day, I walked into a Dollar Tree store with an open mind and was pleasantly surprised by the range and value on offer," says Matt Hagens, founder of Obsessed Lawn. "From garden gloves to seed packets and even some basic tools, the store was filled with items that were genuinely useful for my gardening endeavors and at a fraction of the price of those available in specialist stores."
Hagens goes on to say that what really changed his perspective was the convenience of these stores. With its limited yet practical selection, Dollar Tree offers a refreshing change from the sometimes overwhelming choices found in larger retailers, sparing Hagens from decision paralysis. Not only does this save precious gardening time, but it also keeps hard-earned cash in his wallet.
"Now, I don't mean to say that Dollar Tree has become my one-stop shop for all gardening supplies. Certain items, such as more specialized tools or specific fertilizers, are still purchased from dedicated garden centers. But the fact that I can pick up so many basic items at a Dollar Tree has indeed brought a sense of balance and thriftiness to my shopping habits."
Make Your Money Work for You
Hidden Treasures
Sarah Clemence, founder of Busy Blooming Joy, describes a chaotic day on which she ventured into Dollar Tree seeking glue for a child's last-minute science project. 
"What I found inside, to my complete surprise, was a treasure trove. There was not just glue but a multitude of inexpensive, yet effective tools that my children could use for their projects. There were cleaning supplies that did their job without the flashy price tags. Since that day, I have had a newfound respect for Dollar Tree. I realized that you could find quality even in the dollar store, if you know where to look and what to look for. It wasn't just about saving money but finding the value in things we usually overlook."
Anne Sutherland, founder of the travel blog Pretraveller.com, was converted by a change in perspective brought about by traveling to other countries.
"One of my visits to a bustling district in Tokyo led me to a local equivalent of a dollar store, and I was pleasantly taken aback by the variety and quality of the products available. It got me thinking. If such shops could offer this kind of value in Japan, couldn't our dollar stores back home do the same? With this new mindset, I ventured into a Dollar Tree upon my return, and it was, to say the least, an eye-opening experience. From travel-sized toiletries perfect for my upcoming trips to little knick-knacks for my home, I was blown away by the hidden treasures I'd been missing out on."
Make Your Money Work for You
More From GOBankingRates