Garage Sale Items That Could Be Worth Big Money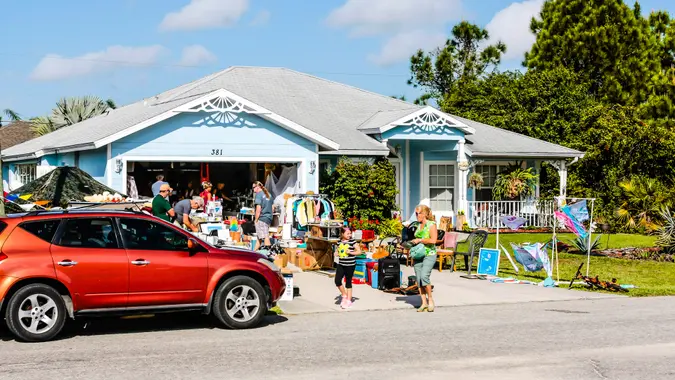 csfotoimages / iStock.com
Maybe you've heard the story of a bowl someone in New York state bought for $3 at a garage sale in 2007.
It was a little bowl, just 5 inches in diameter, with a big story behind it. A few years later, when the owner decided to have it checked out for its history, it was found to be a rare, 1,000-year-old creation from China – one of only two known to exist.
Sotheby's valued the bowl, from the Northern Song Dynasty, at between $200,000 and $300,000. In 2013, it sold for just over $2.2 million at an auction.
While you probably won't turn up a treasure like that at your neighborhood garage sale or flea market, there are plenty of finds out there that could prove valuable on the resale market. Here are 10 things to be on the lookout for at garage sales.
See: 30 Ways Shopping Will Never Be the Same After the CoronavirusFind: Google, Netflix and More To Require Vaccines for Workers — Is Your Company on This Growing List?
Antique Christmas Ornaments
Some of the first Christmas tree ornaments – known as kugels – were ball-shaped decorations made in Germany, and the shapes later included pears, eggs and other items. If you find these at a garage sale, snap them up. According to Martha Stewart's website, they could be worth anywhere from $40 to $1,000, depending on the color, shape and size. Pink, orange and purple are rare. The non-ball shapes are most uncommon.
Make Your Money Work for You
Artwork
That painting of a fruit bowl? It's kind of kitschy, and you like it for your kitchen wall. But what if it turns out to be worth millions? In 1992, a Southern California woman bought a painting at a thrift store for $5, and when she tried to resell it at a yard sale, a shopper told her it could have been a Jackson Pollock creation. While one expert certified it as a Pollock, others weren't as sure. The woman turned down offers of $2 million and $9 million awaiting authentication, believing it was worth $50 million. She died in 2019 having never sold it.
Books
Skip thumbing through the stack of paperbacks you could take to the beach and look at the hardcover books. Open up the cover to check if it's a first edition or perhaps a first print. EstateSales.org reported that a first printing of "Harry Potter and the Sorcerer's Stone" sold for more than $80,000 since only 500 copies were published.
Comic Books
One person's trash certainly can turn into treasure when it comes to comic books. Earlier this year a copy of the first comic book featuring Spider-Man was sold at auction for $3.6 million, setting the record for the most expensive comic book ever sold. (It cost 12 cents at publication in 1962, by the way.) A garage sale comic book you find might not fetch millions, but it's certainly worth plopping down a quarter or dollar or whatever the seller is asking for – especially if it's an older version – and have it checked out.
Make Your Money Work for You
Computers
Not just any computer, but an Apple 1 computer. In 1976, Steve Jobs and Steve Wozniak introduced the computer and manufactured 20 of them. CNBC Make It reported that in 2014, an Apple 1 sold for $905,000. Other early Apple products, such as the Apple II and the Apple Lisa, could bring in big money.
Guitars
You might not be able to play a G chord, but it's worth checking out the guitars you see at a garage sale, particularly if they are name brand of today such as Gibson or Martin, or a vintage brand like Goya, Fender, Airline and Guyatone. There's a market for used guitars on online sites, and they can fetch big prices.
Jewelry
A ring purchased at a car boot sale in London – kind of like a flea market – in the 1980s for the equivalent of $13 turned out to have a diamond weighing 26.29 carats. While it was presumed to be fun costume jewelry, an appraisal much later showed the ring included a highly graded diamond. It sold at auction for nearly $850,000.
Make Your Money Work for You
Record Albums
In 2002, a record collector from Montreal was shopping at a junk sale and found a record with identifying marks that read "The Velvet Underground 5-15-66" and bought it for 75 cents. He stumbled upon a never-heard recording that, as it turns out, was made in the band's first recording session. He sold it four years later on eBay for $155,406.
Learn More: Beyoncé, Taylor Swift and 25 More of the Richest Women in Music
Sony Walkman
People of a certain age will remember the Sony Walkman, a big step up from the transistor radio when it came to taking our music on the go. The first Walkman products hit the shelves in 1979 and were produced until 2010, with dozens of versions manufactured. The asking price for one of them – the Sony Walkman WM-3 Cassette – is now almost $4,000 on eBay.
Vintage Pyrex
You probably think you have enough Pyrex bakeware, mixing bowls and measuring cups – but don't walk past Pyrex at a garage sale. Vintage Pyrex is valuable. Check out the rare three-quart casserole dish with lid from the Spice of Life collection. Asking price on eBay? $10,000.
More From GOBankingRates
Make Your Money Work for You
Last updated: Oct. 21, 2021