8 Gen Z Money Habits That Can Slash $50 Off Your Next Grocery Bill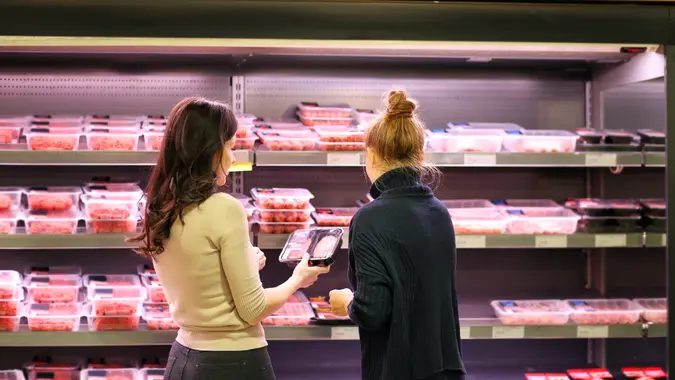 VLG / Getty Images/iStockphoto
Members of every generation are interested in saving money on food, especially in a year when prices have reached staggering heights. But perhaps no generation in history has been as keen on — or as knowledgeable about — trimming costs on groceries as Gen Z.
According to Food Industry Executive, Gen Z households spend an average of $760 for food each month, with $550 (or 72%) of the total going to groceries, while millennial households spend $874 on average each month on food, with $615 (or 70%) on groceries.
So what are some top Gen Z habits that can slash $50 off your next grocery bill? Let's find out, with helpful insights from finance and shopping experts.
Use Cashback Apps
Cashback apps have evolved in recent years, and you can now keep multiples on your devices to make sure you're getting the biggest bang for your buck (and some bucks back in return). Upside is a particularly attractive player in the space.
"Upside is a newer one to the table, but what makes it so awesome is that you can use it to get cash back on gas and restaurants as well as groceries, and could help you earn up to 30% cash back," Julie Ramhold, consumer expert at DealNews told GOBankingRates. "It's not the only game in town, though; be sure to check out options like Ibotta and Checkout 51 as well."
Make Your Money Work for You
When possible, stack these apps to make sure you're cashing in on all the opportunities they enable.
Use the 'Cash-Stuffing' Method
It's not exactly a new method, but thanks to the catchy term "cash-stuffing" — embraced by Gen Zers — this approach is picking up steam. 
"Essentially, you split your cash into different envelopes denoting one envelope for each line item of your monthly budget," Ramhold said. "Then that cash is all you have to spend on that category for the month. It goes a long way towards helping consumers keep from overspending in a variety of ways, but also promotes more mindful shopping in general."
For example, Ramhold said, "If you only have $200 to spend on groceries in a month and you shop every week, you'll be much more careful about spending too much at the start of the month since you know you only have that finite amount to rely on for the next 30 days."
Skip the Online Shopping
This may not last, but right now some research suggests that Gen Z is spending less online, deeming luxuries like deliveries as unnecessary splurges that could ultimately damage their financial health.
Make Your Money Work for You
"Because of [this decrease in online grocery shopping], they often save on things like delivery fees, as well as spending less in general because they shop in person and thus avoid the online markups delivery services utilize," Ramhold said.
Bulk Buying (Including Meat From Local Farms)
Bulk purchasing is another smart grocery saving opportunity that Gen Zers embrace — but they do it a little differently than mom and dad, who may stick solely to warehouse clubs and grocery stores.
"This generation isn't only resorting to large warehouse retailers for bulk buys, but are also turning to local farms through initiatives like Community Supported Agriculture (CSA)," said Josh Richner, marketing director at National Legal Center, a consumer rights law firm focused on helping people get out of debt without bankruptcy. "Community-minded and environmentally conscious Gen Zers who pool resources to buy meat in bulk directly from the farm enjoy environmentally friendly savings."
Meal Planning
A cornerstone in Gen Z shopping habits to save money on groceries is meal planning. 
"Gen Zers are meal planning maestros when it comes to saving money on groceries," Richner said. "Meal prepping is one of the most effective ways to ensure resources aren't wasted and the budget stays on track. A well-planned grocery list helps limit spending, and because all meals have been planned ahead of time, it reduces the chances that food goes bad or has to be thrown away."
Make Your Money Work for You
#LazyGirl Dinners
Another catchy new term? #LazyGirlDinner, which is a way to reduce food waste — and flaunt it on social media.
"Instead of letting that sad bag of spring mix go in the garbage, Gen Zers are coming up with creative ways to consume and share it as a #lazygirldinner," said Kelly Palmer, founder and chief wealth officer of The Wealthy Parent LLC. 
Intermittent Fasting
Definitely check with your doctor before trying this potentially effective money-saving method that, because of its arguable health benefits, has taken off. 
"Intermittent fasting has become popular among Gen Z, and by choosing to reduce the number of meals they have each day — or eating one large meal a day instead of several smaller ones — they save money on groceries," Richner said. 
Take Pictures of Your Grocery Receipts 
Free rewards apps like Fetch offer cash back when you take pictures of your grocery receipts.
"Check the special offers section on Fetch to see which brands or even stores like Vons, Albertsons, Walmart or Target will net you the most points and shop strategically," said budgeting expert Andrea Woroch. "You can even redeem points for free gift cards to stores that sell groceries like Sam's Club, Target and Walmart to offset future food purchases and stretch your grocery savings further."
Make Your Money Work for You
More From GOBankingRates