Here's How You Can Shop at Target … Without Buying the Whole Store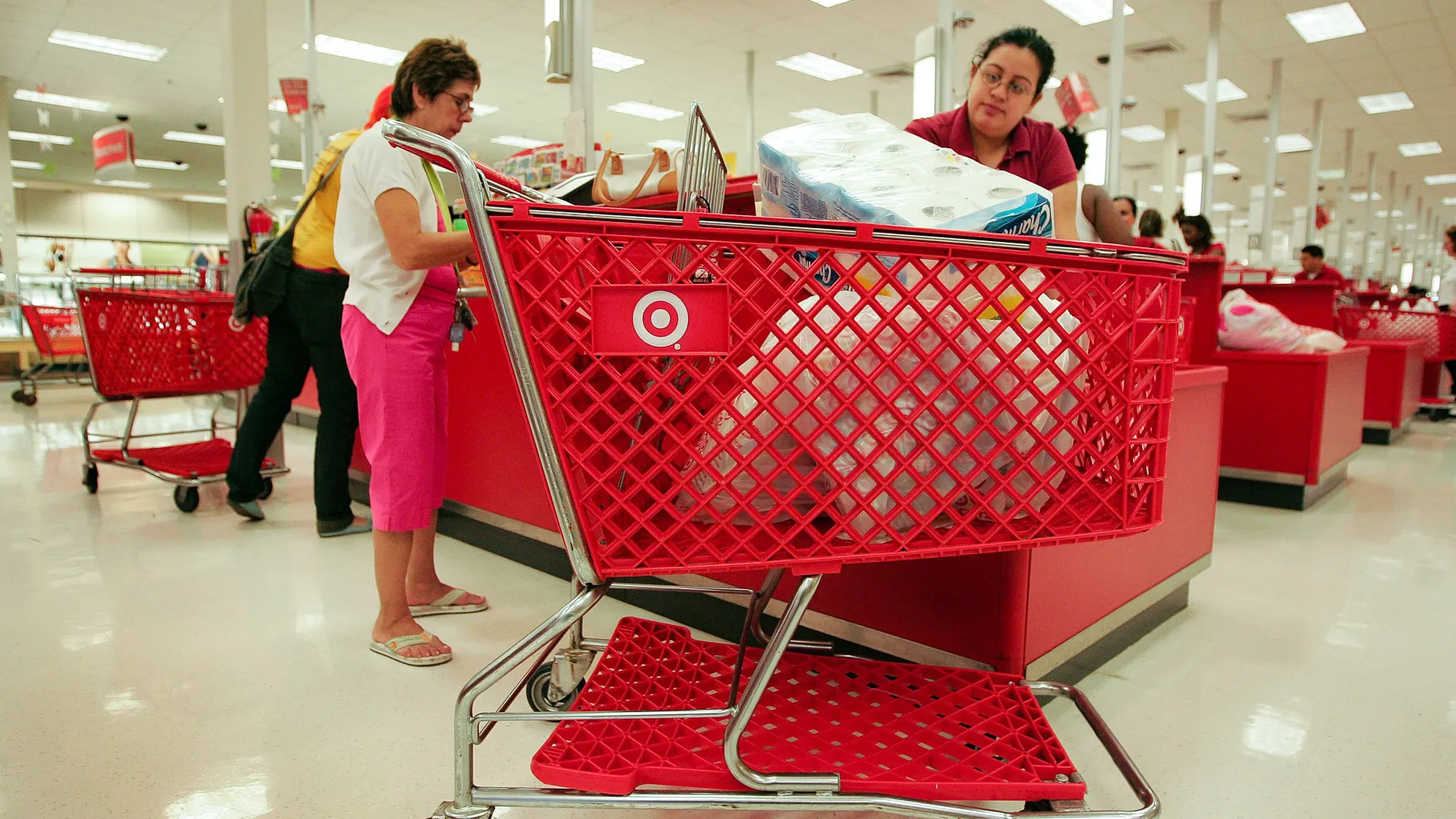 Even if you're not ordinarily a shopaholic, you might find yourself spending longer in Target and dropping more money on merchandise than you originally planned. For decades, Target has been known for its exceptional in-store experience. The reason is simple: Shopping at Target can give you a sense of pleasure and reward, whether you're picking up a bargain at the Target Dollar Spot or touching a Merona cashmere scarf in Target's accessories department.
And if you're a sucker for spending an afternoon — and more money than you budgeted — in the big bull's-eye stores, be warned: Target is upping its game with a new, enhanced store design beginning this fall. The first 40 stores will open in October, with the company rolling out 500 more by 2019. Before you shop, use these strategies to score Target deals — without going broke.
Go Alone
This is one of the best shopping secrets to remember: Plan your Target shopping when the kids are in school and your spouse is at work. Both your kids and significant other can add to your planned budget significantly.
When you shop Target's new store design, you'll discover products at varying heights along curved pathways — and many are located at kids' eye level. Once kids spy the new object of their desire, their whining and begging can have a significant impact on what winds up in your big red cart.
By the same token, shopping with your spouse or significant other can also lengthen your receipt and increase the total at the bottom. Buying habits and priorities change as you seek to accommodate your partner's preferences. Partners want to please each other, meaning that you're likely to encourage a purchase when you see that look of longing in your loved one's eyes.
Make Your Money Work for You
Use Your Phone
When you're shopping at Target, there might be some spending triggers that can leave you broke. But distracting yourself from these triggers can save your budget. For example, catching up on email, social media and phone calls could distract you from the store's visual marketing as you make your way past Target deals.
A 2017 study on consumer behavior published in International Business Research found that consumers using their phones or other mobile devices were less able to recall marketing stimuli in a retail setting. This distracted state of shopping led to fewer unplanned purchases, as consumers were able to stick to their lists for a smart shopping trip.
Be an Early Bird
"Shop early in the morning," said certified financial planner Michael Schupak of Schupak Financial Advisors, LLC. He points that fewer people are typically in the store during this time, and more workers are stocking shelves so they can point you in the direction of what you're shopping for.
But, "if you shop Target after work, chances are there will be long lines and crowded aisles," he added. "And you will end up spending more time in the store. More time is the recipe for spending more money."
Many Target stores open at 8 a.m., making it an opportune stop after dropping off the kids at school or before you head to work. For stores that open at 9 a.m., shop Target early on a weekend day when many late sleepers are still rolling out of bed.
Ditch the Cart — or Not
Shoppers with oversize carts tend to spend about 40 percent more, according to marketing consultant Martin Lindstrom, author of "Brandwashed." An earlier study published in the Journal of Marketing Research showed that people carrying shopping baskets laden with items were actually more likely to spend unplanned money on vice products — like alcohol — due to the tension exerted on the arms, neck and shoulders.
So what's the answer? Divide your Target shopping cart by adding a couple baskets or reusable shopping bags. Your mind will register how much you're actually buying as you fill up the first and then the second basket. Your stuff will be gliding around on wheels without putting tension on your neck and shoulders, giving you the opportunity to consider what you're actually buying without having to rush to the register to set down the weight.
Make Your Money Work for You
Avert Your Eyes
Target Dollar Spot $1 items are the first things you see when you walk in the door. These "open the wallet" items are intended to be Target deals you just can't pass up, securing your commitment to buy when you're in the store.
The upfront bargains also get you into the mindset that you're getting a good value at the store. These bargain blowouts won't be going anywhere in the new store designs — they're simply reimagined as the "Bullseye's Playground." Shoppers who know how to avert their eyes from wallet-openers will face other challenges upon entering the store. Target's entrance promises that "you'll be immersed in the season's best looks and trends, designer partnerships, brand launches and more, all beautifully displayed," according to the corporate website. The space will change 10 times per year to "keep items fresh," complete with special lighting and signage.
Don't Shop Hungry or Thirsty
Make sure you've had your morning coffee and something to eat before you head out to shop. If you're shopping hungry while buying groceries at Target — which is one of the worst grocery shopping mistakes people make — your cravings will likely compel you to buy food items you really don't need.
Target's new stores greet you with the aroma of Starbucks coffee and baked goods. Speaking of Starbucks, its location next to the front door might make you spend more time in the store and open your wallet — which makes it even easier to spend money at the store.
Don't Play the Game
Target's store layout might remind you of a game such as "Chutes and Ladders." You move your game piece — your big red cart — along a major pathway that trisects and circles the store, with unobtrusive passageways letting you move between levels to discover deals and clearance racks. The journey around this life-sized board ends at the checkout counter, where you win "the game" and go home with your treasures.
For example, Target stores upped their game in spring 2017 when Mario Kart 8 Deluxe for Nintendo Switch made it to stores. The concrete bollards outside the front entrance were temporarily transformed into Mario and Luigi. And, customers crossed a black-and-white-checkered starting line with motion sensors flashing lights and playing the Mario theme song.
Target's classic "racetrack" store prototype that's been used since 1975 is getting replaced with the new store layout beginning in October 2017. The stores feature a "ready to be inspired" shopping encounter with curved center aisles and special flooring leading you on a storewide adventure. Along the way, you'll discover "mini shops" that immerse you in seasonal holiday sets.
Make Your Money Work for You
Be Aware of Data Analytics
Has Target suddenly started sending you coupons for maternity wear and baby clothes even though you and your spouse haven't even told your closest friends? No, the company doesn't have a secret camera in your home. Instead, it uses data analytics to determine your shopping trends, and tailor coupons and offers to bring you back to the store. In the case of knowing about the baby, algorithm trends like pregnant women switching to unscented lotion at the beginning of their second trimester tips off the company, according to Andrew Pole, Target's director of guest data management.
Even if you don't use Target's Cartwheel or other apps that provide deals and specials for the store, Target keeps track of your spending habits by assigning you a Guest ID number. Your activity is recorded to your unique code each time you open an email, use a credit card, call the customer help line or sign into the website, according to Pole and the retailer's corporate privacy policy.
Knowing that the company wants to pry open your wallet by offering perks based on your spending is one way to resist making unplanned purchases just because they're a good deal.
Scrap the App
There are plenty of apps that help you save money — and then there are some that make you spend more money. Target rolled its Cartwheel app into its main app over the summer. Users had until Aug. 27 to earn perk points, which must be spent by Sept. 27.
The redesigned main app will notify you when you're close to Cartwheel deals as you're walking through the store. The app will also roll in your Target REDcard info so you can get both Cartwheel deals and your 5 percent discount when you use the store credit card, making it easy to spend more while your brain thinks that you're actually saving money.
So, you might want to consider resisting the app if you're on a strict budget. Or, at the very least, stick to your list and avoid buying Cartwheel deals you don't need.
Make Your Money Work for You
Save the Planet Without the Logo
Reusable bags keep tons of plastic from going into the landfill. But they can also help you spend more money at Target.
There's no mistaking Target's bright red bags, with their signature bull's-eye logo. You might feel awkward bringing these bags to check out at other stores. So, you might bring your big red bags only when you shop at Target — and aim to fill them to the top.
Reusable bags also tend to alter consumer shopping behavior too, according to a 2015 study by researchers at Harvard Business School. Knowing that you're helping the environment helps unleash the pleasure-reward cycle of dopamine in your brain. Not only do people buy more environmentally friendly products when they shop with the bags, but they also tend to reward themselves for their goodness with indulgences.
Stick to Your List
"Make a list. If you have a list, you have a purpose," said Schupak. "Otherwise, you will put everything in the cart that looks remotely useful."
Also, plan ahead. Review manufacturer's coupons, REDcard and Cartwheel deals, circulars and other promotions before leaving home so you're not drenching your brain with dopamine from finding that unexpected bargain that can trigger an impulse buy.
Set a Timer
From the moment you walk in the door, the new Target stores seek to slow you down to a more relaxed pace. While the company states this is part of an enhanced customer shopping experience, it might also compel you to spend more money. Multiple retail studies show that the more time customers invest in their shopping experience, the more likely they are to buy an unplanned item.
You don't have to race through the store with your cart, but setting an alarm on your phone for 20 minutes to 30 minutes can help you avoid distractions that might cause you to linger. Know the store layout and which areas are meant to slow you down. For example, Target's new inspiration entrance rolls out an outdoor space where you can sip Starbucks, relax or attend store events. Other areas that can slow you down include attractive boutique-like areas with special lighting.
Make Your Money Work for You
Use Cash
Let's face it: The first time you're in one of Target's new stores, you're going to explore. But, you can beat your urge to splurge by unloading your wallet of credit and debit cards before taking your maiden voyage through the store.
Bring just enough cash to cover what's on your list and a little more, like $10 or $20 for those crazy-good Target deals you know you'll find. That way, you can enjoy the satisfaction of snagging a deal while still staying in your budget.
Another smart shopping tip: Carry large bills in denominations of $50 or $100. You'll be less likely to break them by making impulse purchases.
Don't Go Into the Store
Whether you're in a hurry or just want to avoid the temptation of spending hours wandering through the new stores' enticing aisles, there's a way to avoid going inside at all: Order your products online and opt for store pickup. Pull into one of the new Target design's order-pickup parking spaces, and a Target associate will bring your items directly to your car.
You can also opt to head just inside the doors to pick up your goods at a special counter. But remember: Don't go in hungry. The store's grocery area with fresh produce, wine and craft beer flank the area. You'll also find last-minute impulse items ranging from flowers, greeting cards and gift bags to school snacks, lunch boxes and water bottles.