How Did Inflation Affect Dollar Store Shoppers Most This Year?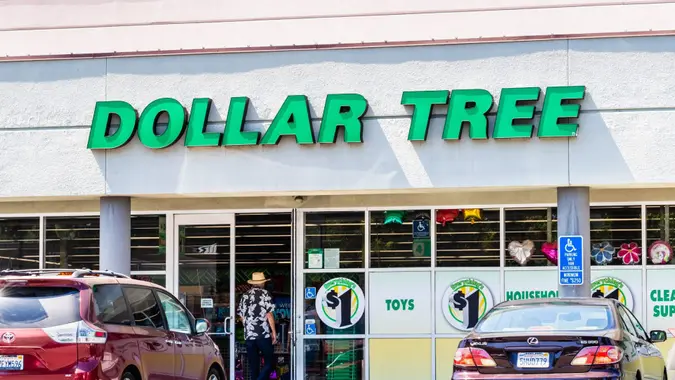 Sundry Photography / Getty Images
Earlier this year, consumers saw prices jump 9.1%, the largest increase in four decades, according to the U.S. Bureau of Labor Statistics (BLS). Increases were felt across the board as prices for food at home rose over 12% and gas prices skyrocketed almost 60% from the previous year. 
Find: 11 Grocery Items To Buy at Dollar Tree
Take a Look Back: 2022 Year in Review
In addition to individuals, nearly every retailer across the country felt the wrath of record-high inflation driven by supply chain issues, higher freight costs and a number of other factors. In the wake of significant increases at other stores, low-cost chains like Dollar Tree and Dollar General saw an uptick in sales (even though Dollar Tree famously increased their prices from $1 to $1.25 in November 2021). 
How else did inflation affect shoppers most this year? Read on to find out just how consumers fought rising prices while shopping at some of the most cost-effective retailers nationwide. 
More High-Income Shoppers
Looking for relief from soaring prices, shoppers from all income levels found solace at dollar stores such as Dollar Tree and Dollar General. According to the Association for Convenience and Fuel Retailing (NACS), former Dollar General CEO Todd Vasos noted that they were seeing an increase in "higher income shoppers" and that most of their new customers over the past year had incomes exceeding $80,000. 
Make Your Money Work for You
A Shift from Cash to Credit
Another way that inflation likely affected shoppers is in how they spent money. Dollar Tree CEO Mike Witynski said on an earnings call, as reported by NACS, that they had seen a "huge shift from cash into credit, which tells us the customer is pressured." 
Shoppers Undeterred by 25% Price Increase
Perhaps unsurprising, since it was only an increase from $1 to $1.25, shoppers in 2022 were not deterred by Dollar Tree's price hike. The retailer had kept prices at $1 for 35 years. The company denied that the 25% jump was related to inflation, instead stating that it was done to enable it to "offer a wider range of merchandise."
Fast-forward to 2022 and consumers are still on board with the slightly higher prices, particularly since they continue to be lower than big-box retailers. NACS said in August that both Dollar Tree and Dollar General posted "higher sales and profits" in the previous quarter. 
Trends in Spending
Another interesting trend that may be tied to inflation is a substantial shift to needs-based purchasing. According to NACS, Dollar Tree actually saw fewer customers come through its doors during the second quarter of 2022, but customers "spent more each visit."
Make Your Money Work for You
Increase in Purchase of Consumables
As inflation continued to rise throughout 2022, Dollar Tree and Dollar General noticed a distinct change in what people were putting in their baskets. In May, CNBC noted that Dollar General saw a drop in "seasonal, apparel and home products categories" during the first quarter of the year. Sales of consumables, however, were up. 
In response to consumer buying trends, Dollar Tree expanded its grocery section. The most popular foods and drinks were "carbonated beverages, salty snacks and cookies," according to CNBC. 
Expansion of Discount Chains
Shoppers looking for low-cost retailers will be pleased to know that both Dollar Tree and Dollar General plan to add locations across the country. With healthy profit outlooks, the discount chains each said they would be opening hundreds of new stores. 
Dollar Tree plans to open 590 new stores and add new merchandise with slightly higher price tags. Dollar General will add another 1,100 shops to its arsenal. It also will expand offerings in new product areas such as "health-related merchandise."
Make Your Money Work for You
Third-Quarter Slow Down
Overall, inflation proved profitable for low-cost retailers like Dollar Tree and Dollar General, but the companies did see a slight slowdown during the third quarter of the year.
Dollar Tree announced in November that it would be lowering its "annual profit forecast for the second time." The downturn likely was due to a stall in consumer spending on "discretionary goods" popular at the discount retailers. 
What To Expect Going Forward
It is unclear just what to expect in 2023. Undoubtedly, shoppers flocked to lower-priced retailers to beat soaring prices, but a less-than-optimal third quarter showed that these stores are not inflation-proof. Luckily, both Dollar Tree and Dollar General have said they will meet consumer demand by expanding their offerings and keeping prices affordable.
More From GOBankingRates
Make Your Money Work for You