How Does Your Amazon Spending Compare to the Average American's?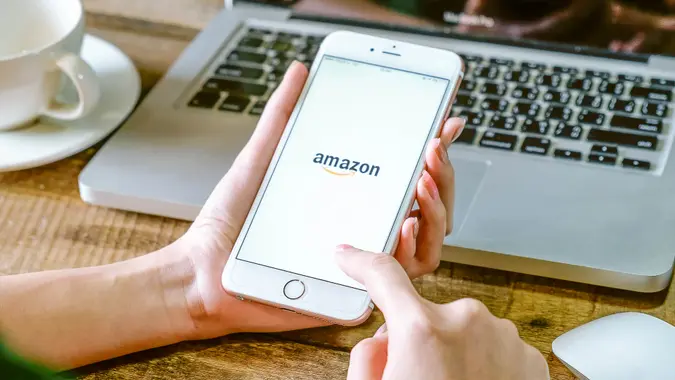 mrmohock / Shutterstock.com
Amazon makes it all too easy to spend money with a single click, so you may find yourself spending more than you should on the site. To gauge whether you're overspending or not, it might be useful to see how your Amazon spending compares to the average American's.
Upgraded Points surveyed 3,200 online shoppers about their Amazon spending habits, from how much they spend to how often they shop. See how your Amazon shopping habits compare.
How Much Americans Spend on Amazon
The Upgraded Points survey found that the average American spends $91.75 per month on Amazon.
However, some states are home to bigger Amazon spenders than others. The top-spending states are Tennessee, where residents spend an average of $124.22 per month, Delaware ($114 per month), Wisconsin ($113.66 per month) and Iowa ($113.46 per month). The states that spend the least are Indiana ($72.87 per month), Minnesota ($68.86 per month) and West Virginia ($56.10 per month).
Interestingly, the survey also found that Prime members spend more than non-Prime members — the average Prime member spends $110 on Amazon every month whereas the average non-member spends just $38.
A Closer Look at Americans' Amazon Shopping Habits
If you find yourself shopping on Amazon pretty frequently, you're not alone — the survey found that 25% of Americans shop on Amazon at least once a week.
Make Your Money Work for You
As for what Americans are buying on Amazon, the survey found that electronics and tech is the most popular category, with 55% of Americans shopping for these items on the site. Other popular purchase categories include clothing and accessories (48%), toiletries and personal care items (42%), and kitchen and household essentials (41%).
Tips for Shopping on Amazon
While you can get great deals on Amazon, not everything on the site is worth the money. Use these hacks when shopping on Amazon to ensure you're getting competitive prices:
Compare prices on other sites before adding to cart.
Opt for the Amazon Basics brand.
Shop Amazon's virtual outlet and warehouse for major discounts on clothing, home decor, tech and more.
Keep items in your cart to be notified about price drops.
Sort the "Today's Deals" section by level of discount to see the best deals.
More From GOBankingRates