How Does Your Costco Spending Compare to the Average Member's?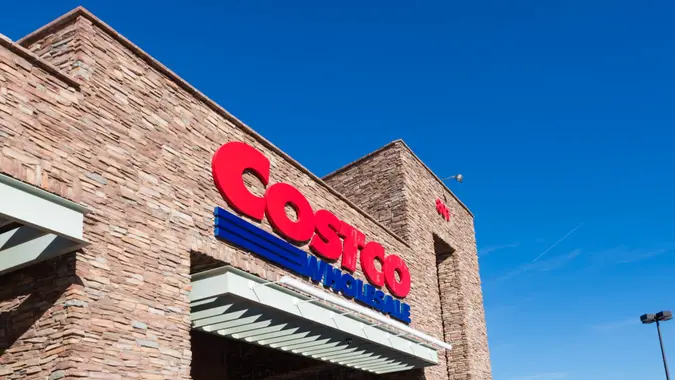 LPETTET / iStock.com
Costco offers great prices on everything from groceries to electronics to luxury beauty items, but because of its bulk offerings, it's really easy to spend a lot of money on every trip to the warehouse club. So if you're shocked by your receipt when you leave the store, you're probably not alone.
GOBankingRates asked over 1,000 Americans about their Costco spending habits, from how much they spend on an average trip to how often they visit. Here's a look at what we found — see how your Costco spending stacks up.
How Much Americans Spend at Costco
According to the GOBankingRates survey, the majority of Costco members spend between $50 and $200 on their average trip, with 17% spending between $50 and $100, 17% spending between $101 and $150, and 16% spending between $151 and $200.
Here's a breakdown of how many Costco members spend more or less than that on their average trip:
9% spend under $50
8% spend between $201 and $250
10% spend between $251 and $300
6% spend between $301 and $350
9% spend between $351 and $400
8% spend over $400
Young Americans tend to be bigger Costco spenders than older Americans, the survey found. Those ages 18 to 24 were the most likely to spend over $400 on a single Costco trip, with 16% of members in this age range saying they typically spend this much. On the other end of the spectrum, 52% of Costco members ages 55 to 64 and 44% of members age 65 and older said they usually spend $100 or less.
How Often Americans Visit Costco
Most Costo members say they stock up at the warehouse club once or twice per month, with 22% going every other week and 29% going once a month.
Make Your Money Work for You
Here's often other Costco members say they make trips to the store:
5% go every day
9% go multiple times per week
15% go once a week
15% go once every few months
6% go once or twice a year
The majority of Americans of all ages mostly go once or twice a month, but older Costco members are more likely to go less frequently — among those ages 55 to 64, 27% go once every few months and 13% go once or twice a year, and among those ages 65 and older, 28% go once every few months and 14% go once or twice a year.
Tips for Making the Most of Your Costco Membership
No matter how often you shop and how much you typically spend, it's a good idea to be a savvy Costco shopper. Here are a few tips for making the most of your membership:
Shop the members-only savings for the best available discounts.
Take advantage of bundle deals.
Check out the "While Supplies Last" section on Costco.com.
Stick to the store brand for the best prices.
More From GOBankingRates
Methodology: GOBankingRates surveyed 1,028 Americans ages 18 and older from across the country between June 27 and June 29, 2023, asking nine different questions: (1) Have you used Artificial Intelligence (AI) for any of the following? (Select all that apply); (2) In retirement, how much do you think you'll need in Social Security monthly, in order to retire comfortably?; (3) How much do you spend on your average Costco trip?; (4) How often do you go to Costco?; (5) What items do you purchase most frequently at Costco?; (6) How do you think the restart of student loan payments will affect the economy in 2023 and beyond?; (7) How much student loan debt do you currently have?; (8) How will the restart of student loan payments affect your financial situation? (Select all that apply); and (9) How much did you (or do you expect to) inherit from your parents/relatives? GOBankingRates used PureSpectrum's survey platform to conduct the poll.
Make Your Money Work for You