How Giving Up Your Costco or Sam's Club Membership Could Actually Save You Money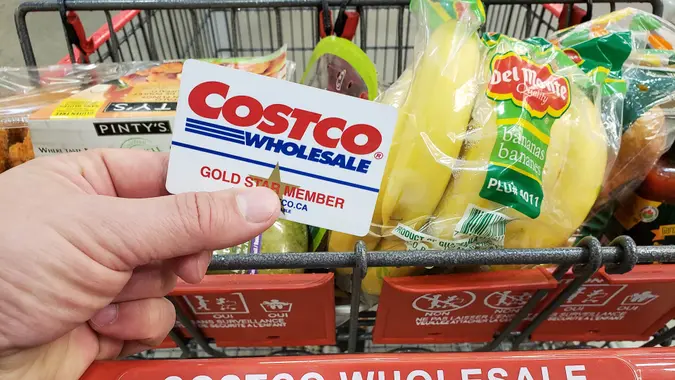 dennizn / Shutterstock.com
The die-hard loyalists of Sam's Club and Costco preach to the uninitiated about the benefits of membership — money saved, headaches avoided, all the choices and varieties that a shopper could imagine. It's true that most families can make the annual fees associated with big warehouse clubs pay for themselves, but membership is not for everyone. Here's how signing up with Costco and Sam's Club can actually cost you money. 
Budget: 20 Ways To Pay Less at Costco
More: Shopping Mistakes You're Making and How To Stop
Here's What You'll Spend
You have to buy the right to shop at the big warehouse clubs. 
There are two price tiers for Costco shoppers:
Gold Star:

$60 per year




The basic membership comes with two membership cards, it lets you shop in stores and online and it comes with a money-back guarantee.

Gold Star Executive:

$120




The upgraded membership comes with everything in the basic plan plus 2% cash back annually up to $1,000, Costco service discounts and a subscription to Costco Connection magazine. 
Make Your Money Work for You
Sam's Club has two price tiers as well. They're both cheaper than Costco and they come with different membership perks:
Club membership:

$45




Top benefits include two membership cards —  you can add more for $40 — and discount gas, wiper replacement, battery charging and flat fixing at the Tire and Battery Center. You also get a Sam's Club Mastercard that earns 1% back. 

Plus membership:

$100




The Plus membership option gives you all that and 3% on the Mastercard plus free shipping on online purchases, pharmacy and optical discounts and 2% cash back on purchases up to $500 a year. 
Wages: Costco and 17 Other Companies That Raised Their Minimum Wage to $15 (or More)
Some Lifestyles Aren't Conducive to Warehouse Club Membership
Most families can find a way to make a membership pay, but some households are simply not built to reap the benefits that come with a subscription. It might be best to avoid a membership if: 
You don't live close enough for the journey to Costco or Sam's Club to justify the savings. 

You live in a small space where there isn't enough room to store bulk items. 

You live alone, you're a minimalist or you're part of a small household that doesn't consume a lot (although there are plenty of stories of singles and couples making out just fine with warehouse memberships).
Make Your Money Work for You
Learn More: The 37 Mistakes We Make When Shopping at Costco, Amazon, Target and Walmart
How and Where You Shop Matters, Too
There's a simple formula for determining if a Costco membership makes financial sense. Same as with a credit card's annual fee, it's worth it if the benefits save you more money than you spent on the cost of membership. 
With Costco and Sam's Club, that's a little trickier than it is with your Visa or Amex. What you'll save has a lot to do with how you shop, where you live and what other stores are available. 
As MoneySavingMom points out, for example, you might think you're saving money on groceries with your warehouse membership, but if you live near an Aldi or Kroger, you'll almost certainly be able to do better there if you combine markdowns with coupons.
There are also major regional differences in prices. Costco gas, for example, offers big savings in some regions, not so much in others. The things you buy might be discounted at one Sam's Club but not at another. 
Make Your Money Work for You
See: 30 Things You Should Never Buy Without a Coupon
How Much Do You Use the Rewards and Perks?
The New York Times' Wirecutter blog — an unabashedly pro-Costco publication — points out that membership will wind up costing you money if you don't meet a minimum spending threshold. For example, non-members can shop on Costco.com, but they're charged a 5% fee. Therefore, if you spend $1,200 at Costco.com, you'll spend $60 in fees — the same cost of a basic club membership.
Likewise, the 2% cash back on Gold Star Executive membership at Costco pays for the $120 annual fee only once you spend $6,000 in a single year. As for the non-monetary perks, only you know whether you'll use them enough to justify the cost. The pharmacy and optical discounts at Sam's, for example, are great if you take prescription drugs and wear contacts and glasses. If not, not so much — and how often are you really curling up at night with a copy of Costco Connection magazine?
More From GOBankingRates
Last updated: July 27, 2021
Make Your Money Work for You