How Much Do Americans Spend on Halloween?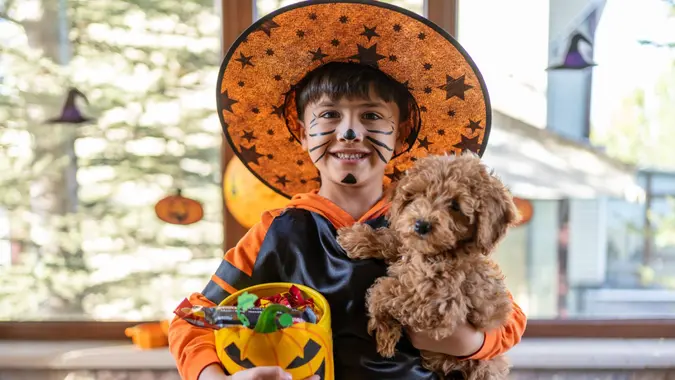 aquaArts studio / Getty Images
Halloween is scary good business. In 2023, the National Retail Federation's annual survey conducted by Prosper Insights & Analytics reported total Halloween spending is expected to reach $12.2 billion. The previous record was $10.6 billion in 2022.
See: 8 Ways You're Wasting Money at the Grocery Store

Total Halloween spending numbers aside, GOBankingRates also conducted a survey to find out how much the average American is spending on Halloween this year. See if you spend more or less money on Halloween. 
Halloween Spending in 2023
Between October 12-16, GOBankingRates surveyed 1,021 Americans to learn more about their holiday spending plans this year. When asked how much money they have spent or plan to spend on Halloween, nearly 39% of respondents said they planned to spend under $50. Of those surveyed who said they planned to spend under $50, nearly 50% were ages 65 and older. 
Other age ranges held noticeably high percentages for their plans to spend under $50. These include ages 55 to 64 (44%), 45 to 54 (39%) and 18 to 24 (38%), proving a wide range of generations will be using budget-friendly practices to enjoy spooktacular fun.
One of the most interesting statistics, however, conflicts with the total spending data presented by NRF. According to GOBankingRates, 23% of overall Americans said they would not spend any money on Halloween this year. Of the age ranges planning not to spend money, ages 65 and older held the top spot at 34%, followed by ages 55 to 64 at 32%. 
A Snapshot of 2023 Halloween Budgets
If you find yourself reflected in GOBankingRates' statistics as one of the nearly 39% keeping Halloween costs under $50, we have wickedly good news. You're in good company with the average consumer. 
Make Your Money Work for You
Research conducted by Capital One Shopping shows the average American is budgeting for Halloween expenses. According to this research, the average American has a budget of $108.24 for Halloween supplies this year. 
Here's the breakdown of the expenses this budget covers:
Costumes: $36.84
Candy: $31.93
Decor: $34.76
Greeting cards: $4.71
Candy Spending 2023
NRF reported 68% of consumers plan to hand out candy this year with total candy spending expected to reach $3.6 billion. 
Key findings from Capital One Shopping reveal Americans are prepared to spend on candy: over 169 million Americans made a candy budget for 2023.
Decoration Spending 2023
According to NRF, 53% of Americans will be decorating their homes and yards for Halloween, The total spending on decorations in 2023 is expected to reach $3.9 billion.
Capital One Shopping reported that 71% of Americans have $100 or less in their Halloween decoration budget. Research also shows 22% are budgeting zero dollars for decorations this year. (A bit of data supporting some of GOBankingRates' own findings.) 
Costume Spending 2023
Findings from NRF reveal that half of Americans plan to dress up in costumes this Halloween. Total adult costume spending is anticipated to increase by 18% over last year to $2 billion while children's costume spending is projected to increase by 20% over 2022 to $1.4 billion. Pet costume expenses are expected to stay roughly the same as 2022, reaching a projected $700 million.
How much is everyone spending on costumes this year? According to Capital One Shopping, 65% of consumers will spend less than $100 on their costumes, and 16% plan to spend zero dollars, another nod to GOBankingRates' stat of 23% of Americans who won't be spending any money this Halloween.
Make Your Money Work for You
The more one can challenge themselves to spend under $50, or not at all on Halloween, the less likely they are to experience a terrifying credit card statement in November. Happy Halloween!
More From GOBankingRates