How Much Money To Give at a Wedding This Season?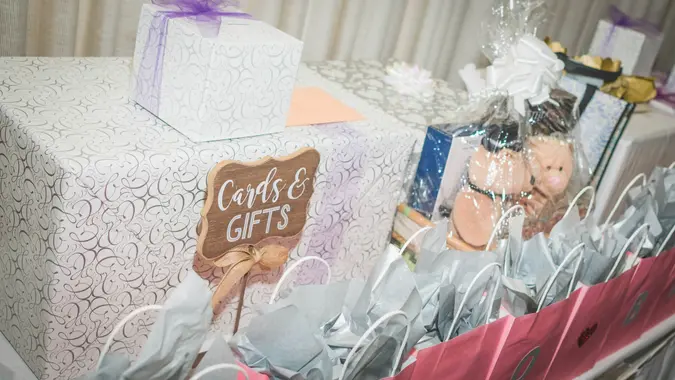 Chris Politick / Getty Images/iStockphoto
Whether a person is a member of a wedding party or simply attending the celebration as a guest, a gift for the newlywed couple is just one thing to plan among many other wedding expenses. Unfortunately, the wedding gift can be a main source of stress for guests, especially if their budget is running low.
What makes a good wedding gift, and how can a guest know what the proper amount to spend on a wedding gift is? This will vary based on the couple, the guest's relationship with them and more. However, regardless of the circumstances, wedding guests can find an affordable gift that will fit their budget and make the couple happy.
How Much Money To Spend on a Wedding Gift
Many different factors will affect how much a person should spend on a wedding gift. Some of these factors include:
Their budget
Their relationship with the couple
Whether they've already spent a lot for the wedding
Whether it's the couple's first wedding
Typically, most wedding guests will aim to spend around $100 on a wedding gift for their friends. Family members, meanwhile, spend around $125 on average. However, if a guest is only an acquaintance or coworker of the couple, they may be able to go as low as $50 for their wedding gift.
Make Your Money Work for You
It's also acceptable to get a cheaper gift if a person has already spent money on the wedding. For example, if a bridesmaid has already contributed funds to their dress, the bridal shower, bachelorette party or other expenses, they could opt to give the couple a more affordable but sentimental gift.
How Much Money To Give at a Wedding
Many couples get married after they have already stocked their homes with all the essentials. So, if the couple doesn't have a wedding registry, or if a guest prefers to help them build their savings or pay for the honeymoon, a cash wedding gift is a great alternative to a physical gift.
A typical cash wedding gift could range from $50 to $500, depending on the same factors listed above. Even then, aiming for the $100 mark is generally sufficient and will be comparable to the average cost of a physical wedding gift.
For those looking to gift the newlyweds cash, they may wonder how much to spend. Is $50 a good wedding gift, or is that too little? Is $200 a good wedding gift, or is that too much? Here is a general rule of thumb:
For acquaintances and coworkers, giving the couple a gift of $50 may be appropriate. However, if a guest is closer to them, they may want to aim for at least $75 to $100.
If a guest has a close relationship with the couple, $200 is an excellent cash wedding gift amount. It can also be suitable if a guest brings a plus-one and wants to give a combined gift.
For those who can afford more, giving a larger gift — up to $500, typically — is a great way to show the couple that they care and want to help them create a good start to their marriage.
Make Your Money Work for You
How To Save Money on Wedding Gifts
If a wedding guest is worried about their budget, these tips can help them save money and still give the couple a gift they will love:
Know what the couple wants first. Couples with a registry will probably prefer their handpicked wedding registry gifts, while other couples may want cash to put toward savings or a honeymoon.
Choose a registry gift early. The affordable items are likely to be bought first, so the sooner a guest can buy their gift, the more likely they'll be to find one that fits their budget.
Give a group gift. Partnering up with other guests to give a more expensive gift is an excellent way for each person to save by contributing less than what they would spend on an individual gift.
Wait until after the wedding. If a person can't afford to buy a gift for the wedding day, they can wait up to a year after the event to send the couple a gift.
Wedding guests shouldn't stress about not being able to buy expensive items. While wedding gifts are always appreciated, most couples value love and support throughout their wedding and marriage above all else.
Gift Etiquette for Bachelor and Bachelorette Parties, Bridal Showers and More
Depending on the couple, a guest's relationship with them and whether the guest is a member of the wedding party, they may be invited to multiple parties and events leading up to the actual wedding. Below is an outline of gift etiquette for each of these occasions:
Engagement Party: Gifts are not required at engagement parties. However, guests may choose to bring a card or a small, sentimental gift.
Bridal/Couples' Shower: Gifts are typically expected at showers. Guests can spend less on the shower gift than the wedding gift, typically between $30 and $50.
Bachelor/Bachelorette Party: Gifts are not required at bachelor and bachelorette parties. However, gag gifts are common, and if a guest chooses to bring a gift, $5 to $30 can suffice.
Rehearsal Dinner: Gifts are not required at rehearsal dinners. The couple may distribute gifts to their parents and wedding party, and guests may choose to bring a small gift for the host, but again, this is not required.
Destination Wedding: Gifts are appreciated at destination weddings. However, most couples understand that guests have likely already spent a lot of time, effort and money to attend the wedding. Guests may choose to buy a small gift, send one later or not give one.
Make Your Money Work for You
Fortunately, most pre-wedding parties will not require a gift. And even when gifts are expected at a party, guests won't need to spend as much as they might on the wedding gift.
Final Take
Once a guest has an idea of their wedding gift budget, it's time to think about what they'd like their gift to be. Knowing what the couple wants for a gift before a person starts shopping will save money, time and unnecessary stress.
If the couple prefers cash gifts for their honeymoon fund or other savings, they should provide instructions for doing so. On the other hand, the couple may provide a link to their registry, where a guest can look for a gift that fits their budget.
Above all else, a guest should congratulate the couple and let them know they're happy to be a part of the important occasion.
Our in-house research team and on-site financial experts work together to create content that's accurate, impartial, and up to date. We fact-check every single statistic, quote and fact using trusted primary resources to make sure the information we provide is correct. You can learn more about GOBankingRates' processes and standards in our editorial policy.
Make Your Money Work for You