Here Is How Much Teachers Spend Out-of-Pocket for Supplies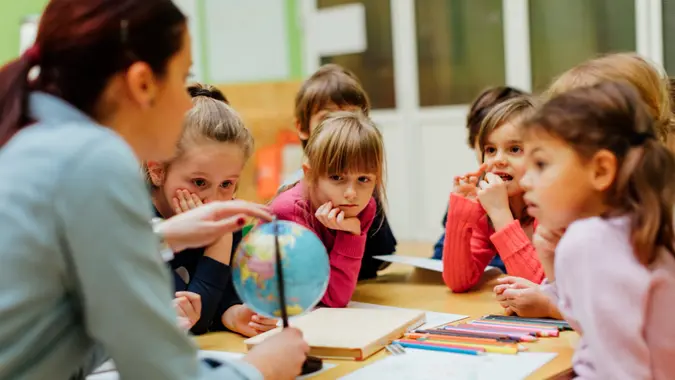 vgajic / Getty Images
To welcome in a new cohort of fourth graders in the fall, "Mary," who teaches at an elementary school in a suburb south of Seattle, stocks her classroom with markers, bulletin boards, notebooks and journals to support her curriculum. She also adds touches like large rugs and lamps to create a more comfortable environment. 
These items aren't covered by her school. So Mary, who asked that we not use her real name in this article, purchases all of it with her own money. 
She estimates that she spends $500-$800 at the beginning of the school year alone just to get her classroom open and continues spending around $100 monthly out of her own pocket throughout the year on purchases like healthy snacks for kids who come to school hungry, prizes for encouragement and birthday treats when parents haven't provided them.
As students at a Title 1 school, most or all of Mary's fourth graders are considered at risk of failure and live at or near the poverty line. When she sees her students struggling with basic needs, Mary has also often bought them shoes, coats and Christmas gifts when they didn't get any at home, and she's paid their families' electricity bills when their power has been shut off.
"Most of the children rarely see their parents because they're working two or three hourly jobs. During COVID most kids were home alone caring for babies," Mary said. "We are seeing a lot of children in mental crisis. All the behavior we have to deal with is unbelievable."
Make Your Money Work for You
In all, Mary estimates that she now spends around $2,000 each year on her classroom needs. It has steadily increased over her 22 years of teaching. As a single mom raising her own two children, these expenditures put a strain on her own finances. 
Mary's story is typical of teachers across the U.S., who are regularly expected to provide the materials for their classrooms that their schools don't cover. A 2018 survey found that the average annual budget provided by school districts is $212 per classroom. Divided between 25 students, that's $8.48 per child. 
Anything beyond what that budget covers is up to individual teachers. 
Teachers spend an average of $750 a year on classroom supplies, according to a 2021 survey of 5,400 pre-K through high school teachers at public, private and charter schools in all 50 states, Washington, D.C., and U.S. territories conducted by the nonprofit AdoptAClassroom.org. The organization also reported that spending had increased by 25% since its annual surveys began in 2015. 
The Basics and Beyond 
The materials teachers said they needed the most were basic supplies like markers and notebooks. Sixty percent of teachers surveyed needed adaptive materials to create a more inclusive learning experience for children with special needs. Technology, books, furniture and mental health resources were also commonly-needed types of items. 
The pandemic also necessitated PPE and extra cleaning and safety supplies, not to mention items teachers needed as they adapted their homes for virtual learning.
"As we put in way more hours, our living rooms were turned into classrooms," Mary said. "I purchased large white boards, and all of our supplies we used to set up our virtual classrooms were on our own – markers, papers, printer ink, etc." 
Make Your Money Work for You
Many teachers faced difficulties getting supplies to students learning remotely, with 65% saying they had students who were less likely to participate in their lessons because they didn't have what they needed.
Inflation has only compounded the strain on teachers. Since 2020, the cost of pencils has increased 40% and a ream of paper is up 60%, according to AdoptAClassroom.org. Reuters puts the numbers slightly lower with pencils up 25% and graph paper up 23%, but still significant increases. On top of that, 80% of teachers surveyed said that their students' families were having a harder time affording school supplies.
Salaries Aren't Keeping Up 
The average public school teacher salary for 2020-21 was $65,293, with an average starting salary of $41,770, according to a report by the National Education Association. While that was an increase of 1.8% over the previous year, adjusted for inflation, the NEA found that teacher pay has actually declined by 3.8% over the last decade.
Meanwhile, the gap between the salaries of teachers and other similar college graduates has reached an all-time high. The so-called "teacher pay penalty" rose to 23.5% in 2021, according to the Economic Policy Institute. The average weekly wages of public school teachers (adjusted for inflation) increased by only $29 between 1996 and 2021, from $1,319 to $1,348. 
Comparatively, wages for other college graduates rose $445 over the same period, from $1,564 to $2,009. 
Teacher pay and school budgets are largely determined on the state and local level and are funded primarily by state and local taxes and private sources. But the government does offer teachers some minimal assistance in the form of tax breaks. They may now deduct up to $300 in eligible supply expenses, which was recently raised from $250. This is the first increase in the deduction since 2002. Mary calls that deduction amount "a slap in the face." We reached out to the U.S. Education Deptartment for comment but haven't received a response.
Make Your Money Work for You
Other assistance may come from crowdsourced funding such as Amazon wish lists and nonprofits like AdoptAClassroom.org, which allows donors to make general contributions or support specific classrooms or topic areas. Another nonprofit, Donors Choose, allows teachers to seek donations for specific projects from donors in their local communities. Teachers also get resourceful through a variety of other means, including pooling together to buy in bulk at lower prices or seeking items in local Buy Nothing Groups.
Burning Out 
Teachers are stretched beyond their limits and are reporting record-high burnout rates. A recent Gallup poll revealed that K-12 teachers have the highest burnout of any profession in the U.S. Many are quitting, with their districts unable to fill their vacancies and students suffering.
But Mary says she's not giving up. 
"The behaviors have soared to an unacceptable high. But ultimately you always have that one kid that really stands out and you know you really made a difference in that child's life," she said. "I'm there because I truly have a heart for the children."
More From GOBankingRates