How Online Grocery Shopping and More Pandemic Habits Are Saving You Money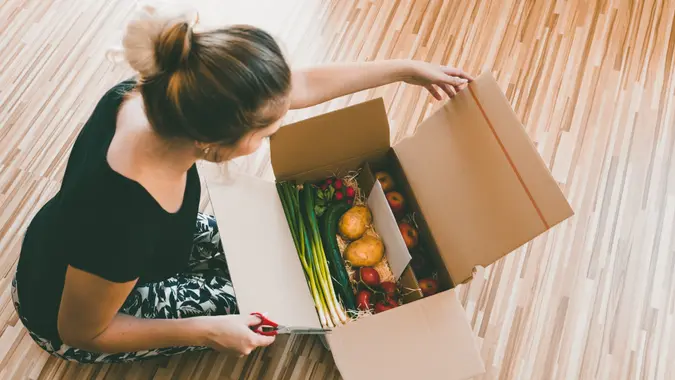 Miriam Doerr Martin Frommherz / Shutterstock.com
The pandemic forced most of us to adopt new habits in everything from how we shop to how we consume entertainment, exercise, eat out and so much more. Some of the habits we picked up might have seemed to bring about "extra" expenses at first, but when cast in a different light — particularly looking at what we were paying for those services before — you might realize that your pandemic habits have actually led to you saving a lot more money than you thought.
See: Extra Fees You Took on During the Pandemic That Are Still Worth Budgeting For
The Other Side: 5 Pandemic Expenses To Cut Now That States Are Reopened
Online Grocery Shopping
If you are among the almost 80% of Americans that MarketWatch says have purchased groceries online since the pandemic started, whether through Instacart or your grocery store's own e-checkout system, you might have noticed that ordering online means paying extra fees. Depending on where you order from, according to Consumers' Checkbook, delivery fees and grocery store service fees can range from as little as $6 to $12 or more for each order, depending on the size of your order and the store you're ordering from. The thing is, shopping online gives you an advantage you often don't have in the grocery store: time to stop, go over your grocery cart and even look in your pantry or fridge to really make sure you need everything you're purchasing, which increases the likelihood that you'll take items out of your cart. With online shopping, you are probably less likely to impulse buy, as well.
Make Your Money Work for You
Related: 6 Tips To Cut Back on Your Online Spending This Year
See: 57 Items That Have Been Getting Cheaper Over the Last Year
Paying for Streaming Subscriptions
When lockdowns first took place, many of us kissed the movie theater goodbye and, other than missing out on that delicious movie popcorn, probably weren't too sad about it because we had our streaming entertainment to turn to. From Netflix to HBO Max to Disney+ and many more, these services filled the gap and made entertainment easy. Of course, they came with a cost. Services like Hulu, Netflix, Amazon Prime, HBO Max and others have plans from $5.99 to $14.99 per month, according to a U.S. News comparison. But if you are paying for multiples, that could add up to well over $20 per month, or even more depending on your bundle. Some services offer more extensive packages that run more like $64.99 per month. If any of this seems pricey, it probably proves you haven't been to the movies in a while.
Did You Know: Which Streaming Services Give You the Most for Your Money?
According to TheNumbers.com, the average cost of a movie theater ticket in 2021 is $9.16 per person for an adult ticket. And concession prices are also higher than if you purchased your candy, popcorn and soda at a regular store. According to the Hustle, you can pay up to $50 in snacks alone for a family of four for just one movie night out. Add in the cost of tickets, and you can be looking at almost $100 for a family of four to see only one movie. Suddenly, even three small streaming subscriptions, or one pricier one, don't look so expensive, do they?
Make Your Money Work for You
Take a Look: 8 Major Ways We've Had To Adjust Financially Due to the Pandemic
Home Gym vs. Monthly Gym Membership
When gyms first shut down, many people who need their endorphin rush or hoped to keep up their healthy habits quickly paused their gym memberships and turned to set up home gyms. As of February 2021, the average monthly gym membership is about $50.03, according to StrongHomeGym.com. Depending on your location, however, gym memberships can go much higher, into the hundreds of dollars per month. If you invest in a full set of dumbbells, which can start as low as $249, and a weight bench for around $209, that's still less than the $600 average annual price of the gym — and you could invest in a smaller set of dumbbells for even less. Even if you invest in something pricier, like a treadmill or an exercise bike, many of which are available used and in good condition, your investment is likely to pay off in the coming months and years. And, if future lockdowns occur, you don't have the hassle of stopping your gym membership again.
Compare: Are You Spending More Than the Average American on 25 Everyday Items?
All That Toilet Paper
If you were among the many people who feared that you'd run out of toilet paper and hoarded up, you probably spent more on the staple item than you used to. In fact, numerous people took advantage of toilet paper subscription services, such as Who Gives a Crap. The more you order, in fact, the cheaper it gets. While a box of 24 rolls, shipped every 12-16 weeks, costs $30, a box of 48 rolls is only $48 (just $1 per roll). StudyFinds.org found that the average American spends $182 per year on toilet paper (though that figure went up during the pandemic). If you buy four boxes of 48 rolls of standard toilet paper from a service like this, you'll spend just $10 more. Some families can stretch those boxes further and actually end up spending less. Plus, you save on trips to the store and never have to worry about running out.
Make Your Money Work for You
More From GOBankingRates
Last updated: Aug. 19, 2021
Make Your Money Work for You