Don't Balk at Bulk: How Singles Can Still Get Bang for Their Buck at Costco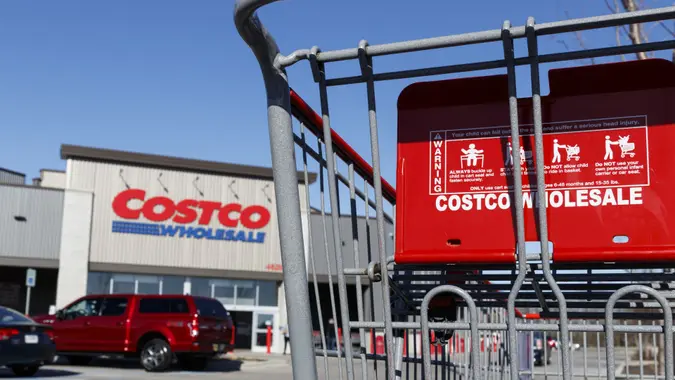 jetcityimage / Getty Images
You don't need a big family to score discounts on bulk-portioned items at Costco. As a single person, there are several items you can purchase to make the most of your Costco membership.
See: 10 Things To Stop Buying in 2023
Find: 3 Easy Tips To Turn Your Credit Woes Into Wows
If you're a single person or in a one-person household, here are several items worth the price of a membership.
Stock Up on Non-perishable Items
Costco has a wide selection of non-perishable items like canned goods, rice, pasta and other pantry staples that can be purchased in bulk at a lower price. 
Janice Costa, writer at Business Insider, picks up her favorite on-the-go breakfast at Costco (24 individual packages of Nature's Garden trail mix for $12.99). Protein bars such as the favorite Kirkland Signature protein bars have a long shelf life and pack quite a bit of energy, per Cheapism.
Snag Some Pre-Cooked Chicken
Costco's $4.99 rotisserie chicken is arguably one of the retailer's best-known bargains. Costa said it's perfect for a lazy dinner and can feed one person for a good part of the week.
Make Your Money Work for You
Pre-grilled chicken is another good ingredient to keep around the house. It can be thrown in a salad or put on a sandwich for a little added protein. Costa suggested it also makes portion control easy. She keeps a few packages in the fridge and then freezes the rest. You can buy 10 portions at Costco for $15.99.
Kirkland canned chicken is another high-protein option, Costa added. A six-pack costs $12.99.
Buy in Bulk and Freeze
If you have the freezer space, you can still take advantage of Costco's bulk sizes by purchasing items like meat, poultry and fish in bulk and then freezing them for later use. According to Mashed, shoppers can freeze items like bread and cheese to get the bulk discounts without anything going to waste.
Take Our Poll: How Long Do You Think It Will Take You To Pay Off Your Credit Card Debt?
More: Top 7 Items Purchased From Costco in the US
Look for Deals on Household Items
Costco often offers bulk discounts on household items — like paper towels, ice melter and laundry detergent — which can save you money in the long run. You can pick up a pack of 12 large paper towel rolls for $18.99, per Costa, or spend $9.99 for 12 pounds of ice melter.
Make Your Money Work for You
More From GOBankingRates
Make Your Money Work for You