How To Find the Best Deals on Luxury Goods Using ChatGPT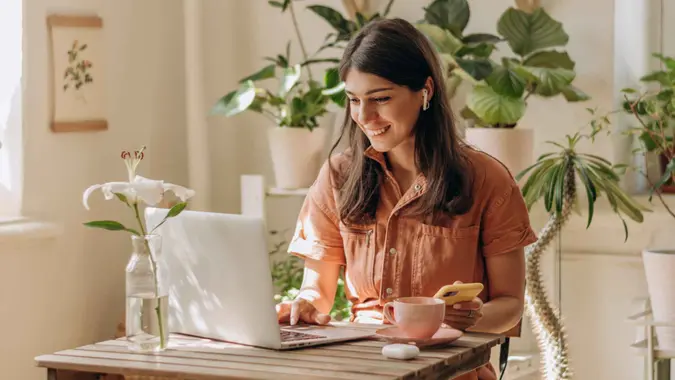 Tatiana Buzmakova / Getty Images/iStockphoto
OpenAI's artificial intelligence chatbot ChatGPT (GPT stands for Generative Pre-trained Transformer) has been making headlines as people test what it can and cannot do. Though many might be using it to write emails they don't want to write, or summarize an article for them, ChatGPT has other features, too. It can actually be a really helpful shopping tool.
Here's how experts say you can use ChatGPT to find good deals on designer and high-end brands. 
Ask Detailed Questions
When looking to score deals, Bars Juhasz, founder of Undetectable AI, says you want to get as detailed as possible — so saying "deals on luxury brands" might not work. Knowing how to navigate ChatGPT is key.
"Start by asking ChatGPT to search for the specific luxury items or brands you're interested in. This could range from high-end fashion brands like Gucci or Louis Vuitton to luxury car manufacturers like Mercedes-Benz or Bentley."
Find Strategies
ChatGPT can help you by relaying popular techniques and tricks for finding deals on expensive brands. Christine Haas, CEO of Christine Haas Media, recommends asking questions like: "What are the top 15 strategies to find deals on luxury fashion brands?" Haas also recommends asking ChatGPT for other places you can find deals.
"Inquire about luxury brands' social media accounts or newsletters that often offer exclusive deals, flash sales or promotional codes. ChatGPT can provide you with a list of brands that frequently run such promotions," Haas said. 
Make Your Money Work for You
Inquire About Secondhand Options
If you don't mind something that's already been used, Haas says you can ask ChatGPT where you can find pre-loved items for sale. "Consider asking ChatGPT about reliable platforms or stores specializing in secondhand luxury items. These can be excellent sources for finding luxury goods at lower prices," Haas said. 
Comparison Shop
ChatGPT can be very helpful when it comes to comparing prices. "ChatGPT can suggest platforms that compare prices across various retailers, allowing you to identify the most affordable options," Haas said. 
Look For Sales
Juhasz says you can prompt ChatGPT to search for sales so you don't have to. "Inquire about any ongoing sales, discounts or promotional codes that might be applicable," Juhasz said. 
Set Up Alerts
ChatGPT can make sure you never miss a lower price for something you're looking for. "You can also set up alerts for price drops or upcoming sales for the items you're interested in," Juhasz said.
Get Reviews
Know what you're buying is worth it by prompting ChatGPT to search an item's reviews. "Ask for reviews and ratings of the products and the sellers to ensure the authenticity and quality of the goods," Juhasz said. 
Learn Negotiating Tactics 
Another way ChatGPT can help you get a deal is by teaching you the art of negotiation. "Ask it to produce the top 10 negotiation techniques when purchasing luxury goods, especially in-person. ChatGPT can provide you with tips on how to negotiate with sales associates or how to approach bargaining in specific situations," Haas said. 
Make Your Money Work for You
Upgrade To Plus
If you're serious about exploring everything ChatGPT has to offer, you might want to upgrade your account. Burak Özdemir, founder of Character Calculator, says getting a Plus account can also help you find better deals on luxury items.
"In its latest update, ChatGPT now has the ability to browse the internet, offering real-time data and information. This is a major improvement over its previous capabilities, which were limited to providing information based on the data it had been trained on. If you're a ChatGPT Plus subscriber, you can easily take advantage of this new feature. The first thing you need to do is activate the browsing feature in your settings. After that, you can give ChatGPT a prompt where 'products' should be something like 'luxury men's watches,'" Özdemir said. 
ChatGPT will then deliver prices and how much of a discount you're receiving. For example, when Özdemir did a search on luxury men's watches, it returned answers like "Rolex GMT-Master II Batman 40mm Men's Watch 116710BLNR-0002: The original price was $24,995, but it's on sale for $17,495. This amounts to a discount of approximately 30%​."
More From GOBankingRates