How To Save Money With Capital One Shopping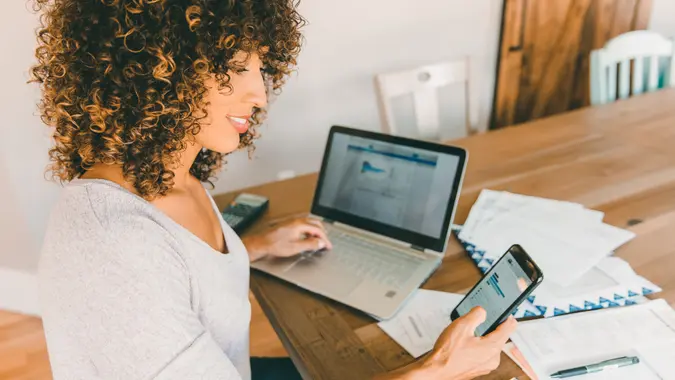 RichVintage / Getty Images/iStockphoto
Despite the convenience of online shopping, you might not always get the best deals. But what if there was a way to ensure you never overpay?
Enter Capital One Shopping, an innovative tool that promises to save you money by locating lower prices, applying coupons, and offering cash back. But how does it work? And how can you utilize it to maximize your savings? We'll break it down for you.
What Is Capital One Shopping?
Capital One Shopping is a free browser extension (formerly known as Wikibuy) that helps you save money when you shop online. It searches for better prices, applies coupon codes, and even lets you earn loyalty credits, which can be redeemed for gift cards. Whether you're a frequent online shopper or occasionally order a few items here and there, this tool can benefit your wallet.
How Does Capital One Shopping Work?
Price comparison. When you view a product on an online store, Capital One Shopping scours the web to see if there's a better price available elsewhere. A notification pops up if it finds a deal, allowing you to switch and save.
Automatic coupon application. Have you ever found yourself scouring the web for coupon codes, only to find they're expired or don't work? Capital One Shopping does this job for you. When you're at the checkout, the extension will automatically test a plethora of codes, ensuring you get the best discount.
Loyalty credits. You can earn Capital One Shopping Credits from select merchants as you shop. These credits can be exchanged for gift cards, giving you yet another layer of savings.
Make Your Money Work for You
Maximizing Your Savings With Capital One Shopping
To get the most out of this tool, follow these simple steps:
Install the extension. Start by adding the Capital One Shopping extension to your preferred browser. This typically takes just a few clicks and is the foundation of your savings journey.
Shop as usual. There's no need to change your shopping habits. Simply go about your online purchases as you normally would. The tool works in the background, ensuring you get the best deals.
Check notifications. Always keep an eye on the notifications provided by the extension. This is where your potential savings are highlighted. From better deals on other sites to available coupon codes, this is your ticket to paying less.
Utilize watchlist features. If a product catches your eye but you're not ready to make a purchase, you can add it to your Capital One Shopping Watchlist. The extension will notify you if the price drops, ensuring you purchase at the most opportune moment.
Redeem your credits. Don't forget about the loyalty credits you accumulate over time. Regularly check your balance and redeem it for gift cards from popular retailers.
Is It Really Worth It?
The beauty of Capital One Shopping is its passive nature. Once installed, there's little you need to do but shop. The extension does all the hard work, ensuring you get the best deals without the usual hassle of comparing prices or hunting for coupon codes.
If you're skeptical about online tools, it's understandable to question the privacy aspect. It's always a good practice to read any tool's privacy policy. Capital One Shopping collects data to enhance the shopping experience but promises not to sell your personal details.
Get a Deal With Capital One Shopping
The digital age has brought with it numerous advantages, one of which is the convenience of online shopping. With tools like Capital One Shopping, the process is not only convenient but also beneficial for your wallet. If you're looking to save a few bucks, giving this free browser extension a try might be worthwhile.
Make Your Money Work for You
Editor's note: This article was produced via automated technology and then fine-tuned and verified for accuracy by a member of GOBankingRates' editorial team.
More From GOBankingRates