I Work at Goodwill: Here Are 9 Insider Secrets You Should Know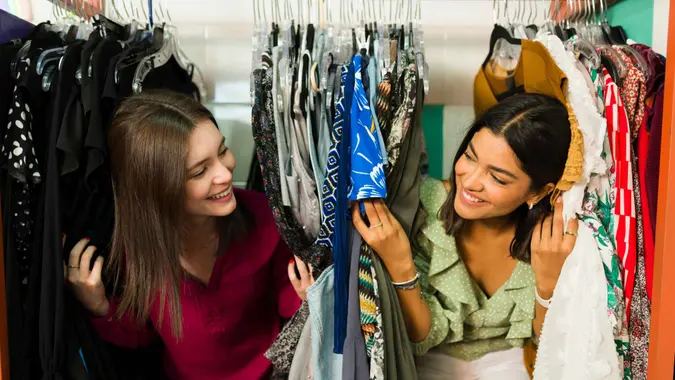 Antonio_Diaz / iStock.com
Ah, Goodwill — the ultimate thrifting experience! But sometimes you have to wonder: Am I getting the most out of this shopping experience?
Enter Jane. Jane has worked at her local Goodwill for over 5 years now. In that time, she's learned the ins and outs of shopping at the popular thrift store chain. 
Here, Jane shares her top tips for scoring the best deals and finds at Goodwill.
There Are Always Name Brands if You Look Hard Enough
"To get the most out of your purchases, hunting for name brands is not only a better value, it is also better for the longevity of the item in your own closet," shared Jane.
Jane recommends taking the time to dig through the racks and bins to uncover hidden name brand items. She often finds quality brands like J.Crew, Anthropologie, and Patagonia buried behind less expensive fast fashion labels. The extra effort pays off when you can score a $100 pair of jeans for just a few dollars.
Know Your Sizes
"Because there's often not a fitting room, and you can't make returns, unless you are planning to resell, you need to know the sizes for whoever you might be shopping for and in your favorite brands," Jane advised. "Make trips to the retail store to try things on so you know how Madewell fits vs. J.Crew and keep note."
Make Your Money Work for You
Without the ability to try items on, Jane stresses the importance of knowing your measurements and how sizes run in different brands. Take the time to figure out if you need a size 6 in Levi's but a 4 in Lucky Brand jeans. This will make your Goodwill trips much more successful.
Lists Are Key to Thrifting Success
"Looking for a desktop lamp, a pair of high-waisted jeans, and a wall of baskets? Keep a note in your phone of all the items you are in search of to refer to right before going in and as a reminder when you're knee deep," shared Jane. "It can become overwhelming and you can end up overbuying, so this is key."
Jane recommends making a list of things you need, or are looking for, before shopping. This helps you stay focused and avoid impulse purchases. Whether it's a specific style of shirt or a new set of sheets, inventorying what you need ahead of time will make you a more efficient thrifter.
Check Out the Holiday Section — After the Holidays
"After each major holiday, Goodwill gets flooded with decor people are getting rid of," Jane shared. "I've found amazing barely used wreaths, lights, and lawn decor for pennies on the dollar in January and July."
Jane recommends browsing the holiday decor sections post-season for incredible deals. Shop in January for heavily discounted Christmas items and in July for Fourth of July decor. With a little creativity, you can deck out your home for the holidays for much less.
Make Your Money Work for You
Don't Forget the Clearance Area
"Make sure to browse the clearance racks and sections before leaving," shared Jane. "Items get marked down again and again the longer they go unsold. You can find clothes under $1 and furniture under $5 if you take the time to dig."
Jane says you can uncover some of the best bargains in the clearance areas. Look through the racks and shelves marked clearance or final markdowns. Long-unsold items get reduced to absurdly cheap prices, so check this section every visit. With some persistence, you can walk away with some serious steals.
Give Yourself Enough Time
"This is not a 'stop quick on the way home' kind of thrift store. This is a 'pack a snack and water bottle kind of experience,'" said Jane. "Make sure you know the hours of operation and plan to be there for at least two so you can take your time. You will see people ravaging like they are on 'Supermarket Sweep,' but if that is not your speed, don't feel like you must keep up. There is plenty of goodness to go around."
Jane stresses that Goodwill shopping is not a quick errand. Make sure to allot enough time to dig through the racks, bins, and shelves without feeling rushed. Bring a bottle of water and snack to keep your energy up. Take it slow and be methodical to uncover the best treasures.
Talk to Employees To Get the Inside Scoop
According to Jane, most Goodwill locations have designated days and times when they put new merchandise on the sales floor. Find out when your local store restocks and plan your trips accordingly to get first dibs on the latest deliveries. Showing up when new items are being put out ensures you get the best selection.
Ask for Deeper Discounts
Jane says: Don't be afraid to ask for a steeper discount on items with flaws. Things like clothing with stains, chipped housewares, or electronics with cosmetic damage often get marked down an additional percentage. Politely point out the imperfection and request the discount at the register. Just because it's damaged doesn't mean it's fit for the garbage.
Make Your Money Work for You
Yes, You Can Test Electronics
Before purchasing electronics, Jane recommends verifying they are in working order. Stores will often allow you test items like stereos, DVD players, gaming systems, etc. Some even have batteries on hand so you can try gadgets. Just ask an employee if you can plug it in or put batteries in to test before buying. Ensuring electronics function properly will save you money and hassle down the road.
Next time you hit up Goodwill, keep Jane's insider tips in mind to get the most out of your shopping experience. With some time and effort, you're sure to walk away with amazing deals and discoveries. Happy thrifting!
More From GOBankingRates