I'm a Personal Finance Expert: Here Are My Top 12 Tips for Saving Money While Shopping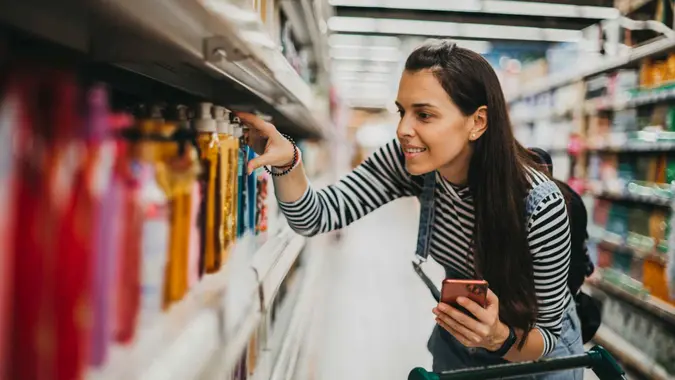 Nikola Stojadinovic / Getty Images
If you're feeling the effects of inflation, you're not alone. The overall cost of services and goods has risen by 3.7% in the past 12 months alone, before seasonal adjustment. This is higher than the previous increase of 3.2%.
With the cost of living greater than ever, it's no wonder so many people are looking for ways to cut down on costs — particularly when it comes to shopping. GOBankingRates spoke with personal finance experts Kendall Meade, CFP at SoFi, Tanya Peterson, a vice president at Achieve, and Andrea Woroch, a consumer and money-saving expert at Andrea Woroch I Money Saving Expert, on the best ways to save money while shopping.
Here's what they said.
Use Credit Wisely
Generally speaking, it's better to avoid using credit cards or otherwise incurring debt when shopping. That's why you should try to only buy what you can afford right now.
"Avoid making purchases you can't pay off immediately. If you do not pay your full statement balance off each month, you are paying interest," said Meade. "As of Q2 2023, credit card balances increased by $45 billion to reach a high of $1.03 trillion. The average credit card interest rate is 20.68%. A $1,000 purchase that takes you a year to pay off at 20% interest could end up costing you a total of $1,200. That's an extra $200 that item truly costs you."
Make Your Money Work for You
Leaving the credit cards behind and carrying cash instead is a great way to avoid purchases you can't afford.
"Consider shopping with just cash," said Meade. "Studies have shown that you are likely to spend less if using cash vs. a credit card, because it is more painful to hand over the cash than to swipe your card."
When Should You Use a Credit Card?
That being said, there are times when credit can be beneficial to your potential savings, such as with electronics and groceries.
"When shopping for any electronic, skip the extended warranty to save money. Most gadgets will not need to be repaired in the extended warranty time frame," said Woroch. "Instead, use a credit card that offers a free extended warranty to get added coverage for no added cost."
For groceries, Woroch suggested using a credit card that comes with rewards or cash back on grocery purchases.
"For example, the American Express Blue Cash Preferred® card offers 6% cash back at [U.S.] supermarkets on up to $6,000 in annual grocery spending, and the Capital One SavorOne Cash Rewards credit card [offers] 3% cash back on dining and grocery purchases, [excluding Target and Walmart]," said Woroch. "Always compare credit card reward programs at sites like CardRates.com to find one that will give you the most back based on where you spend the most or what you buy the most."
Use Free Loyalty Programs
Many retailers offer free loyalty programs. This can result in some great discounts and savings if you're a frequent shopper. In some cases, these programs can actually net you some extra cash that you can then use on other purchases.
Make Your Money Work for You
"Take advantage of free loyalty programs like CVS Pharmacy's ExtraCare to get exclusive and personalized coupons and earn money back for personal care and health care purchases," said Woroch. "For example, CVS is offering $50 ExtraBucks Rewards for filling prescriptions and getting a flu shot. If you were planning either of these purchases, you can easily earn rewards that can then cover other daily essentials on your shopping list to cut costs further."
Use Rebate Apps or Coupons
Coupons and rebate apps can help you save money when shopping for everything from groceries to gas. And what's great about these is that you can do most things online now, making them more convenient than ever.
"I know you are probably thinking — I don't have time to coupon," said Meade. "But it can be super easy with everything digital now. Your store may have its own app with digital coupons you can clip. There are also rebate apps, such as Fetch Rewards, which allow you to get money back just by scanning your receipt!"
Make Specific Budgets and Lists
When making your personal budget, it can help to categorize your expenses by category — such as food, vacation, housing costs and so on.
For travel, for example, Peterson said, "Create a vacation budget, itemizing all costs. To stay within the budget, be prepared to modify dates, accommodations, location or activities."
Just as you can adjust your travel budget as needed, you can do the same for other types of shopping. Try to stay within your budget as much as possible so you don't overspend.
Make Your Money Work for You
While you're at it, make a list whenever you go shopping. Follow that list closely, but don't be afraid to make some changes.
"Be prepared to (carefully) veer from your list. Planning and having a list is important, whether you are shopping at a neighborhood store or a warehouse club. But you can also try working around what's on sale and any truly great deals you find," said Peterson.
Shop at Discount Stores
"Shop at discount stores such as Aldi, Costco or Sam's [Club]," said Meade. These types of stores tend to offer lower prices than other retailers.
Peterson also advised joining a membership warehouse club. "Singles, couples and seniors may shun them, because they assume everything comes only in bulk. Actually, many things come in smaller quantities, many food items don't perish easily, and you'll find plenty of individually packaged and multi-packs of grocery items." You can also split up what you buy with friends or family members to ensure nothing goes to waste and to further reduce costs.
Do Grocery Pickup
Setting up grocery pickup can save you money if you do it right.
"I know this may sound counterintuitive, because sometimes there can be a small charge to do grocery pickup. However, when I do grocery pickup, I only get what I have planned on my list. This allows me to avoid impulse purchases and only get the items I truly need," said Meade.
"You can also see your total before you get to checkout, allowing you to make swaps to stay under your budget," Meade added. "I personally found my average grocery bill is $100-$150 per week if I shop in a store, but when I order for pick up, it is closer to $50."
Make Your Money Work for You
Meal Plan
Looking to save money on groceries? Meal planning can help, especially if you do it around current deals.
"Plan menus around the sale ads your grocery store(s) issue each week, if you can," said Peterson. "Find and look through any clearance or mark-down areas in the store, and see if there are deals on ready-to-expire items that you know you could use right away."
Make sure you only buy what you can use, though, or you could be wasting money.
Buy Things That Last
When it comes to shopping, quality over quantity doesn't always apply. But it certainly does when you're buying clothing and similar goods.
With clothing specifically, Woroch suggested focusing on quality and timelessness to save money.
"This way, you spend less over time, since you won't have to replace these clothing items," Woroch said. "For fast fashion, stick with inexpensive styles. For basic clothing pieces like t-shirts and tank tops, go with generic store brands from big box stores like Walmart or Target."
Woroch also suggested using resale sites like TheRealReal.com or Poshmark to find even more savings on designer brands.
Wait Before You Buy
Whether you prefer in-person or online shopping, implementing a waiting period before you make the purchase can help prevent impulse buys or buyer's remorse.
A waiting period "can be 24 hours for smaller purchases or up to a month for larger purchases," said Meade. "This allows you to think over the purchase and make sure you really want/need it. In the meantime, you can see if there is a better deal out there, too."
Make Your Money Work for You
Compare Prices
Take some time to compare retailers and specific goods before buying to ensure you get the best deal. One major area where you can save money is on gasoline.
"Compare fuel prices based on your location using the Gas Buddy app, which is especially helpful when you're driving in unfamiliar areas — like on a road trip. You can also find cheaper gas at warehouse club stores like Sam's Club or Costco," said Woroch.
"Turn gas receipts into cash back by using a free receipt scanning app like Fetch. You will earn points for each receipt you upload, which are good towards free gift cards to a variety of stores, including those that have gas stations to save on future fuel needs, like Walmart and Sam's Club," added Woroch.
When shopping for other things, like food, keep an eye on unit pricing. Sometimes, something that seems like a better deal might actually be more expensive based on the per-unit cost.
"Pay attention to unit pricing," suggested Peterson. "Frequently, mid-size packages will offer better value than larger sizes. Some stores display unit pricing on the shelf, but it's often just as easy and accurate to check yourself using your phone's calculator."
Unsubscribe From Shopping Emails
Signing up for shopping emails is easy, but it can also tempt you into buying things you don't need. To save money, unsubscribe from all or most of your shopping emails.
"Many people are hesitant to do this, because they don't want to miss out on a sale, but sometimes these sales cause us to buy things we really don't need. So, it costs us more overall," said Meade.
Make Your Money Work for You
While you're at it, get rid of any shopping apps to cut back on splurges or impulse buys.
"Remove shopping apps from your phone and/or remove your credit card," added Meade. "This puts a little bit of friction between you and making the purchase, which gives you time and effort to think about if you really need the item."
Buy Used Goods
Used or refurbished items often come at a steep discount when compared to buying new.
"Consider buying used," said Meade. "My favorite place to shop is actually an app called Poshmark. You can buy clothing from other people who no longer want or fit in the item, and you can sell things that you don't want anymore. While pricing varies by seller, you can usually save 50%-70% versus what you would otherwise pay."
Clothing isn't the only area where you can save money by buying used — technology is another big one.
"Look at certified refurbished options to save up to 60% off tech purchases," said Woroch. "Buy from reputable retailers like eBay and Amazon, both of which have an entire section dedicated to refurbished electronics that are certified. This means they are guaranteed to work and look like new and come with a warranty for that extra peace of mind."
More From GOBankingRates