Inflation Busting: Take Couponing to the Extreme with 6 Expert Tips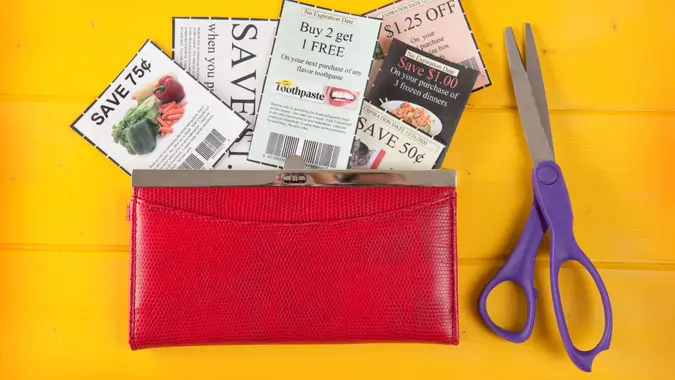 sdominick / Getty Images/iStockphoto
Couponing is trending again. As Americans grapple with record-breaking inflation — inflation that has increased the cost of groceries by nearly 12% while wages only saw a 4.5% jump, per CNBC — many people have had to tighten budgets to make ends meet.
See: Surprising Things You Can Buy With Food Stamps
Read: 3 Ways Smart People Save Money When Filing Their Taxes
Find: How 2023 Recession Will Differ From 2008 and How You Should Prepare Differently
One way of doing so has been with coupons. In fact the trend is so hot, The New York Times reported that those handy promos are becoming harder and harder to find. But there are ways to do so and get great deals — at least according to Kayla Burk, a 27-year-old "extreme couponer" who regularly shares her tips with 2 million followers on TikTok.
"There's never a shortage of good offers out there, and you can find them with preparation," she told Business Insider. Here are her tips:
Get app happy: "Download apps from the stores you shop at the most," said Burk, suggesting ideas like Target Red Circle or Kroger's mobile app. "That's where you'll find the specific coupons for that retailer." She also suggested hunting on the store's website for their digital circular, as well as sites like Coupons.com. Additional apps Burk recommended are cashback portals (like Shopkick) to get rewarded for every purchase.
Make Your Money Work for You
Look for free food: Another of Burk's tips? Paying attention to new product launches, as manufacturers will want people to try the items and will give out freebies. "With some of the cashback apps, they often offer free food deals. When a brand has a new product that they want people to try, they'll give it out for free through these apps to a limited number of people."
Pay attention to sell-by dates: A store's sell-by date is really important when it comes to getting a deal. If it's nearing the last date they have to keep it on shelves, the retailer will reduce the price. It's still safe to eat (it's a sell-by date versus an actual expiration date). If you can't use it right away, said Burk, "stick them in your freezer."
Stock up on rarely reduced items: Burk pointed to diapers as an example. They rarely go on sale — so when they do, she buys in bulk. Though it's a larger up-front investment, it'll pay off over time.
Take Our Poll: Are You In Favor of More Inflation Relief in 2023?
More: 11 Grocery Items To Buy at Dollar Tree
Create an exclusive email just for coupons: This way you'll get all the deals, but can also lock in on marketing ploys that work in your favor. "These stores pay attention to your shopping habits. If you haven't bought something from them in a while, they often send an email with a discount to get you to shop again," said Burk.
Make Your Money Work for You
Check a store's price match policy: Shop at those outlets that do offer price matching. When you find an item you want to buy, check a site like ShopSavvy.com while in the store to see if you can find a better deal at another retailer and present it when checking out.
More From GOBankingRates
Make Your Money Work for You