Is a Costco Membership Worth It? Here's a Breakdown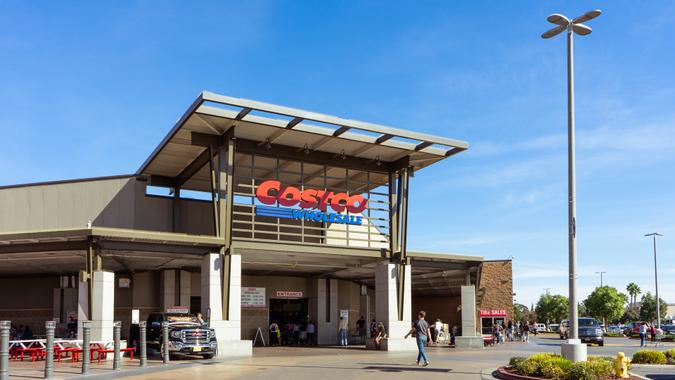 Sue Hwang / GOBankingRates
Between 2014 and 2021, over 35 million people worldwide became Costco club members, according to Statista — and it's easy to see why. Costco is one of the most popular membership-only retail chains in the world, providing numerous benefits to its members.
Here is a breakdown of Costco membership prices and the factors you should consider to help you decide whether a membership is worth the cost. 
How Much Is a Costco Membership in 2022?
Costco offers both personal memberships and business memberships, and its membership prices come in two tiers per category. Members can enroll in one of the following membership programs:
Gold Star ($60 per year)
Business ($60 per year)
Executive ($120 per year)
Business Executive ($120 per year)
Costco membership prices have not increased in 2022, and the last time the company raised its membership fees was in 2017.
Can I Get a Free Costco Membership?
Costco does not offer free or discounted memberships. This is because membership fees cover the overhead costs of its business, allowing the company to provide products and services at competitively lower prices compared to other retailers. However, savvy shoppers can enjoy Costco deals without paying a membership fee, though there are limitations.
Make Your Money Work for You
Even without free Costco membership opportunities, customers can save big. In fact, a Costco membership pays for itself relatively quickly.
What To Consider Before Getting a Costco Membership
There are a few things one should consider before becoming a Costco member. First and foremost is if there is a Costco warehouse nearby.
While the company is investing in providing low-cost goods and services online, those who shop at any of its numerous locations worldwide get the most out of their membership. 
Here are some additional considerations that shoppers should make before obtaining a Costco membership:
Most items are sold in bulk.
Total purchase amounts are often high due to bulk items.
Membership fees are offset by taking full advantage of Costco member benefits.
What Types of Costco Memberships Are There?
Costco has two types of memberships: personal and business. When a shopper has determined which Costco membership type they want, they can select from either a standard membership or an executive membership. Here are the details on each type and their tiers.
Make Your Money Work for You
Personal Memberships
The personal memberships are for regular individuals who want to shop at Costco. The standard tier for this membership type is called the Gold Star Membership. Here's what it includes: 
Access to Costco warehouses and online shopping
Two membership cards
Full refund of membership fee if one seeks to cancel it
On the other hand, the Executive tier offers the same benefits and more. Here is what the higher tier offers in addition to the standard benefits: 
2% annual reward on eligible purchases at Costco and Costco Travel
Additional benefits and discounts on Costco services
A free monthly subscription to Costco Connection magazine
Business Memberships
The business memberships are designed for individuals and businesses that wish to purchase products from Costco for business or personal use and commercial resale. The standard tier is called the Business Membership. It includes the following: 
Access to Costco warehouses and online shopping
Two membership cards
Additional cards that can be added for $60 each
Bulk products for resale that are available for purchase
Make Your Money Work for You
The Business Executive tier contains all the same benefits of the standard business tier, in addition to those of the personal Executive tier, as well.
What Benefits Does a Costco Membership Provide?
Besides those unique to Costco's Executive tier membership, there are additional benefits that all members receive, as well as a few specific to business members. Here are the essential benefits that all members can take advantage of: 
Low prices and high savings: Members have the advantage of huge savings from Costco's low-priced products and services.
Costco gas: Several Costco locations have members-only gas stations with much cheaper gas prices.
Grocery delivery: Depending on their location, members can order their groceries online and have them delivered through Costco Grocery or Instacart.
Travel deals: Members have access to exclusive travel deals and discounts through Costco Travel.
Auto deals: Through the Costco Auto Program and car-buying service, people can purchase new and pre-owned vehicles at discount member prices. Costco members can also take advantage of a 15% discount on parts and services at participating service centers.
In addition to essential benefits that all Costco members share, there are benefits that cater to business members specifically:
Cheaper payment processing: Members receive special rates and discounts when signing their business up with Elavon, a payment processing service.
Business Center deliveries: Costco Business Center offers members unique inventories and specialized deliveries directly to commercial addresses.
Business health insurance: Costco offers health and vision insurance plans for businesses through the CBC Health Insurance Marketplace and MESVision.
Water delivery services: Business members receive exclusive prices for bottled water deliveries to their office or facility.
Business printing: Members receive discounted rates for printed products such as banners, business cards, flyers and brochures.
Costco's Competitors
Costco has strong competitors in the warehouse club retail market. The two main alternatives are Sam's Club and BJ's, both of which also have membership fees and ample benefits. Here are the details on what members get from each competitor.
Sam's Club 
Like Costco, Sam's Club offers tiers of membership. However, the membership options at Sam's Club are slightly cheaper overall and differ in certain ways: 
Club membership: For $45 a year, members at this tier get free curbside pickup, a Sam's Club Mastercard that provides additional rewards, savings on gas at select locations, access to the Sam's Club Tire and Battery Center, and savings on additional memberships.
Plus membership: For $100 a year, members at this tier get all the same perks as Club members, as well as free shipping for online orders, savings at the store pharmacy and optical center, 2% back in Sam's Cash on eligible purchases, and 3% cash back on eligible purchases from their Sam's Club Mastercard.
BJ's 
BJ's also has a tiered membership program for individuals and businesses. Here's a look at what members receive with the standard and premium personal memberships:
Inner Circle Membership: For $55 a year, BJ's members receive exclusive coupons and a complimentary membership for another household member.
Perks Rewards Membership: For $110 a year, BJ's members get all of the benefits from the standard tier, as well as 2% cash back on eligible purchases, double or triple cash back during special events, and special travel benefits.
The company also offers a specified membership for businesses, with the same benefits split between the Inner Circle and Perks Rewards tiers, along with a few benefits reserved for them: 
Tax exemption and resale privileges
Up to eight additional memberships at a discount rate
So, Is a Costco Membership Worth It?
The choice to join Costco or not is a personal one, but the fact is that it doesn't take much to make the membership pay for itself. People who live alone or who live in small apartments and don't have room to squirrel away big containers of stuff might pass. For the rest, however, Costco offers the opportunity to stock up, save and enjoy steep discounts on food, diapers, and everything else you need in your home. Customers can also enjoy savings on cars, travel, and plenty of other things people don't normally associate with bulk club shopping.
Andrew Lisa contributed to the reporting for this article.
Information is accurate as of April 21, 2022.
Make Your Money Work for You