Are Rent the Runway and 2 Other Popular Clothing Rental Memberships Worth It?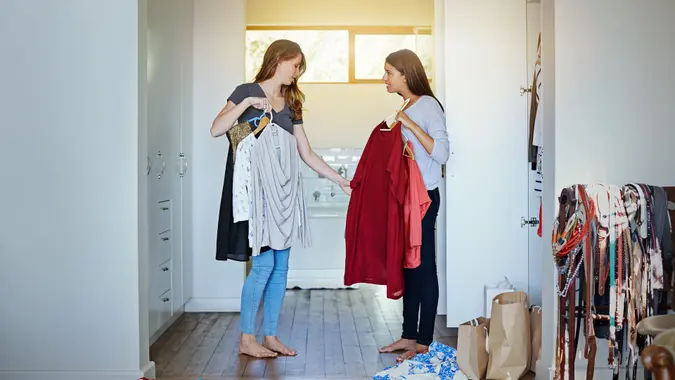 kupicoo / Getty Images
If you're familiar with clothing rental memberships, then you've likely heard of Rent the Runway. 
"Rent the Runway is a clothes rental benefit that caters to the styling needs of customers without requiring them to buy an outfit," said Peter Martinez, a design director at Leather Skin Shop, an Oregon-based fashion brand. "It works on a subscription-based model, where customers can choose any of its membership plans according to particular clothing requirements."
However, Rent the Runway is hardly one of a kind. There are plenty of other similar services you can sign up with. The question is, are they worth it? Here's more about how Rent the Runway works and its pros and cons — plus, find out how two of its competitors measure up.
How Does Rent the Runway Work?
Rent the Runway has three subscription plans, all offering five rental items at a time. There's also currently a discount for the first month or two depending on the plan you choose:
5 designer items per month: $69 the first month, then $94
10 designer items per month: $99 for two months, then $144
15 designer items per month: $139 for two months, then $193
Make Your Money Work for You
You'll also receive free shipping and returns and the ability to pause or cancel your membership as needed.  Brands you'll find at Rent the Runway include Badgley Mischka, Helmut Lang and ALEXACHUNG.
Pros of a Rent the Runway Membership
Now that you know more about the membership and its costs, here are some pros of signing up.
You Can Pause or Cancel
"You can cancel or pause your membership conveniently," said Tracy Cheng of Girl Shares Tips. "So you can pay a monthly fee for a certain month when you need it, and then cancel or pause the membership when you don't need it — without any charge."
Allows You To Try a New Style Without the Commitment
"For holidays, anniversaries, dates, if you want to try new styles, RTR is a perfect choice," Cheng said.
Perfect for One-Time Special Occasions
"The first time I used RTR was because I was going to a few themed parties," said Cheng. "For evening dresses and costumes, everyone wants to wear pieces with better quality and unique design, but they usually don't have the opportunity to wear these pieces again and again. Also, better dresses often cost hundreds of dollars, so a RTR membership is a money-saver."
Make Your Money Work for You
Cons of a Rent the Runway Membership
To make an informed decision of whether Rent the Runway is right for you, here are some cons to consider.
Styles Might Not Be What You Expect
"For designer brands, the styles on Rent the Runway are often not the latest," said Cheng. "Therefore, RTR is not a good choice for fashionistas who are pursuing the latest styles."
Turnaround Time Is Slow
"Rent the Runway only works for those who live in the same location. I have a membership of 16 clothes a month," said Nicole Bolton, a fashion designer and the co-founder of Iconic Celebrity Outfits. "For me, it took two days to ship and another two days to arrive at my destination. I wanted that dress for my friend's wedding on the weekend, but unfortunately it was delivered late. If it takes that long to arrive, I would not be able to rent 16 dresses a month despite paying my membership fee."
Some Items Are Unable To Be Worn
Martinez said that when people rent used clothing from services like Rent the Runway, items do not always arrive in wearable condition. "Customers often complain of deteriorated quality and stained items that cannot be worn," he said.
Rent the Runway Competitors
Not all clothing memberships are exactly the same. Here's some information on a couple of Rent the Runway's competitors.
Nuuly
One alternative to Rent the Runway is Nuuly, which rents brands like Lucky Brand, Steve Madden and Kate Spade. Unlike Rent the Runway, Nuuly only has one subscription option. Subscribers can rent six styles every month for $88 with free shipping and returns. Plus, like RTR, it's possible to pause or cancel the membership at any time.
Make Your Money Work for You
A Reddit user who had used the service for several months said that before she subscribed she was spending more than $88 per month on clothing, and the service helped her save. However, she recommended looking elsewhere for high-quality basic items you'll wear season after season, like winter coats and sweaters.
"I'm an avid Anthropologie shopper so Nuuly was a good choice for me," she said. "I also enjoy some of the fast fashion pieces that I can rent for a month and not have to commit too. There's definitely a lot of fun and bold pieces on there that I would never want to buy, but it's fun for a month to mess around and create fun looks with them."
Armoire
Armoire features a variety of higher-end brands, including Lilly Pulitzer, Nicole Miller and Adrianna Papell. Like Rent the Runway, Armoire has three membership plans: a 4-item plan for $79 per month, a 7-item plan for $119 per month and an unlimited item plan for $249 per month. However, you do receive a discount on your first month no matter which membership tier you choose.
You can also pause or cancel your membership and enjoy free shipping and returns, just like with RTR. Unlike RTR, Armoire offers full-service styling to its members too.
Make Your Money Work for You
According to a Facebook review from an Armoire subscriber, the brands are great and the clothing is high quality. The subscriber also praised Armoire's customer service due its quick response when she reported receiving an item that was slightly damaged.
Are These Clothing Rental Memberships Worth It?
Whether a clothing rental membership will be worth it to you depends on your particular situation. For example, if you sign up for a monthly unlimited plan and pay top dollar, you might not get your money's worth due to the lag in shipping and return times. Even if shipping is prompt, you might not like many of the brands and styles of clothing you receive, and you might also become frustrated if the clothing you rent doesn't fit as expected.
However, if you go to planned events several times during the year and don't want to have to purchase an expensive outfit each time, a clothing rental membership could help you save. This type of membership could also be helpful if you often need clothing for a certain climate or regional style due to travel.
One other reason this type of membership might be worth it is if you work in a career where you must regularly wear high-end, fashionable clothing. Rather than buying a ton of expensive pieces, you could buy good basics and then rent other pieces to mix in.
Make Your Money Work for You
More From GOBankingRates