Kohl's Holiday Hours 2022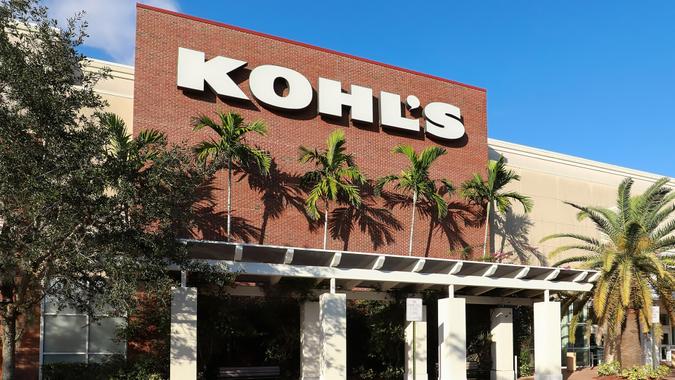 JillianCain / Getty Images
Are you a frequent shopper at Kohl's? You'll want to know what holidays your store will be open so that you can shop around their hours accordingly.
Like many other retailers, Kohl's closes its doors on certain holidays but keeps them open at other times to make sure that no one is left out when shopping on holidays. 
It's important to know Kohl's schedule to have a stress-free shopping experience. If you need to know what the holiday hours are for Kohl's? or are asking, "What holidays is Kohl's closed on?" keep reading to find out the best times you can visit your local Kohl's store.
What Time Does Kohl's Open?
At most Kohl's retail locations, stores open at 9 a.m. and close at 10 p.m. Here's a list of the different holidays and times you can expect the stores to be open in 2022.
Holiday
Date
Is Kohl's Open or Closed?
New Year's Day
Saturday, January 1
Open from 9 a.m. – 10 a.m.
Martin Luther King, Jr. Day
Monday, January 17
Open from 9 a.m. – 10 a.m.
President's Day
Monday, February 21
Open from 9 a.m. – 10 a.m.
Good Friday
Friday, April 15
Open from 9 a.m. – 10 a.m.
Easter Sunday
Sunday, April 10
Closed
Memorial Day
Monday, May 30
Open from 9 a.m. – 10 a.m.
Juneteenth
Sunday, June 19
Open from 9 a.m. – 10 a.m.
Independence Day
Monday, July 4
Open from 9 a.m. – 10 a.m.
Labor Day
Monday, September 5
Open from 9 a.m. – 10 a.m.
Columbus Day
Indigenous Peoples' Day
Monday, October 10
Open from 9 a.m. – 10 a.m.
Veterans Day
Friday, November 11
Open from 9 a.m. – 10 a.m.
Day Before Thanksgiving
Wednesday, November 23
Open from 9 a.m. – 10 a.m.
Thanksgiving Day
Thursday, November 24
Closed
Day After Thanksgiving
Friday, November 25
Open from 5 a.m. to 12 a.m.
Christmas Eve
Saturday, December 24
Open from 7 a.m. to 6 p.m.
Christmas Day
Sunday, December 25
Closed
Day After Christmas
Monday, December 26
Open from 9 a.m. – 10 a.m.
New Year's Eve
Saturday, December 31
Open from 9 a.m. – 10 a.m.
Make Your Money Work for You
As a good rule of thumb, be sure to double-check with your local store first before making the journey.
When Does Kohl's Close?
Kohl's fully closes all stores on the holidays of Easter, Thanksgiving and Christmas. If you're looking for online or curbside pickup, be sure to plan around these closures.
Kohl's Holiday Return Policy

Kohl's is one of the few retailers in the country that offer a special holiday return policy. The return policy applies to premium electronics purchased between November 1st and December 25th, which you can return through January 31st. This is on the condition that the product comes in the original packaging and you have a valid receipt. You can also confirm this using your Kohl's account.
Takeaway
Knowing the dates and times you can expect Kohl's to be open can help you aim for the best shopping experience, once that is smooth and stress-free. Use this guide to help inform your decision before visiting the store for your shopping. With the right planning, you can minimize any hurdles that may waste time with family and friends.
Make Your Money Work for You
Lydia Kibet contributed to the reporting for this article.
Schedules are subject to change and may vary by branch.