Kroger's Best and Worst Deals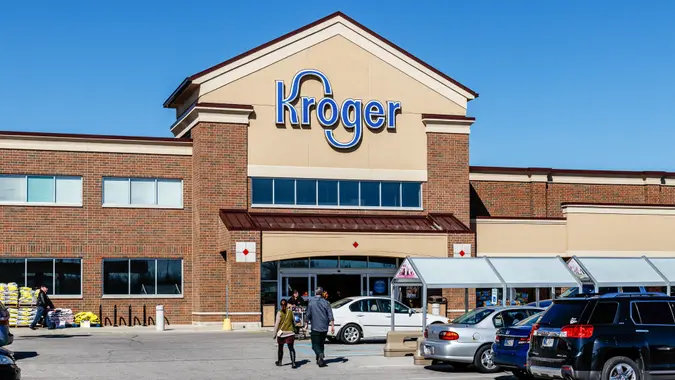 jetcityimage / Getty Images
Grocery store giant Kroger is one of the world's largest retailers, with about 2,800 stores in 35 states operating under a variety of local banners, including Ralphs, Fry's, Food 4 Less, QFC, Fred Meyer and Smith's Food and Drug. Kroger got its start in 1883 in Cincinnati when Barney Kroger put all the money he had — $372 – into opening one grocery store.
Discover: 13 Ways To Make $100 in Just a Day
Check Out: 10 Things You Should Always Buy at Walmart
Today, Kroger retains its foothold in the Midwest and into the South and Southeast, with its other banners dotting the map across the country. While Kroger is known to have some terrific prices, there probably are some items you can find better values on elsewhere.
Just what deals should you be taking advantage of at Kroger, and just what isn't a deal?
The Best Deals at Kroger
Buy 5 or More Deals
Each week, Kroger advertises a selection of items from throughout the store — most of them already on sale — that qualify for the Buy 5 or More special. Buy five of the identified items and save $1 on each. Recent qualifying items included Thomas' English muffins or bagels, Pepperidge Farms goldfish crackers, a variety of cereals and Bounty paper towels.
Make Your Money Work for You
Private Selection Products
The house brand, Private Selection, offers some of the best products and the best prices, said Julie Ramhold, consumer analyst with DealNews.com.
"Yes, there are Private Selection bags of produce, like petite gold potatoes," Ramhold said, "but this store brand absolutely shines in other areas, including things like Bronze Cut Decadent Gouda with Aged White Cheddar Mac & Cheese, ice cream pints with flavors like Brown Butter Banana French Toast, and fancy frozen pizzas like Italian Buffalo Mozzarella & Arugula Thin Crust. There are plenty of other items in this lineup as well, including jarred sauces, breads, frozen vegetables, deli meats, raw meats and more. It's an affordable lineup of items that feel and taste more luxurious than your standard store brands."
Kroger Brand Cookies
In the cookie aisle, look for the knockoffs of the most popular Girl Scout cookies, Ramhold said.
"The Mint Fudge Enrobed Cookies taste just like Thin Mints, the Coconut and Caramel Fudge Cookies are perfect dupes of Samoas and the Peanut Butter Fudge Enrobed Cookies are a tasty and cheaper alternative to Tagalongs."
Simple Truth Organic Products
"If you're looking for affordable organic products, Kroger's line of Simple Truth is a great route to go," Ramhold said. "They're typically cheaper than even other stores' house brands, and there's a wide variety of items within it, so you can ostensibly shop for all organic groceries without spending a fortune."
Make Your Money Work for You
The Worst Deals at Kroger
Batteries
If you need batteries, Kroger isn't the place to buy them, Ramhold said.
"These aren't exactly a big seller at grocery stores like Kroger, and their price — and selection — often reflect that. For instance, two Duracell AA batteries at Kroger could cost you more than $13; meanwhile, at stores like Target, you can get a 4-pack of AA batteries for less than $7.
"Sure, you can opt for generic brands if you want, but a 24-pack of Kroger's own brand will cost you about $18; whereas, at Target, you can get a 20-count pack of their store brand up&up for around $9 or even a 48-count for just $14. However you look at it, you can find better values on batteries elsewhere."
Cookware
"Kroger may have a bigger selection of cook and bakeware compared to other grocery stores, but it doesn't mean they have the best selection or value in general," she said. "You're much better off heading to a big-box store like Target or Walmart to find what you need at better prices."
Books
Also avoid buying books at Kroger, Ramhold said.
Make Your Money Work for You
"Kroger is not the place to shop for books. In addition to not having a big selection, you likely will end up paying list price; whereas, at other stores — even bookstores — you can usually get at least a modest discount on the latest bestsellers. Unless you're just desperate for something to read, I would say avoid buying books at Kroger. Even if you are desperate, you're probably better off buying an e-book through Amazon, Google or Apple rather than purchasing a physical copy at Kroger."
Kroger has aisles and aisles of items to stock your pantry and your refrigerated shelves, and don't forget the variety of ways to save. By downloading the app or signing up for an online account, you'll be able to review the store ad and pin online coupons to your account. Spending a few minutes to look at the savings tab can save you even more money at the register.
More From GOBankingRates
Make Your Money Work for You