5 Purchases To Make Day-to-Day Life Feel More Luxurious (Without Overspending)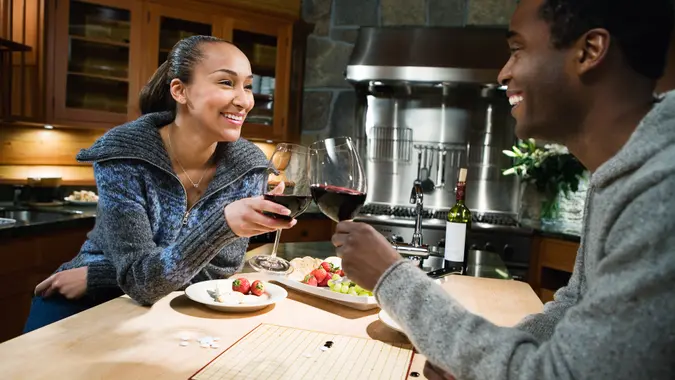 Image Source / Getty Images
If the stress of 2022 already has you longing for some extra-soothing creature comforts, you can add a little luxe to your life without paying upscale prices. To be clear, the following is a list of wants — not needs — but they're wants that are likely within the budget of the common household.
See: 6 Top Tips for How To Turn $1,000 Into $10,000
Find Out More: 7 Simple Habits That Will Make You Richer in 2022
So, if you have a little bit left over this month and want to pamper yourself without splurging, the following items can soften life's rough edges without putting a major dent in your wallet. Enjoy!
High-Quality Bed Sheets
Over the last few years, a slew of hip new mattress companies have flooded the market with exciting and expensive new products that arrive tightly rolled and vacuum-sealed, promising the perfect night's sleep. Less attention is paid to the importance of a great pair of sheets though, but that's where the metaphorical rubber meets the road.
Make Your Money Work for You
You can get a set of sheets for less than $39, and at that price, you won't find better quality than Brooklyn Bedding's brushed microfiber sheets. They're made from plush, brushed, finely woven fibers that measure less than one denier in diameter — for context, a human hair is 20 denier. Breathable, machine washable, and wrinkle-free, they're as easy to maintain as they are cozy — and they're currently on sale at half off for less than $20.
The Sleep Foundation ranks them among the six best affordable pairs of sheets on the market for 2022. Every other pick on the list was over $100.
Discover: 9 Ways To Become Rich in 2022
Plush Bathrobe and Soft, Warm Slippers
On cold nights, in drafty rooms or on lazy days, there's nothing like a full-body hug from a blanket with arms with pillow shoes to match. Like sheets, you can spend a lot of money on a good robe and slipper set, but here too you can get real quality in the low double-digits. 
For around $30 — currently $29.99, down from $36 on Amazon — you can wrap yourself in a luxury combed terry cotton shawl-style bathrobe with matching slippers. Softer and more durable than standard cotton, combed terry cotton is spun from longer fibers that are more absorbent and more comfortable to the touch. If you're in the mood to waste money, you can spend much more for comparable quality.
Make Your Money Work for You
Read: 25 Secrets Every Rich Person Knows
Heated Car Seats
When people think of heated seats, they think of Audi, Benz, and BMW — but you can add a little bit of luxury to whatever it is you drive without the price of a prestige nameplate. HealthMate makes a velour winter seat cushion with controlled heating and lumbar support that plugs in through your car's 12-volt DC outlet. Give yourself and your passengers the gift of warmth and relaxation on miserable winter mornings and brisk fall nights in the car. Or, you can use the included AC adaptor to bring it inside and use it on the office chair or even on the couch. 
With 4.3 stars after more than 2,300 Amazon reviews, you can buy a higher-quality heated seat cushion, but you can't do better than $30.
Related: 40 Cheap Upgrades That Will Make Your Car Feel Like a Luxury Vehicle
Red Wine Decanter 
Make decent wine good and good wine great with a decanter, which is a big, fancy-looking glass vessel that you pour wine into to aerate the liquid, remove the sediment and increase surface area. 
Make Your Money Work for You
It's not just a gimmick that people like to do because it looks highfalutin. Decanters make wine smoother, more flavorful and less likely to cause a headache. Like everything else on this list, they can be expensive, but they don't have to be. A good decanter made from hand-blown crystal glass with a built-in aerator and pourer can be yours for $33 on Amazon. Since decanters can improve wine, you'll be able to spend less on cheaper bottles and save money over time.
Shiatzu Massage Station
High-quality, full-size massage stations with two-digit price tags are rare, but it is possible to find a good one for less than $100. And what screams out luxury living more than in-home shiatzu sessions? The Snailax heated back massager gets 4.4 stars after nearly 13,000 Amazon reviews and costs $99.99. It's foldable, portable and comes with a headrest and vibrating seat. 
You can use it laying down, sitting up, in a chair or on the couch, and you can target the kneading action to one spot, choose a zone, or just let the unit's flexible massaging nodes travel as they please.
More From GOBankingRates
Make Your Money Work for You