Discover the Month When Americans Splurge the Most — It's Not December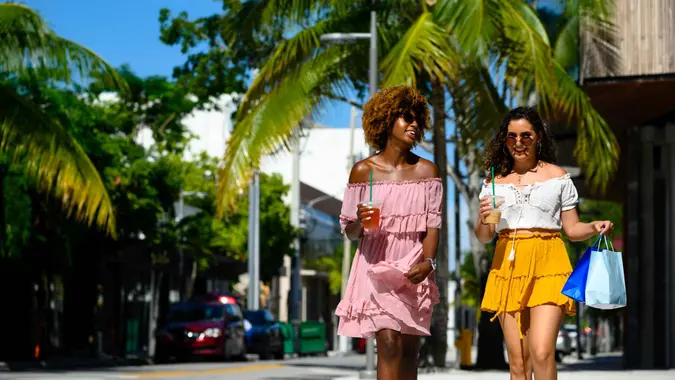 stockstudioX / iStock.com
A recent survey of 1,758 adults from TopCashBack found that while many still consider winter to be the most expensive time of year (40% of respondents said so), another 41% of people still pushed summer to rank as the most expensive season.
Winter carries the financial weight of gift-giving, holiday travel, and Black Friday sales events. However, the summer months (June to August) have significant financial pull as well. With 70% of respondents reporting that they plan on traveling this summer, it's no surprise that hefty travel expenses are contributing to bulging summer budgets.
Summer Travel Spending
When asked how much they expect to spend on travel this summer, 37% of people answered that they're planning to spend over $1,000 per person for vacation plans. For a family of four, that could be upwards of $4,000.
Many travel plans revolve around the summer holidays, with respondents planning vacations around the 4th of July (36%), Labor Day (25%), and Memorial Day (23%) — which could add to the cost of flights and accommodations.
There's also potential for some travel spending to overlap with the 46% of those polled who plan to spend on social activities. Said activities may include traveling for summer weddings and other family or friend gatherings.
How Are People Spending This Summer? 
Want to know how other people are spending their money this summer? The data from TopCashBack's survey shows that the top three spending categories this summer are family vacations, social activities and summer clothes.
In support of this data, Deloitte's State of the Consumer report shows retail sales growth ranging from 127.3% to 128.8% from June to August of 2022. Compared to 120.4% to 122.6% from December 2021 to February 2022, that's an increase of 6.2% to 6.9% in sales during the summer months. This could be driven by prominent sales events such as Amazon Prime Day and Black Friday in July. July appears to be a particularly strong month for retail.
Make Your Money Work for You
What Americans Are Spending Money On This Summer
Family vacations/trips: 48%.
Summer clothes: 46%.
Social activities (happy hours, barbecues, etc.): 46%.
Home updates / DIYs (painting, etc.): 36%.
Vacation / trip without children: 36%.
Entertainment (pool membership, concert tickets, etc.): 35%.
Bulk buying food and drinks: 31%.
Beach accessories (umbrellas, towels, bags, sunscreen, etc.): 25%.
Back-to-school supplies and clothing (new laptop, sneakers, etc.): 23%.
Backyard furniture: 15%.
Summer camp / classes: 13%.
Other: 9%.
Tutoring / education: 7%.
No matter what they're spending on, it's more than likely that spending goes unchecked by a budget. A full 76% of those surveyed shared that they don't set a summer budget. Without the guidelines of a budget, consumers could find themselves trying to compensate for high summer spending by cutting back in the following seasons.
Tips on Keeping Summer Spending Under Control
Don't let the summer sun cloud your financial judgment. Here are a few tips you can implement to keep your spending under control.
Establish a budget: Don't wait until fall rolls around to review your finances. As you make plans for your summer adventures, make a budget to go along with it. By making a plan for how you'll spend your money, you'll know whether there's enough to cover your expenses and avoid unnecessary overspending. To simplify this process, use applications like YNAB, Mint, or RocketMoney to set a working budget.
Save money for summer: If you have big plans for summer, it's wise to create a summer fund that supports those plans. After preparing your budget, schedule a reasonable amount from each paycheck to go towards a separate savings account reserved for all your adventures. The simple act of separating these funds could help you stick to your budget and ensure there's enough to cover your wants and needs.
Maximize travel rewards: If you have to spend money, then you might as well be rewarded for it. Some credit card companies offer enticing incentives like cash or travel rewards for spending money on your credit card. These rewards could reduce or even cover the cost of your summer travel plans. To maximize your rewards, avoid holding a balance and read through the rewards disclosure to ensure you're meeting the requirements.
Make Your Money Work for You
The Bottom Line on Seasonal Spending
The summer sun brings plenty to get excited about, including vacations, wardrobe updates, home improvement projects and social activities like barbecues. Those events come at a cost that requires planning and restraint to avoid negative financial consequences after summer comes to an end. By keeping your spending under control and budgeting for your plans, you can enjoy more financial stability year-round.
More From GOBankingRates