5 Most Overpriced Sam's Club Items, According to Superfans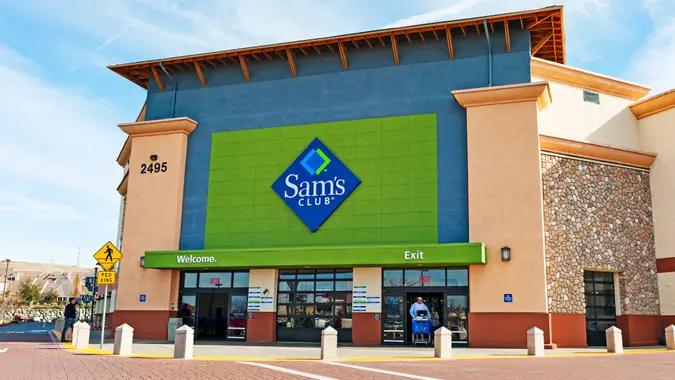 jmoor17 / Getty Images
One of the best places to get deals all year long is by signing up for a Sam's Club membership and using it for the things you purchase regularly for your home. There are even some secret ways to save money that Sam's Club shoppers know about, which makes the warehouse club even more fun to be part of.
But like many stores offering everything under the sun for a good deal, Sam's Club does have a few items that are arguably overpriced and might push your spending budget past its limits.
GOBankingRates reached out to some expert shoppers and bargain-hunting superfans to find out which of Sam's Club's items are the most overpriced. Here's what we found out.
Consumer Analyst Julie Ramhold with DealNews.com advises shoppers to skip Sam's Club when it comes to stocking up on SFP from Banana Boat.
Make Your Money Work for You
"At Sam's Club this package is three 6-oz spray cans for around $16.68, or 93 cents per ounce," says Ramhold.  "However, at Costco, you can get a package that contains two 8-oz spray cans and one 8-oz lotion for around $18.99, which works out to about 79 cents per ounce."
However, Ramhold notes that there are very few reasons to buy sunscreen in large quantities anyway. "Sunscreen does have an [expiration date] and can lose its effectiveness, so it's not something you want to buy in bulk and leave hanging around for a long time."
Ramhold observed that the store-brand cream cheese at Sam's Club weighs in at a whopping 3 lbs, costing $8.56 or 18 cents per ounce. And it all comes in one huge brick, which doesn't appeal to many shoppers.
"It may not be the best option to purchase, even though the unit price is good," says Ramhold. "Unless you're planning a massive baking project that'll use up a good portion of it or have a ridiculous amount of bagels that need to be consumed ASAP."
Make Your Money Work for You
She adds, "If you shop at Costco, though, you can get a package of six 8-oz bricks of Kirkland Signature cream cheese for around $8.63, or again, 18 cents per ounce."
Take Our Poll: Would You Move for a Job That Paid You a $10,000 Signing Bonus?
Regarding the brick-ish nature, Ramhold notes that Costco splits up and individually packages each of their cream cheeses — but it still might not be a great buy.
"Most people probably don't need to purchase cream cheese in bulk anyway, and you can find sale prices at a standard grocery store for a brick or two that'll be more reasonable for most households," says Ramhold.
How much can a pod of your favorite coffee, tea, or other hot beverage really cost? At Sam's Club, the answer might be "too much."
"Something that consistently ends up being more expensive at Sam's Club than at its competitors are K-Cup pods," says Rex Freiberger, CEO of Gadget Review. "
"K-Cup pods at Sam's Club tend to average around $0.45 a pod, whereas at Costco they tend to average around $0.39." But isn't that just a few pennies in savings?
Make Your Money Work for You
"While this might not seem like a huge difference, if you are someone who uses these everyday to make one or multiple cups of coffee, the difference adds up pretty quickly," Freiberger says.
Sam's Club is a great place to clean up on deals, but it might not be the retailer where you want to buy your cleaning supplies, particularly if they are of the name-brand variety.
"Sam's Club offers a variety of name-brand cleaning supplies, including laundry detergent, dish soap and cleaning sprays," says Brenda Kosciuk, CEO of Paper Heart Family. "While these items may be convenient, they are often significantly overpriced compared to generic or store-brand options."
"For example, a bottle of Tide laundry detergent may cost around $20 at Sam's Club, while a similar generic option at another retailer may cost around $10," Kosciuk observes. "To save money on cleaning supplies, consider purchasing generic or store-brand options at other retailers or waiting for sales at Sam's Club."
Kosciuk's trick is to be patient and keep an eye out for deals. "By shopping around at other retailers, waiting for sales, or purchasing generic options, you can save money on your shopping trips and make the most of your Sam's Club shopping experience."
Make Your Money Work for You
It might seem like you're saving some money by sprucing up your home with items from Sam's Club, but you might be overpaying in the process.
"Sam's Club offers a variety of home decor items, including wall art, decorative pillows, and rugs," says Kosciuk. "While these items can add a pop of style to your home, they are often significantly overpriced compared to similar items sold at other retailers."
Kosciuk cites the example of a decorative pillow. "At Sam's Club it may cost around $30, while a similar pillow at a discount home goods store like Marshalls may cost around $15."
More From GOBankingRates