9 New Items To Check Out at Costco in April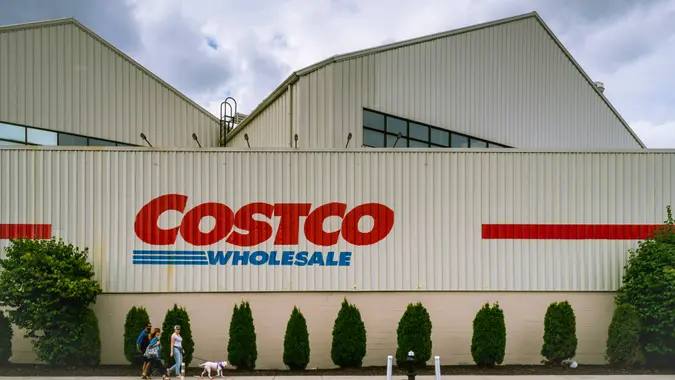 rblfmr / Shutterstock.com
It's April, and that means it's time to head to Costco to check out the latest deals! As usual, this popular warehouse store has a wide range of products to meet the needs of every shopper, and with saving money top of mind, Costco has some amazing deals this month.
From snacks to electronics to home essentials, the store has added some exciting and one-of-a-kind items at its trademark low prices — there's truly something for everyone.
Bloomaker Waxed Amaryllis Bulbs
Want a unique and easy-to-care-for gift that will brighten up any space? Check out the Bloomaker waxed amaryllis bulbs. Costco's set includes three bulbs in pink, lilac and green, each with white blooms delicately brushed with soft pink. And the best part? These perennials require no watering or soil, making them a low-maintenance option that's perfect for anyone.
The bulbs cost $32.99.
Apple iPad Mini 
The Apple iPad Mini boasts an 8.3-inch liquid retina display with true tone and wide color, which means this tablet offers stunning visuals. Powered by an A15 bionic chip with neural engine, it delivers lightning-fast performance that's perfect for multitasking. Plus, with touch ID for secure authentication and Apple Pay, you can rest easy knowing that your data is safe and secure. And when it comes to capturing memories, the iPad Mini doesn't disappoint, thanks to its 12MP wide-back camera and 12MP ultra-wide front camera with center stage. Available in a range of colors, including purple, starlight, pink and space gray, the Apple iPad Mini is the perfect companion for on-the-go computing.
Make Your Money Work for You
The iPad Mini costs $539.99 at Costco.
Take Our Poll: Would You Move for a Job That Paid You a $10,000 Signing Bonus?
Calphalon Premier Nonstick Cookware
Durable cookware set that can withstand heavy use doesn't always come with an inexpensive price tag, but Costco has a good option this month. The Calphalon premier nonstick set is designed to last and features sturdy pieces that stack neatly on top of one another, making it an ideal option for those with limited kitchen space. 
The 12-piece space-saving cookware set is $429.99.
Gyro Kit
Good news for gyro lovers! Costco has reintroduced its popular gyro kit, which includes a pound of mouthwatering beef and lamb gyro meat slices, six soft pita breads, a generous serving of shredded romaine lettuce, a cup of diced cucumbers and tomatoes, a small container of red onions, two 3.5-ounce tubs of creamy tzatziki sauce and a side of crumbly feta cheese. With everything you need to create a delicious gyro meal at home, this kit is sure to satisfy your cravings for Greek cuisine.
Make Your Money Work for You
"The meal is easy to prepare, filling and very delicious," shares shares Greg Larkin of Costco Food Database. "It's an easy way to bring home a taste of Greece."
The gyro kit sells for about $20 or $6.49 a pound.
Cinnamon Pull-A-Parts
Costco's popular cinnamon pull-a-parts have made a comeback. Inside each pack, you'll find a dozen pieces of delectable pastry that's a cross between a cinnamon roll and monkey bread. Topped with a creamy layer of cream cheese, these sweet treats are sure to satisfy your cravings.
"Pull off a piece of the cinnamon brioche dough and microwave it for 15 seconds for that fresh-baked feel," says Larkin.
Each 28-ounce tray of cinnamon pull-a-part rolls costs $6.99.
Indoor or Outdoor Rugs
As summer approaches, it's the perfect time to give your backyard a fresh new look. And what better way to do that than with a new rug? Costco offers a wide range of rug sizes and designs to choose from, ensuring that you'll find the perfect match for your space.
Make Your Money Work for You
The rugs are between $49.99 and $299 depending on size. 
ArtSkills Brilliant Art Diamond-Painting Kit
If you're looking for some wall art that you can do yourself (diamond art is pretty relaxing), this is an excellent way to go. This three-panel set comes in three different designs including sunset, forest and waterfall. 
"Diamond art has grown in popularity over the last few years and while you can find kits at craft stores and plenty of places online, this is one of the better deals I've seen," shares consumer analyst Julie Ramhold of DealNews.com.
The set is $24.99.
Embr Wave 2 Thermal Wristband
"If you've ever felt like you were overheating and run your wrists under cold water, you know how effective it can be to cool you down," shares Ramhold. "This device takes that concept and makes it a wearable, so you can get that relief anywhere at any time." Plus, it comes in black or gold so you can find the right look to complement your spring 'fits. 
Each device is $279.99, however Ramhold shares that it retails for $349, making it a great Costco deal.
Make Your Money Work for You
Simply Indulgent Candle Set
Mother's Day is coming up and these candles are an excellent gift. You'll get three candles in a variety of unique scents: peony bloom, water lily and peach blossom.
Each set has three candles for $28.99. 
More From GOBankingRates
Make Your Money Work for You