7 Brand-New Items at Walmart That Cost Way Less Than at Dollar Tree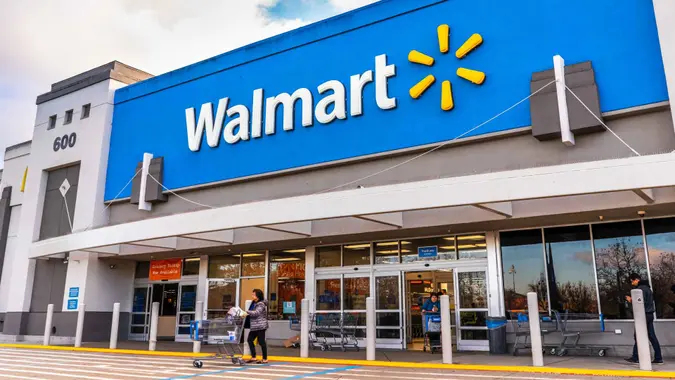 Sundry Photography / Getty Images
Dollar Tree has some of the lowest prices on many items, from shelf-stable food to goodies for the Easter basket. But you might be surprised to learn that products are often cheaper at Walmart.
Plastic Easter Grass
You'll find 1.25-ounce packages of green plastic Easter grass for just 64 cents at Walmart. You'll find various packages of Easter grass at Dollar Tree for $1.25. The Dollar Tree bags are larger, but if you're only filling one or two baskets, you may not need 4 ounces.
Small Easter Basket
You might think you can't find an Easter basket for much cheaper than $1.25. But Walmart has a small round bamboo Easter basket for just $1.24.
Canned Vegetables
Dollar Tree carries Green Giant canned vegetables, including the mixed vegetable blend, for $1.25 for a 15-ounce can. But you can save by grabbing Great Value mixed vegetables for just 88 cents at Walmart.
Shower Poufs
Mesh shower poufs go for $1.25 at Dollar Tree. But you can find a 2-pack of poufs at Walmart for just 97 cents.
Make Your Money Work for You
Spray Bottles
Spray bottles are handy for storing cleaning products, keeping cats off countertops or misting plants. Dollar Tree carries 10 oz. plastic spray bottles in fun spring colors for just $1.25. But if you're okay with a slightly smaller, 8-ounce size, you can save money by getting a similar plastic spray bottle from Walmart for just 97 cents.
Aspirin
It's no secret you can save money buying generic drugs, and that includes over-the-counter medicine. Equate low-dose (81 mg.) aspirin sells for 98 cents for a 60-count bottle at Walmart. You'll pay $1.25 for a 40-count package of 81 mg. ValuHealth aspirin from Dollar Tree.
Liquid Hand Soap with Aloe Vera
Dollar Tree carries Softsoap brand aloe vera liquid hand soap in 7.5-ounce bottles for $1.25. That sounds like a bargain until you realize you can get the same name-brand product for $1.24 — or the Equate brand for just 88 cents — at Walmart.
Since Dollar Tree raised it prices on many items to $1.25, it almost seems as if Walmart decided to play the price-match game and sell similar products for $1.24.
Dollar Tree, Dollar General & Family Dollar: Comparing the Discount Chains in 4 Categories
Take Our Poll: What Do You Plan To Use Your Tax Refund For?
Make Your Money Work for You
However, if you shop carefully, you will find many items that go for even less at Walmart. Those pennies, dimes and quarters saved can add up, especially if you are buying in bulk.
More From GOBankingRates
Make Your Money Work for You