5 Powersport Purchases That Will Make Your Summer Feel Like an Endless Vacation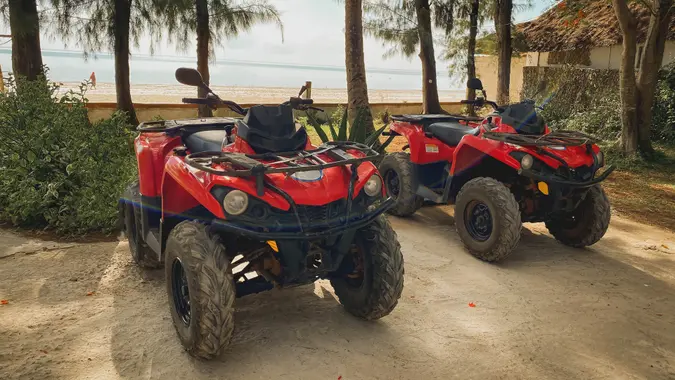 Viktoriia Kokhanevych / Getty Images/iStockphoto
The powersports market continues to grow, with an estimated 60 million riders of motorcycles, ATVs, UTVs, three-wheel motorcycles, dirt bikes, Can Am vehicles and other leisure vehicles. The market is expected to exceed $131 billion by 2028, according to statistics from Synchrony Bank.
Learn: 6 Big Shakeups to Social Security in 2023
Discover: 3 Signs You're Serious About Raising Your Credit Score
Embarking on a powersports adventure is not cheap. The average Polaris consumer, for instance, lives in a dual-income household and has "good" credit, according to the powersports company's Q2 2022 earnings report.
Having good credit is often key to getting started in the world of powersports. JD Power estimates that the average price of a new UTV, which is an ATV with at least two seats side by side, is $15,626. These vehicles can range from $4,000 to $30,000, according to JD Power.
And then there are the accessories.
Synchrony Bank is offering a little help in that area, with the new Synchrony Outdoors credit card. Accepted at powersports dealers and gas stations, the card offers a great way to fund your hobby. The credit card offers 6 months promotional financing on purchases of $199 or more, no annual fee, and $0 fraud liability, The card cannot be used to purchase or finance ATVs or motorcycles or any vehicle with a vehicle identification number; this card is designed for all the add-ons that help powersports enthusiasts enjoy the ride.
Make Your Money Work for You
With summer just around the corner, it could be a great time to splurge on some new toys for your powersports vacation. From racks to boxes and, of course, a tool kit, here are some accessories you may want to grab from your local dealer, where you can use your Synchrony card for the purchase.
Helmet
Safety always comes first. The right helmet should protect your face and head securely while adding to your style on the trails. The ATS-1R Wyman Helmet from 6D Helmets is constructed from carbon fiber for a lightweight feel and maximum protection.
ATV Storage Box
Carry extra gear safely in this locking cargo box by Black Widow. Mount the box securely to the rear rack of your quad to stow tools, extra gas, drinks, and more. The box has a cushioned backrest for comfort.
Tool Kit
Prepare for nearly any contingency off-road or on, with the Polaris ATV Ride & Repair Essentials Kit. The kit includes everything you need to repair a flat, tow another vehicle, provide a jumpstart for a buddy, and make minor mechanical repairs. It also comes with first-aid essentials.
Make Your Money Work for You
 ATV Sound System
What's a vacation without music? The top-rated NUTV5 Quad Stereo System Kit from NOAM includes four waterproof tower speakers, a four-channel amp, and a controller. Connect via Bluetooth or AUX so you can have your favorite songs everywhere you go.
Take Our Poll: How Much Salary Would Buy You Happiness?
Live Richer Podcast: Overcome Your Fear of Asking For the Raise You Deserve
ATV GPS
We've grown to rely on our phone's map app for navigation. But often, you'll find yourself with no signal on the trails. That's when a handheld GPS is crucial. Riders love the rugged Garmin eTrex 32x, with a 2.2″ bright color display, preloaded maps, plus 8 GB of memory to download your own maps. Two AA batteries last up to 25 hours in GPS mode so you can get plenty of riding time in before you need to change or recharge the batteries.  
More From GOBankingRates
Make Your Money Work for You