I'm a Professional Thrifter: Here Are 7 Tips You Should Use To Save Money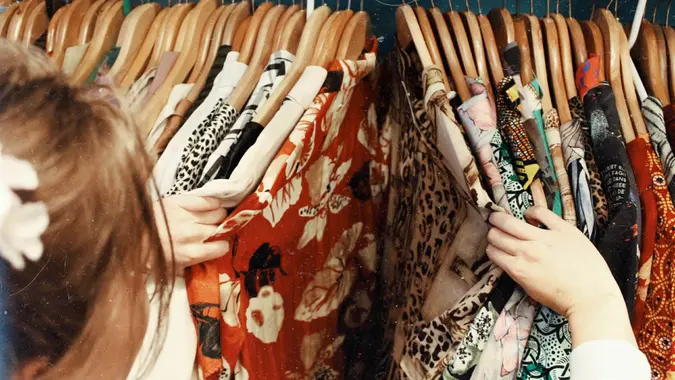 Becca McHaffie / unsplash.com
Thrift stores are ultimate destinations for saving money — but they can also be confusing. Their environments tend to be cluttered and difficult to navigate. One can easily get overwhelmed. 
Additionally, though we generally all understand that thrifting can save us a ton of money, we may not always recognize exactly how it works and precisely how it can be so budget-friendly. 
To help illuminate the process, GOBankingRates sat down with expert thrifter Rachel Karisik and got the full scoop on money-saving methods while thrifting. 
Know Your Prices and Your Days 
Perhaps the most important way to save money when thrifting is to know your prices and know what days to visit the thrift stores near you. 
"For example, one thrift I visit weekly prices items according to color tags. Each week, one of the colors costs only one dollar. The tags are changed on Sunday, so every Sunday when it opens at 10 a.m., I am finding dollar items and taking advantage of amazing deals," Karasik said. "There is nothing better than buying on sale at a thrift store. You feel like you've just won the lottery and like you are getting an extra great price, because you are! It's a real thrill!" 
Learn: 8 Items To Stop Buying at Grocery Stores If You Want To Save Money
Make a List and Do Your Homework  
A key way to save money when thrifting is to do a little work in advance of your visit. This entails making a list and researching what new items would cost. 
"Let's say you are redecorating your living room; go into retail stores, take measurements and know the look you're going for," Karasik said. "Then, be patient as you browse in different thrift stores to find something similar in size and style. I guarantee you will find it eventually. For someone who enjoys the search, the journey to finding great pieces for less at a thrift can be joyful, spark creativity and, of course, help the planet." 
Grab the 'New With Tags' Stuff
Some items you find at thrift stores are inherently more valuable than others, take new-with-tag items for example. 
"When you see a good deal on a classic and universal item, especially if it is new with tags, grab it," Karasik said. "You can later decide if you want to keep, gift or resell. Examples are designer coffee table books, unused chunky candles or a new with tags wool scarf. Everyone wants a deal and you would be surprised at what gems you can find. I've snatched a brand-new Longchamp bag for $8, a vintage silk Celine blouse worth over $500, La Perla lingerie, AGOLDE jeans and so much more, all for pennies compared to shopping retail store prices." 
Set a Budget and Stick With It
When you're inundated with cheap choices, your eyes may get bigger than your wallet, so to speak. This is why it's important to be very clear about what you want and/or need. 
"Have a clear focus when going into a store with what items you are looking for and around how much you would like to spend," Karasik said. "Don't just walk out with 100 items because each costs $1. It is not saving money if you buy only for a deal and then never use it again. Don't be fooled by buying a brand-name item on sale only because it is on sale. If you have no use for it or don't particularly like the color, leave it. Be picky about what to spend on. Even though thrifting can be inexpensive, it is still your hard-earned money you are spending so be sure to only buy what you will use, gift or resell." 
Look: 9 Things You Should Never Buy at Thrift Stores
Examine Clothing Closely
In the presence of heavily discounted items, we can possibly forget to inspect them closely. Don't be afraid to get up close and personal and even smell clothing of interest. 
"Is it cashmere? If so, you need to be willing to pay for dry cleaning. Is there pilling? Any small holes? Has the shirt lost some shape? Is it stretched out? Can you clean Nike sneakers that have black marks on them?," Karasik said. "Slowly look through each item a few times over in different parts of the store and in different lighting. In my early days of thrifting, I would come home often and find that the Marc Jacobs hoodie had marks near the armpits that wouldn't come out or the care tag of the Ulla Johnson shirt had been removed so I didn't know if it would get ruined in the wash. So go slow." 
Be a Stickler on Price
There is a formula and a science to thrifting. It revolves around knowing an item's worth and being a stickler on price. 
"Unless you're in love with something you find and have been specifically looking for it for a long time, make sure the price is at least about 80% off retail or that it is difficult to get your hands on (sold out/an old style/valuable vintage item)," Karasik said. "Just because you're in a thrift store does not mean all prices will give you significant savings. You might find the same item or a similar one on sale at Nordstrom Rack, Saks off Fifth or on the Poshmark app."
Put the Phone Down
In our increasingly digital age, it's easy to get obsessed with our phones while doing other things, including shopping. Be careful not to do this lest you get distracted from savings and value. 
"Do not multitask when thrifting," Karasik said. "I do best when I am focused, almost like a meditation and [am] fully present. I once got a call from my mom and I picked up as I was going through some racks. I was distracted and someone next to me pulled a pair of Gucci joggers off the rack. I was so bummed! Only take your phone out at the end when checking prices online in order to weed through and make your final decisions."
More From GOBankingRates